Did your new year's resolution involve working out more often? Have all your well-intentioned efforts met with failure? If your answer to these questions is yes, you are not the only one! In fact, in the US alone, only 5% of adults perform 30 minutes of physical activity every day. But wait, there's still hope!
Many fitness experts believe that working out consistently is all about the right mindset. Simple factors such as a gym membership and the right gym gear can make a world of difference. From your headphones to your yoga mat, all your essentials go into your trusty gym bag. A sports bag makes it easy to get ready for your workouts in no time.
Whether you're a newbie or a veteran fitness lover, the right bag can be a game-changer. Are you looking for a gym bag that is the perfect combination of style and functionality? We've got you covered! Read on to find your next best gym buddy in the form of a perfect bag.
What To Look For In The Perfect Gym Bag
If you've ever gone shopping for a gym bag before, you know it can be quite confusing. From large duffel bags to small totes, the choices are endless! Here's a small checklist of things to consider as you look for a new gym backpack.
Size Of The Bag
Gym bags can range from ginormous duffel bags to lightweight drawstring bags. Keep in mind your workout preferences, gear, and convenience to choose the right size. A larger bag would suit athletes or experienced gym-goers. If you like to squeeze in a quick workout after office hours, a small gym bag will be much better.
Storage & Bag Compartments
Your bag should be stylish but it should also have maximum storage! Consider all your gym essentials before deciding on a bag. If you like taking your sneakers to the gym, go for gym bags with shoe compartments. Similarly, you can look for yoga mat sections if the mat is an essential workout accessory for you.
Quality Of Material
There's no doubt that the quality of the material determines the durability of the bag. It's essential to look for bags that won't wear and tear easily. You may be carrying some heavy stuff inside these bags like small weights. Look for high-quality stitching, especially near the handles which are prone to tearing.
Top Best Gym Bags For Fitness Freaks
Best Gym Bag For Men: Under Armour Undeniable Duffle Bag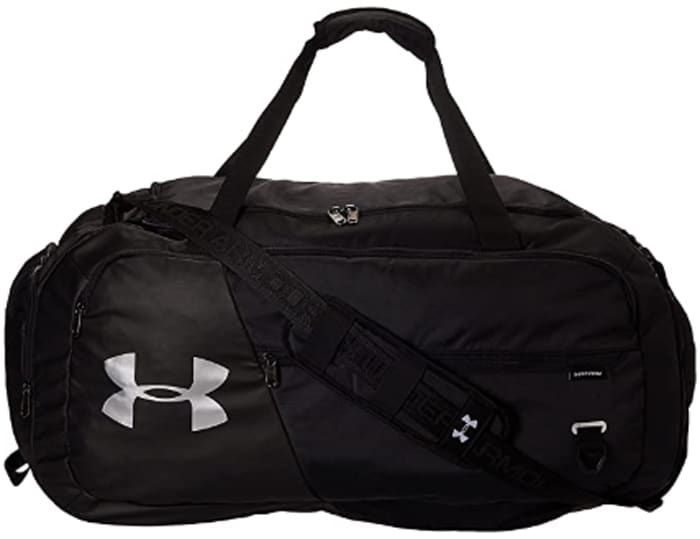 Tough as nails, heavy-duty, and cutting-edge – this is Under Armor's Undeniable duffle bag. The bag features multiple pockets including a large front zipper pocket. It's also equipped with UA's storm technology that makes it almost invincible. This duffel even comes with a laundry and shoe compartment. The padded shoulder strap makes it super easy to carry around.
| | |
| --- | --- |
| Pros | Cons |
| Water and wind-resistant.Can withstand extreme weather. Has shoe pocket and a vented laundry compartment.Large storage for all your gym essentials. | Might be a bit expensive for newbies. Might be too large as a light workout bag. |
Final Verdict
With a heavy-duty exterior, multiple pockets, and a stylish build – UA's duffel is undeniably the ideal gym bag for men.
Best Gym Bag For Women: Adidas Squad Duffel Bag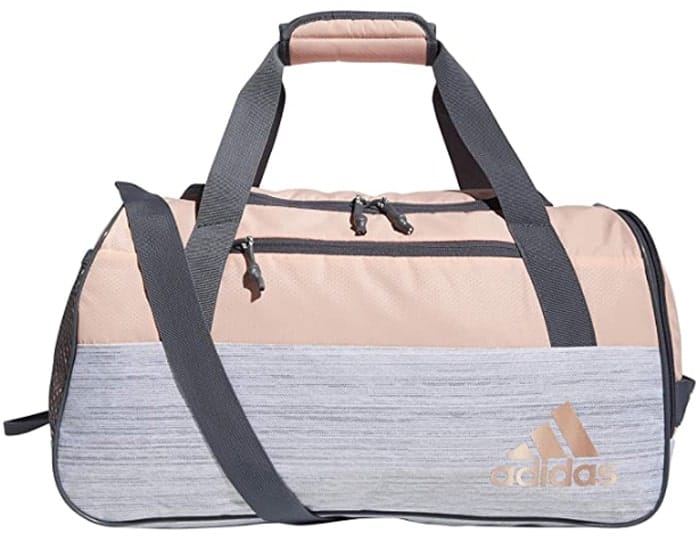 Made by one of the world's most famous brands, Adidas, this bag combines style and function perfectly. The duffel bag comes in 13 unique colors to match your personality. It consists of a large main compartment with extra pockets for organization. The adjustable shoulder strap allows you to wear the bag comfortably. This cute gym bag also has a ventilated compartment for shoes and dirty clothes.
| | |
| --- | --- |
| Pros | Cons |
| From the reliable, world-class brand, Adidas.Multiple pockets including water bottle, shoes, and clothes compartments. Has an adjustable shoulder strap for comfort.Comes in 13 different colors, with many options to choose from.Lifetime warranty. | Might be too small for larger gear.Larger shoes may not fit as it seems to be geared towards women. |
Final Verdict
Women train just as hard as men and they deserve a bag that's just as heavy duty! This minimalist Adidas Squad duffel is the perfect blend of trendy and functional. In short, the best gym bag for all the women out there.
Best Gym Bag With Shoe Compartment: SportsNew Duffle Bag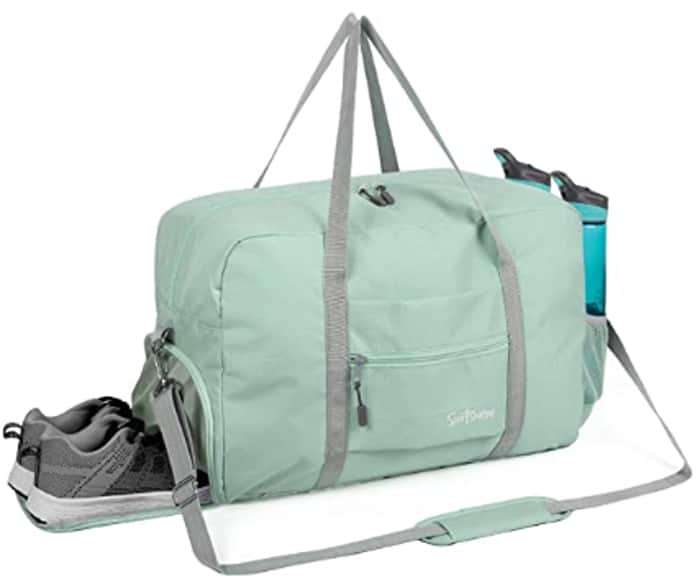 With a 38L capacity and a spacious main pocket, SportNew's duffel bag promises ample storage. The bag also boasts separate compartments for dry and wet clothes. When it comes to pockets, the duffel bag has one for your shoes and your water bottle. The carrying options are also quite diverse with two different kinds of handles.
| | |
| --- | --- |
| Pros | Cons |
| Convenient to carry – provides two handles.Has ample storage for workout gear.Features additional pockets for wet clothes, shoes, and water bottles. | Not a heavyweight bag. It may not be able to carry larger loads. Does not have a hard bottom. |
Final Verdict
Looking for a lightweight but spacious bag with many pockets and color options? This one will have you covered. Our favorite features of this gym bag are the wet clothes pocket and shoe compartment!
Best Kids Sports Bag: Nike Training Gym Sack
Featuring a minimalist design and comfy shoulder straps, Nike's gym sack is simple but useful. The backpack style makes it easy to carry on-the-go. An additional exterior zipper pockets add some extra organizational storage. The string straps are lightweight and easy on the shoulders. It also comes with a reinforced bottom for added protection.
| | |
| --- | --- |
| Pros | Cons |
| Easy to use and simple design.10 different color options.Super lightweight. | Not enough pockets for organization.Not suitable for large and bulky gear. Can only be carried as a backpack. |
Final Verdict
This classic Nike training gym sack is easy, breezy, and fun. The uncomplicated design and lightweight build makes it the perfect kids' sports bag.
Best Versatile Gym Bag: Crossbody Adidas Defender Bag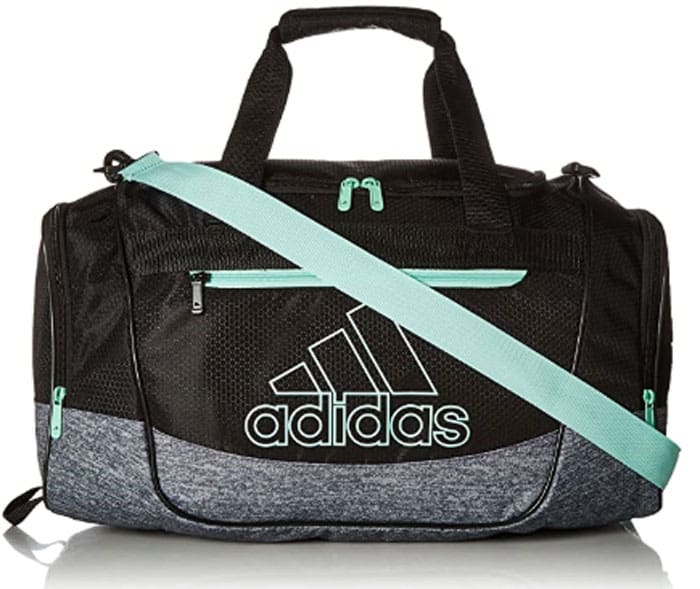 Adidas Defender is a classic crossbody gym bag that comes in a whopping 33 unique styles. In terms of storage, it has a spacious main compartment for your daily gym gear and more. There are also extra pockets to organize your belongings properly. The Defender is made from Reinforced ripstop material that will stand the test of time.
| | |
| --- | --- |
| Pros | Cons |
| A crossbody strap for convenience.Reasonably spacious with extra pockets.Comes in 33 different colors. Lifetime warranty. | Might not be big enough for bulky gear.Does not have a separate shoe compartment or laundry vent pocket. |
Final Verdict
Boasting 88% 5 star ratings on Amazon, Adidas defender is surely a hit amongst men, women, and kids alike. It has all the necessary features required in a standard gym bag. Plus, it comes in all your favorite colors!
Best Lightweight Sports Bag: BeeGreen Drawstring Gym Bag
From shoes to supplements, this lightweight drawstring bag can carry it all. Unlike other drawstring bags, this one comes with extra pockets! The exterior pockets can hold your valuables such as wallet, cellphone, and watch. It also features a mesh pocket that's perfect for your water bottle. The material itself is high-quality Oxford that's built to last. Best of all: the bag is machine washable as well!
| | |
| --- | --- |
| Pros | Cons |
| Multiple types of pockets for storage.Machine washable.Comfortable shoulder straps.Includes hole for headphones and USB port. High-quality material. | Not suitable for large gear.Might be too flimsy |
Final Verdict
With upgraded straps and extra pockets – BeeGreen's drawstring gym bag trumps all others. If a simple drawstring backpack is your thing, this one comes highly recommended.
Why Go For Custom Gym Bags
If you still can't find the right bag to suit your personality, we have a solution for you! Since normal bags are too generic, why not go for customized ones?
Avecobaggie makes custom sports bags and yoga bags so you can exercise in style. From motivational quotes to cute patterns – you can get anything printed. With Avecobaggie's streamlined customization services, the sky's the limit.
Conclusion
What's the most difficult part of working out consistently? Getting ready for it every single day! It's time to make workout prep as simple as can be with the perfect gym bag. Sports bags not only aid your workout habits, but they can also make workouts more fun.
So, what are you waiting for? Choose the gym bag that checks all your boxes and prepare to have the best workouts of your life!