'Tis the season to be jolly! Christmas is that magical time of the year when everything is merrier and more beautiful. There is kindness and love all around us. Friends and families get together to enjoy the wholesome company of their loved ones. They share food, plan dinner parties, and play all sorts of fun games.
In essence, the occasion of Christmas bestows a beautiful opportunity upon us. It gives us a chance to express our appreciation and affection for our loved ones. And the best way to go about this is by getting them thoughtful gifts. Along with that, the personalized packaging of these gifts is no doubt the icing on the cake!
For Christmas gift packaging, you can go for personalized goodie bags. It makes your gifts even more cute and delightful. For starters, these goodie bags are easy and fun to make. Besides that, the artistic process lets you unleash your creativity!
Following are seven ideas for canvas/cotton Christmas goodie bags. You can pick your favorites from here and be ready when Christmas comes knocking!
Christmas tree Goodie Bag
It is one of the easiest and quickest ways to personalize your Christmas goodie bags. It only requires a handful of materials that you can find anywhere!
Things you will need:
A plain canvas bag
Green ribbons or washi tape
Sequins
Hot glue gun
How to do it:
Place the plain canvas/cotton bag on a smooth and hard surface.
Cut out a small piece of ribbon or washi tape and paste it over the canvas bag near the top with the hot glue gun. Make sure that the ribbon/tape is in a straight, horizontal position.
Cut another piece of ribbon/tape a little longer than the previous piece.
Leave a finger space from the first piece (in the downward direction), and paste the second cut-out.
Cut another piece and repeat the above process. After 4-5 stripes, you will have a triangle on the canvas bag.
Now bring in the sequins. Paste them at different spots on the "tree" with a hot glue gun. You will notice that it will begin to form a resemblance to a Christmas tree.
Your Christmas tree canvas goodie bag is ready to go.
Optional additions:
If you want to add special touches to your Christmas-themed goodie bag, there are some things you can do.
Get some fake snow. (You can use cotton wool in its stead as well)
Begin pasting the snow under the tree, near to the bottom of the canvas bag. You can use a simple glue stick for this.
The next addition is more sparkle (Because how much is too much?)
Get powder glitter and sprinkle it over the whole surface to give it a magical look.

Stenciled Christmas Canvas Goodie Bags
If you are looking for a cool Christmas goodie bag, this idea will definitely grab your interest. Stencils are a fun way to make art. And when you combine stencils with canvas bags, you will be more than proud of your creation!
Things you will need:
Plain canvas/cotton bags
Christmas themed stencils
Painter's tape
Dense foam roller (paint roller) or paintbrush
Fabric paint
How to do it:
Place your canvas bag on a table. Smooth it out so that there are no seams and irregularities on the surface of the canvas bag.
Place the Christmas art stencils on the bag.
Use painter's tape to keep the stencils in their place.
Begin painting with a paint roller or paintbrush. Also, try to keep a steady hand to get neater results. Besides, you won't miss any spots when you paint when you pay attention to detail.
You can go for more than one stencil art on your canvas goodie bag as well. For this purpose, repeat the above process with your desired stencils.
Remove the tapes and let the paint dry for a few hours.
Your stenciled canvas goodie bag is ready for cute Christmas gifts. It can also work as a splendid gift by itself!
Santa Belt Canvas Goodie Bag
What conveys the bliss of Christmas better than Santa? Here is how you can customize your canvas goodie bag to look like it is a gift straight from Santa Claus!
Things you will need:
Mini canvas/cotton bags in the color red
Black duct tape (2 inches wide at least)
Craft foam in the color gold (self-adhesive)
Scissors or cutter (art knife)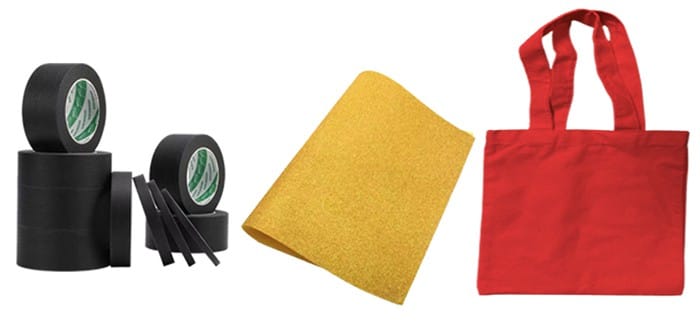 How to do it:
Start by pasting the black duct tape in the middle of the canvas bag. It should look like a horizontal black stripe dividing the top and bottom portions of the canvas bag. It serves as a shiny black Santa belt.
Next, cut out a big square from the self-adhesive gold craft foam.
Cut a smaller square within the big one with an art knife to maintain precision and neatness.
Stick this square in the middle of the belt. Here, you have a shimmery gold buckle for Santa!
Your Santa belt canvas goodie bag is ready. Now you can stuff some gifts in and spread smiles!
Alternative Santa Themed Canvas Bag Design
In this design, you have to get white fur trim.
Measure the length across the top of your canvas bag.
Cut the white fur according to that length.
Then use a hot glue gun for sticking.
This an easy and quick idea to customize goodie bags for when you are running out of time!
If you still confused about process, here is detailed tutorial from EARLY LEARNING IDEAS.
Stockings on Goodie Bags
Stockings are perfect for tiny little gifts. When these and goodie bags come together, it brings double the happiness. Besides, this idea takes less than a minute to realize!
Things you will need:
Plain mini canvas/cotton bags
Small colorful stockings (Christmas-themed)
Hot glue gun

How to do it:
Glue the back of the stockings.
Paste them onto the canvas bags.
Give it some time to dry and stick together.
That is it, done! Now you can stuff the stockings with little treats. For example, lollipops, candy, chocolate, etc.
Ornamented Goodie Bags
Like your Christmas tree, canvas bags also look gorgeous with ornaments. The result is cute and fancy goodie bags that are perfect for gift packaging. But, the ones used for canvas bag personalization should be flat on one side.
Things you will need:
Canvas/cotton goodie bags
Small layered or textured ornaments (flat on one side)
Hot glue gun
How to do it:
Use the hot glue gun to apply glue in the middle of the back of the ornaments.
Stick them to the canvas bags and let them dry.
Goodie bags are ready for gifts!
Ideas for Ornaments:
Here is a list of ideas for what kind of ornaments you can patch onto the canvas bags:
A clothespin ornament
Tiny handcrafted snowman. Who doesn't love Olaf!
Cross-stitch ornaments
Wrapped yarn ornaments
Handcrafted envelopes
Textured and layered flowers
Mini mittens
Mini paintings
Snowflake Christmas Goodie Bags
Make your goodie bags a winter wonderland with this crafty idea!
Things you will need:
Plain mini canvas/cotton bags
White doilies
Scissors
Pencils
Hot glue gun
How to do it:
Use a pencil to draw different snowflake designs on white doilies how you draw on paper.
Cut out the snowflake designs with scissors.
Use the hot glue gun to paste the snowflakes on the canvas bags.
Let them rest for some time.
Your snowflake goodie bags are ready to go.