Are you planning to travel anytime soon? If yes, then you have come to the right place. Regardless of the season, the experience you get while travelling is beyond compare. The serenity of a new city makes you forget about all your worries.
Whether this is your first trip or you are an experienced wanderer, the most nervous job is to pack your luggage. To avoid unnecessary conundrums, pick everything you need logically. So, begin by writing down everything on paper. Once you make a checklist, you get closer to a mesmerizing vacation.
The next step is to determine the type of carry-on bag you will need for keeping your essentials. In case you have no idea what a carry-on bag is, we are at your service to help you find the ideal one for your trip.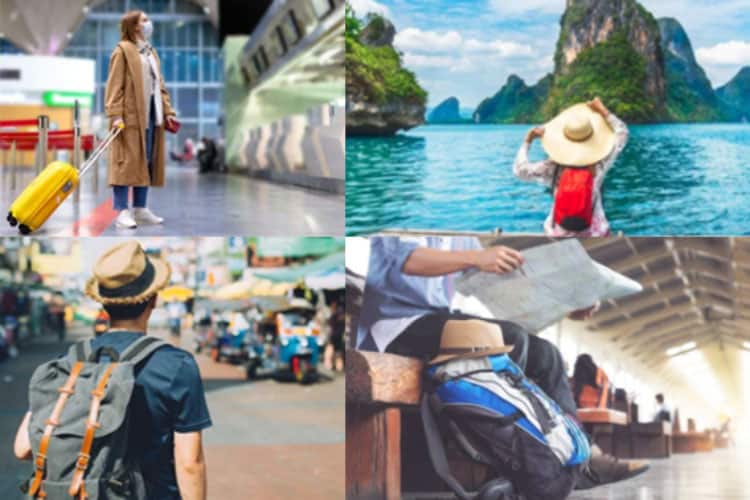 What Is A Carry-on Bag?
Basically, this is the kind of bag that you can take inside the plane. Usually, there is a luggage compartment above your seat that stores carry-on luggage. You can also put your bag under the seat in front of you. So you can rely on a carry-on bag for the items that you use every single day. In short, this one small or medium-sized bag is enough for your survival.
Carry-on bags fall into different categories. Yet, the most popular types are tote bags and backpacks.
Backpack
For seasoned globetrotters, the backpack is a great choice. It is usually available in multiple sizes, fabrics, shapes to cater to all your needs. In general, they have space for laptops and items that you can't travel without. They come with a number of removable straps to make you feel comfortable.
Tote Bags
Next up, we have tote bags. It won't be wrong to say that almost every woman uses them in her routine life. It is because they are handy and give you space to stack your items. Again, they are in the market with thousands of beautiful styles and sizes.
What Are Some Carry-On Bag Essentials?
By bearing your priorities in mind, you can add the items to your luggage. Apart from things like medications, documents, etc., we have picked three things to have on a trip.
Earplugs or Eye-Mask
Having a good sleep is significant to enjoy the entire adventure. Normally, during flights, people can't fall asleep due to light and deafening noise. To avoid this situation, keep earplugs and an eye mask with you.
Snacks
During air travel, it's not uncommon to lose your appetite or have an upset stomach. Needless to say, how will you enjoy it if you don't have energy? So, take some healthy snacks with you. For instance, you can pack protein bars in your bag.
Sanitizer
Even though flights are operational again, it doesn't mean we are free from the virus. The ongoing situation of the virus is still life-threatening. So it's best that you carry a sanitizer at all costs.
What Is Not Allowed In A Carry-On Bag?
The law permits you to take everything that can't harm anyone or is hazardous. If you have aerosol, sharp objects, alcohol, flammables, throw them out of your bag. If these items show up during the security check, you may get in serious trouble.
How Big Can A Carry-on Bag Be?
There is a standard domestic carry-on luggage bag size, approximately 22″ in height, 14″ in width, and 9″ in depth. This dimension is inclusive of the handle and the wheels of the bag. However, there is a difference of an inch or two for various airlines.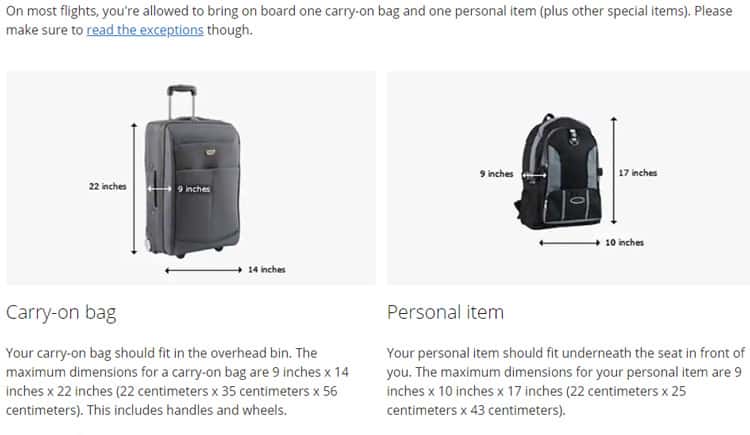 The purpose of this size limit is to make sure the bags don't create discomfort for the passengers. And they also fit in the space available to store them. The size of the bag is totally up to your preference. But make sure you don't exceed the limit.
What Kind Of Carry-On Bag Is The Best?
Our top 3 picks include:
Carry-On Backpack By Amazon Basics
Canvas Carry-On Travel Tote Bag By MyMealivos
Maxlite Carry-On Tote Bag By Travelpro
Carry-On Backpack By Amazon Basics
This backpack is for those who frequently travel for business trips. Or, if you need to get work updates during your trip, you can put your laptop in it. Internally, this backpack has a laptop sleeve with a zip. The structure makes it super-flexible. Considering that you may carry it most of the time, it is lightweight.
The main compartment has a mesh space with zips to secure your valuables. On the front, you will find two pockets to keep the documents. And another for your water bottle. These pockets make it easier to access the things you often need.
The exterior comprises tough polyester. Navy blue is perfect for those who prefer subtle colours. If these colours don't go with your vibrant personality, custom solutions can dye it.
Canvas Carry-On Travel Tote Bag By MyMealivos
This super cute canvas bag has space and a luxurious feel to it. It features top-quality canvas with soft, dark brown faux leather accents. The inside has a durable lining to keep your items safe throughout the trip. Not only that, it has an additional shoe compartment to accommodate your footwear.
You can carry your three days' worth of holiday clothes in this bag. So, for small trips, this carry-on is a must-have. Overall, it has seven pockets and compartments. Even if you keep forgetting your items, this will keep them organized in front of your eyes. Hence, there is no chance of losing them.
Unfortunately, there is a drawback to this bag. When you try to overpack it, the seam may rip apart. In such situations, custom solutions are a saviour. They can stitch it securely in different ways.
Maxlite Carry-On Tote Bag By Travelpro
When you are away from home, this bag makes sure that you have all the necessary things with you. It is extremely sturdy because of its making, which involves polyester. The zip closure is superb, with high tensile strength zipper pulls.
This makes the closure mechanism smooth. The outstanding feature of this bag is its smart design. You can slide it under your aeroplane's seat. The fabric of this bag is stain-resistant and repels water.
On purchasing this bag, you will get a limited lifetime warranty. Thus, this bag is worth every penny. The shoulder straps are removable and comfy with plush paddings. It has a front flap with a few pockets.
As the carry-on bag doesn't have many pockets, the capacity of this bag is minimal. Besides that, it becomes difficult to access content from this bag. Luckily, you can add as many pockets as you want by visiting custom solutions.
Are you sick of lugging suitcases around? Give these ultra-lightweight carry-on bags a try. It's a fact that the less you carry, the more time you save on getting ready during a vacation. These bags can level up your fashion game and provide peace of mind at the same time. When you are going to shop for these, examine them carefully. If you will find the bag lacking from any aspect, custom solutions will turn it into your favourite bag.