You might have heard of a drawstring bag. It is an open-top bag that closes when you pull the two strings that run along the top lining. A cinch bag is another name for a drawstring bag.
Cinch bags are lightweight and accessible. They are easy to carry, and you can fit various items in them. Drawstring closure helps you store things and take them in and out quickly. Thick drawstrings prevent them from digging into your shoulders. They also reduce the burden on your shoulders.
What Materials Are The Cinch Bags Made From?
Cinch bags come in a variety of materials. Let's look at their defining features.
Burlap: Strong, durable, and bio-degradable.
Cotton: Resistant to wear and tear, stretchy, and eco-friendly.
Canvas: Pocket-friendly, earth-hugging, holds the paint well while customization.
Mesh: Breathable, cost-effective, lightweight, and has a tighter weave.
Nylon: Slippery, resistant to stains, water-proof
Polyester: Durable, fade-resistant, lightweight, resists puckering and stains and holds colour tightly.
How To Choose Correct Cinch Bag Size?
Cinch bags come in all shapes and sizes, from small jewellery pouches to large backpacks. How do you pick the one that will work the best for you? Well, that depends on your need.
For example, if you're going on a hike, you'd need a bag that can fit all your items. Hiking essentials include:
Water bottle
Lunch box
First-aid kit
Navigation tools
Sunscreen
Insect Repellent
Raincoat
Extra Clothing
Flashlight
The ideal bag size would be the one that can fit the largest item enlisted here. In this case, it is the raincoat and extra clothing. Make sure that your bag is 1 to 2 inches greater in size as compared to the largest product you wish to carry in the bag. It will allow your essentials to sit comfortably in the bag and help you sift through your things easily.
When it comes to the length of the bag, again, measure the longest item on your list. Ensure that your bag is at least two inches longer than your longest object. Taller bags make it convenient for you to close the bag.
Cinch Bags In The Market
There are many different types of cinch bags in the market with their respective uses. Let's look at my top picks.
BeeGreen's Cinch Sack Backpack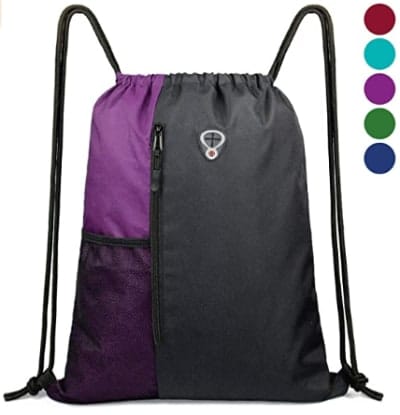 If you're looking for a bag that combines the elements of a zipper, mesh, and drawstring; this is it. The BeeGreen's Cinch Sack Backpack has a drawstring closure, with a zipper pocket in the front. And a mesh pocket on the side.
You can use the frontal zipper pocket for slim items such as a 10-inch wide notebook with some stationery. There's a small zipper pocket inside the bag for your valuables, such as your phone, ID card, and cash. The mesh pocket on the side is perfect for carrying your water bottle.
The inner compartment of the bag measures 16 x 20 inches. It can carry a variety of items such as:
Gym clothing
Shoes
Swim gear
Sport towel
Soccer ball
You can make the most of this bag while you're travelling. I would suggest that you visit custom solutions and get the right bag size that fits the nature of your travel. This bag also makes for an amazing thanksgiving gift for women, men, and children!
Non-Woven Drawstring Shoe Bag
The non-woven drawstring shoe bag is for anyone who likes to keep their shoes free from dust. You can carry it around the beach to keep your shoes safe from sand and seawater splashes.
Because it is semi-translucent, you get a front-row seat to the shoe pair that's inside the bag. It eliminates the need for checking every shoebox to find the one you want. You can arrange all your cinch shoe bags in your closet as well.
Water-Resistant Drawstring Cinch Bag
Alpaca Go's drawstring cinch bag is lightweight and flexible. It has a floral leaf print on it. If you're not a fan of floral prints, you can visit custom solutions and get the same bag with your favourite pattern.
Because the bag is waterproof, it makes for an excellent companion at the beach. You can safely carry all your beach items into it, and they won't get wet. It's also perfect for when you're at a music festival, and it starts to rain. Here are some other occasions where this bag can come in handy:
Gym and yoga
Swimming
Hiking
Sport events
Picnics
School
Field trips
Mountain biking
The Alpaca Go's drawstring cinch bag has a small zipper pocket inside for small items. You can secure your keys, cash, credit cards and more in this pocket. The main compartment is large enough to fit a water bottle, towels, a pair of shoes, a makeup pouch, and headphones.
However, this bag doesn't hold books too well. If you wish to have enough space for all your books, visit custom solutions and get the size that fits all!
Small Satin Cinch Bag
Whenever you buy something of sentimental value for a friend or a lover, you need a bag to hold the precious gift. The satin cinch bag screams style and finesse. It doesn't wrinkle at all and stays young forever!
You can hand over this bag to your loved ones over family dinners, romantic dates, new years eve, and more!
The satin cinch bag has a ribbon drawstring closure. All it requires is a simple pull to close it and keep your items from falling out. Don't like the ribbon drawstring? Head over to custom solutions and pick any of the following drawstrings:
Cotton string
Jute string
Korean string
Polypropylene string
How To Personalize Cinch Bags
Custom solutions is all about personalizing your bags, including cinch bags! Here are some ways you can put your own spin on a cinch bag:
Get the drawstring length of your choice.
Let it feel smooth like silk, sturdy like canvas or soft like velvet — pick your favourite fabric!
Add logos for the things that matter to you. It could be the logo of your favourite coffee shop or the video game you love playing the most.
Get names and phrases printed or even embroidered on the bag.
Make it stand up or fall into itself; it depends on which shape you pick for the bag.
Pick design patterns that vibe with your aesthetic! Make them sweet or make them wild; your cinch bag is whatever you design.
Add one colour to make it monotone or (if you're brave enough) slash colours into a rainbow all over!
Pin cool badges on the bag.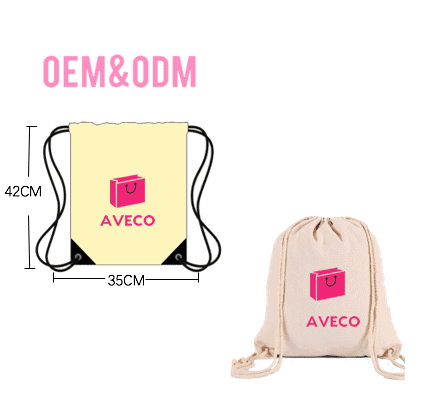 Where Can You Buy Wholesale Cinch Bag In China?
There are countless online (and offline) stores that sell cinch bags in bulk. However, AvecoBaggie is what comes to mind when one thinks of China. It features:
Low MOQ
High quality
Three days sample proofing
Seven days bulk order delivery
AvecoBaggie's most golden feature has to be the custom solutions. Your bag bends to your will here. They sell cinch bags in bulk, making them easy on your pocket as well. Your dream cinch bag is only a click away!
Conclusion
Countless people carry cinch bags on their backs. It's not only convenient but also fashionable. These bags appeal to students, teachers, gym enthusiasts, bikers — everyone. Cinch bags come in a variety of designs! You can either pick one of them or customize one for yourself. You can also advocate for a greener tomorrow by getting cinch bags made of cotton canvas. It is a biodegradable and also long-living fabric that reduces your carbon footprint.