Non-woven bags offer practicality for both consumers and manufacturers. Before getting non-woven bags at wholesale, it is essential to do some homework.
Depending on the making and raw material, there are several kinds of non-woven bags in the market. The tricky part is that they look exactly alike. But, all of them don't have the same quality.
When the manufacturers produce non-woven bags with new fabric, they have a longer bag life. With decomposed fabric, the service life of the non-woven bag is short. For better performance and toughness, choose a distributor that offers premium quality bags.
We are here to help you distinguish the best ones from the lot.
What Is A Non-Woven Bag?
A non-woven bag has a weave-like texture that makes it durable and reusable.
Although it appears like a canvas bag, producers use a type of plastic to create non-woven bags. Generally, this material is soft, has good resistance, and is not easy to tear. Mainly, these properties depend on the equipment factories to manufacture a non-woven bag.
7 Things To Consider Before Buying Non-Woven Bags In Bulk
Being a great alternative for plastic bags, people already prefer non-woven bags. Honestly, there is no reason for anyone to disregard these bags when they have so many benefits. However, before investing your money in them in bulk, pay attention to the following factors:
Stitching
Lining
Edges
Hardware
Zippers
Handles and Straps
Weight
Stitching
The manufacturing process of non-woven bags is not that complex. Companies can sew them in many styles as per the client's preference. Besides that, stitching decides the fate of a bag. If the stitching is good, it will last for years. Also, people can easily overload the non-woven bags with multiple items all at once.
Lining
The interior of bags is as significant as the overall exterior look. Check if the bags have a good-looking bag lining. You can get customized non-woven bags with a layer of light-to-medium-weight interfacing. This extra layer of tough fabric brings your non-woven bags to a higher level of quality.
Edges
If the edges are immaculate, it adds to the beauty of the bags. In fact, from the edges, fabric bags are more susceptible to wear and tear. To distribute the weight evenly, the edges of the bag must be sturdy and flat. Before buying these bags in bulk, take a look at the seam finishes of the bags. Manufacturers stitch the edges according to different strength and stability requirements. So, you can simply leave it to the producer.
Hardware
Hardware is for function or design to enhance the style of the bag. The right type of embellishments can make these bags refined. These hardware pieces can complement the color of the bag or be the centerpiece of a simple bag. For instance, a well-designed buckle can make simple non-woven bags classic and elegant.
These are a few pieces that add sophistication to a plain non-woven bag:
● Magnetic snaps
● Leather straps
● Zippers and zipper pulls
● Velcro
● D rings
Zippers
You can find many types of zippers to give a polished and professional look to a bag. Zippers come in brass, bronze, and nickel finishes. They make the bags super durable and secure. Whether you use them as merchandise or packaging, people will hold onto them for decades.
Handles And Straps
Handles or straps must be the stiffest part of the bags. Handles get involved in a lot of work. Because of that, they get softened and stretched. You can ask the wholesaler to add heavy-weight interfacing before placing an order. Straps can be of unique colors and patterns. Feel free to order a color scheme that goes with your business.
Weight
People don't use non-woven bags just once, but over and over again. As they are lightweight, people can carry them everywhere easily. From the perspective of private labels, lightweight means a cheap cost for shipment. In short, they are convenient for business owners and users.
Knowing Your Options Is Important Before Placing An Order
In life, you don't get a lot of options, but with non-woven bags, you can lay your hands on exactly what you want. Even when there are a plethora of options in front of you, it is safer to put some thought into your decision.
Speed up your decision-making process by reviewing your options:
Types
Some popular types of non-woven bags include:
Non-Woven D Cut Bags
Non-Woven Loop Handle Bags
Non-Woven W Cut Bags
Non-Woven D Cut Bags
Those who run a shop or store can use these bags instead of plastic bags. These bags have a soft handle making them ideal for loading everyday essentials. They do not tear apart that easily.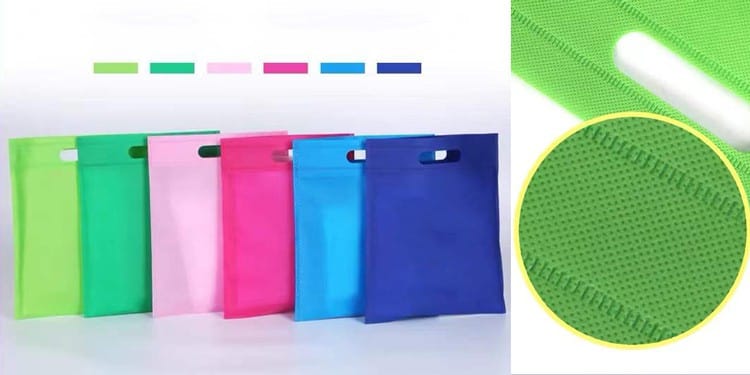 Non-Woven Loop Handle Bags
These bags have a decent look with base gussets and delicate loop handles. Due to this design, this bag has incredible stability. Everything you keep inside them remains safe and undamaged.
Non-Woven W Cut Bags
Usually, W-cut or U-cut bags are famous as grocery bags. The plastic bags you get while grocery shopping are similar to these bags. The difference is that non-woven W-cut bags don't spread toxins to our surroundings.
Take a look at this type of non-woven bag:
Non-Woven Bag With Thick Plastic Support Bottom
These are super well-made non-woven bags. These bags have solid handles that are very durable. Plus, they are available in some lovely colors.
The dimensions of these bags are ideal for putting in pantry items, toiletries, and so much more. To get your brand name on them, you can visit custom solutions. They can add pretty elements to make your customers return.
Materials
Non-woven bags are flexible yet solid. If the manufacturers use the new raw materials to make them, they have superior quality. If you want a breathable bag with a pleasant hand feel, pick the right vendor.
Consider the following example to understand the material of non-woven bags:
Waterproof Non-Woven Bags
These roomy and beautiful bags are useful to keep presents for your loved ones. As they consist of waterproof material, they will circulate as Christmas bags for years to come. To enhance its look, you can add screen printing to it. To discover the endless options, explore custom solutions.
Sizes
When it comes to non-woven bags, sizes are not even an issue. Especially when you have sellers like AvecoBaggie. They are Chinese suppliers who deliver the best bags as per your demand at your doorsteps. Discuss the dimension of the bags with your team, and leave them a message.
If you are still unsure, we have this medium-sized ideal non-woven bag for you:
Non-Woven Bags With Rope Handles
These bags are multipurpose. Their excellent construction makes them long-lasting, shiny, and decent. They are sturdy enough to hold a substantial amount of weight.
From kids to adults, everyone will love them because of their convenience and comfort. You can make them more interesting by adding a logo or name to them by visiting custom solutions.
Why Is AvecoBaggie The Ultimate Solution?
Although the market is full of distributors, there is no other like AvecoBaggie. AvecoBaggie takes razor-thin profits and delivers the unexpected.
These are the top three reasons to trust them:
Good Customer Service
Customer service is paramount to any business. The top-notch customer service AvecoBaggie offers helps them retain customers. By collaborating with them, you can also extract more value from your clientele. They only have positive reviews and testimonials from the previous client. It proves their excellence and competency.
Low MOQ
AvecoBaggie gives you a chance to scale your business and expand as an entrepreneur. They offer a low MOQ, so you don't have to order a very high number of products. They are suppliers who work for you and your business.
Premium Quality Non-Woven Bag
Purchasing from AvecoBaggie gives you complete peace of mind. When you invest your money here, you get the ideal reusable non-woven bags that remain as good as new for a long time.
Conclusion
Now you know that there is a wide range of non-woven bags that don't just come in the traditional style. You have the option to get them in a variety of shapes, colors, and sizes to suit your marketing needs. From promotion to wrapping your products, they are perfect for raising brand awareness.
Wait no more and get in touch with AvecoBaggie. No matter how eccentric your idea is, their custom solutions will find a way to produce your kind of bag. They make sure that you are fully satisfied with what you receive. Get your fabulous custom non-woven bags in wholesale today!