We all know that many trends from the 90s are coming back. Today, people use accessories not just for fashion but also for comfort.
And a sling bag is the perfect example of a hot trend that doesn't require men to sacrifice their comfort. Since it carries every essential a person needs, men who love to travel and hike can't do without one.
Sling bags are a universal fit. Many manufacturers produce them at excellent price points. It suggests why these bags have become more popular in the last few years. Indeed, sling bags are here to stay as the hot-selling item.
In this article, we will explore what these sought-after sling bags have in store for men.
What Is A Sling Bag?
A sling bag has a cross-shoulder style strap so that people can wear it across their chest or back. When the strap is across the chest, the sling bag doesn't slip off the shoulder. It's the reason why many men prefer it over typical shoulder bags.
Sling bags lie somewhere between the category of backpacks and pockets. Yet, their adjustable strap design makes them the king of bags.
Why Do Clients Love Sling Bags?
Whether the new user is walking through a jungle or a campus, their sling bag won't ever cause neck, shoulder, or back aches. They are basic and trendy, the sort of streamlined fashion that attracts every guy out there.
Here are the four characteristics of a sling bag that drive men towards it.
1. High Functionality
2. Style
3. Convenience
4. Travel-Friendly
High Functionality
Sling bags are incredibly versatile in nature. They transport all valuable and not so valuable items to places. As of now, don't assume that they are only suitable for men who are adventure enthusiasts. Whoever wants to go light, sling bags are best-suited for them.
People can securely keep their phones, cash, USB cables, snacks, keys, books, and other personal items in their sling bags.
Style
For those who think that fashion and comfort can't mix, sling bags are the ultimate solution. From office attire to activewear, they look good with pretty much everything.
Hands down, they are the best minimalist accessory to spice up any man's look.
Convenience
Imagine how straightforward it would be to get things in and out of a sling bag when it's right under the face. Usually, the fear of pickpockets in the crowd scares men who travel. A sling bag can help them overcome this fear as well. It takes seconds to shift the bag from back to front without taking it off. Much better than shoulder bags!
Besides that, even in warm climates, the sling bag doesn't trigger profuse sweating. It keeps the hikers cool and comfortable.
Not to forget, the compartments and adjustable straps are a cherry on top. Who wouldn't want such an accessible sling bag?
Travel-Friendly
Post lockdown, most people are dusting off their passports for a much-awaited excursion. At least for the time being, traders will witness a massive demand for traveling bags.
Sling bags are everywhere, from runway shows to high street stores. The reason for that is their versatility and usability. That is what qualifies them as the best marketing bags for men.
Types Of Men Sling Bags
There are many kinds of sling bags for men in the market. But finding the right trader who will deliver these bags is the real challenge. On top of that, till the bags reach your location, you can't be sure of the quality.
So rather than getting into this phase of apprehension, go to AvecoBaggie. They can make bags for men according to your will in time without breaking your bank.
Don't know which bag to get customized? Here are some ideas for inspiration.
Anti-Theft Sling Bag
Men who travel try their best to save money to prevent unwanted situations in foreign lands. This Anti-theft Sling Bag is perfect for such globetrotters. The lightweight sling bag lets people travel around without hassle. Still, the actual bonus is its size. This bag has room for water bottles, keys, power banks, and more.
Even though the design of this bag is praise-worthy, there is one downside—the magnetic button. This bag has a single weak magnetic button at the top closure. If you don't want things to overflow from there, contact custom solutions to add a stronger button.
Rope Sling Bag
Rope Sling Bag is a simple everyday bag with an adjustable strap. Trust us! Don't judge it by its look because it holds more than you think. It has multiple sections to keep things in order and easy to find.
If you still feel the bag is not good enough, custom solutions offer six printing choices.
Leather Sling Bag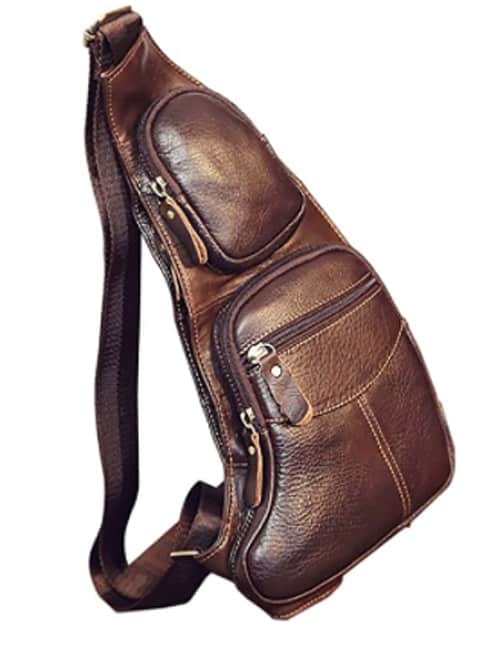 A cool leather sling bag can become the fashion statement of every man. This bag keeps the hands free as it lies on the shoulder during the entire journey.
It is easily accessible but carries a small number of items. If you wish to fix it, custom solutions are one click away. You can customize it by increasing the number of pockets.
Messenger Sling Bag
If you plan to lighten the load of lugging heavy bags, get messenger bags for your customers. They are well-designed with around 12 pockets. The main pockets come with a dual zipper!
Above all, messenger bags are suitable for small laptops. Men would love to have a travel companion like this one. However, from the description, the size of the strap seems to be a little smaller. Tall men might face trouble wearing it. Luckily, custom solutions can replace the strap of messenger bags at a low price.
RuckSack Sling Bag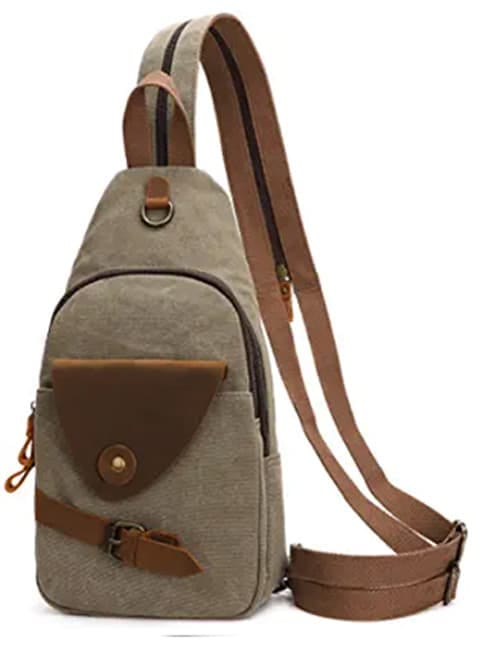 The RuckSack sling bag is bound to get men a lot of compliments. The high-quality canvas material construction makes it durable. Also, the zippers slide very smoothly without exerting extra pressure. People can wash it in the washing machine as well.
One con that can bother people is that the zipper opens from one direction only. To resolve this, head over to custom solutions. They can add double zippers to open the pockets from any direction.
Get Men Wholesale Sling Bags From Avecobaggie
We know that it sounds challenging to find unique bags for men when you're on a budget. From high-end to more casual, there are many kinds of sling bags in the market. Wholesale bags are really profitable and easy to customize.
Remember to find someone who knows your enthusiasm to manufacture bags from scratch. Only then will you get the best results possible.
Customizable Bags
For instance, Avecobaggie can provide you with the perfect sling bags for men. Even if you're in the early stages of deciding the style of the bags, you can take inspiration from their blogs.
High-Quality Bags
In fact, inexpensive, simple, and highly functional bags are right up their alley. After checking their services, you will have a clear idea of the design process.
Low Price
Avecobaggie offers eco-friendly and inexpensive bags in wholesale quantities. In this way, you can craft a brand identity for the present and the future with the most appealing sling bag.
Conclusion
With sling bags, your company can catch the eyeballs of its target audience: men.
Copying has been rampant in the fashion industry for years. So, there's a good chance that people will prefer your bags for men over other companies. As every age group could use a sling bag, it's a great investment for the promotion of your brand.
Additionally, buying bags for men in bulk is a lucrative business opportunity for fashion brands. Once your company identifies the ideal customers, visit AvecoBaggie. They will help you create premium quality bags that your clients would love.