Do you find compartmentalizing your stuff difficult in a standard backpack? Or perhaps standard bags don't have enough pockets of different sizes for your items?
Tactical messenger bags are famed for providing utility pockets for items of different sizes for your laptops, phones, iPods and other valuables. They allow you to keep your personal belongings safe both on short and long travelling trips.
Scroll down to read more about what exactly messenger bags are, their use and the 5 best messenger bags in the market!
What Is A Tactical Messenger Bag
A tactical messenger bag is a versatile gear piece that combines a normal laptop-sized bag with additional uniquely sized compartments for your more fragile items.
As the name implies messenger bags were first created to carry mail and messages in the olden times. At a time when mail was delivered through horses, mailmen used to carry their own essentials plus sensitive and confidential pieces of mail in their messenger bags to protect them from theft.
As the world has modernized these messenger bags have been transformed into tactical messenger bags and are now being mass-produced.
Why Use a Tactical Messenger Bag?
The versatility of tactical messenger bags enables them to be suitable in the most formal of business meetings as well as a family camping trip.
Privacy and security are greatly upgraded when using these bags as for example, some have chest straps with pockets included so that you can keep your most valuable items closest to you. Although some shoulder straps have pockets embedded in them as well.
Even the larger compartments are divided so that your items stay organized and easy to access. Have you ever misplaced smaller supplies like pens, papers, or calculators in your standard backpack?
You'll definitely appreciate the numerous smaller pockets provided in a tactical messenger bag that make these objects quick and easy to find.
3 Tips to Find the Best Tactical Messenger Bags
Tactical messenger bags come in a plethora of different styles. But in general, keep these 3 tips in mind to make your search easier:
Waterproof
People often store laptops, phones and other electronic devices in their tactical messenger bags. This is why ensuring that your bag is made of waterproofing material needs to be your top priority. That will allow you to carry the bag in the rain without having to worry about damaging the items inside.
Material
The type of material you require depends solely on what you plan on using the bag for. If you're planning to use the bag outdoors for hiking or other activities, then a denim or canvas bag or any other light and durable material would be appropriate. On the other hand, if you intend on taking it to work then a standard leather bag will do the trick.
Functionality
Just like the type of material used, the functionality of the bag also depends on your needs. If you need the bag for delivering mail, then look for a bag with multiple dividers inside the main pocket. If you plan on carrying your laptop inside, then a bag with a large and open main compartment will be ideal.
5 Best Tactical Messenger Bags
Tactical Briefcase Military Laptop Messenger Bag
This bag has multiple front pockets of different sizes where you can keep your phone, tablet and other objects.
That is why this bag is well suited for frequent flyers. It can allow you to keep your laptop and other valuables in the overhead bin instead of the luggage.
In addition, the attribute that impresses us the most is its heavy-duty 1000D nylon material. Which coupled with rust-resistant zippers will ensure its longevity.
Pros
Has multi-functional compartments including a secure compartment for your laptop.
Its 1000D nylon fabric allows it to be lightweight as well as durable not to mention waterproof.
Offered in three separate sizes to accommodate all types of users.
Cons
Its smallest size may be smaller than what is listed.
Front pockets may also be smaller than listed.
Tactical Rush Delivery Lima/Mike/XRAY Bag
Although the tactical RUSH delivery bag may be significantly pricier than the others, the utility and the amount of space it provides justifies the cost.
It has an adjustable padded shoulder strap as well as a non-slip crossbody strap making it easier to carry. There are also multiple compartments of different sizes for your pens and registers and other assorted items including side compartments for your water bottles.
However, the best feature is its water-resistant 1050D nylon material. That allows it to be useful in monsoon or rainy conditions without any threat of your valuables being destroyed.
In our opinion, this is one of the most versatile bags on this list.
Pros
Its waterproof 1050D nylon material allows it to be suitable for use in most wet climates.
The bag boasts of a multi-layered organization due to its plethora of additional slip pockets and mesh layered compartments.
5.11 is a highly trusted brand when it comes to bags and accessories so the bag's durability should not be a concern.
Cons
The bag is a little on the expensive side, available at just under $100.
Direct Action Messenger Tactical Bag
This bag was originally created for operators in the military and law enforcement. Hence, you can imagine how durable and sturdy it must be.
Additionally, its main compartment is lined with Velcro, with the option to customize it to suit your needs.
Its front flap has a zippered and quite a spacious pocket where you can store items that require immediate access. Similarly, there's also a clear vinyl pocket on the other side.
The bag also has two side pockets for water bottles. Along with a rear pocket for your IPad or tablet and the main pocket lined with a vinyl sleeve to protect your laptop or other electronics.
Pros
Comes in a range of colours like black, dark blue and camo.
Created from water-resistant Cordura 500D fabric.
The main compartment is lined with Velcro for easy customization.
Pockets on the flap and rear allow space for extra equipment.
Cons
The newest edition does not have a rubberized coating on the rear which makes it a little less durable and waterproof.
UTG Multi-Functional Tactical Messenger Bag
It has a fairly standard design with a front and a main pocket which includes one or two inner compartments. There's also a rear pocket for your small firearms or electronic devices.
It comes with one ergonomic shoulder strap that's comfortable to wear so you can buy it for your day-to-day use.
All in all, this is one of the best budget picks on our list.
Pros
Concealed rear pocket for small firearms.
Contains a pocket right on the front to ensure quick and easy retrieval of items.
Main pockets have a few inner pockets to make arranging items easier.
Cons
Does not showcase huge space as well as numerous pockets.
Suitable for smaller men and women only, due to its size.
Lifewit 17 inch Men's Military Laptop Messenger Bag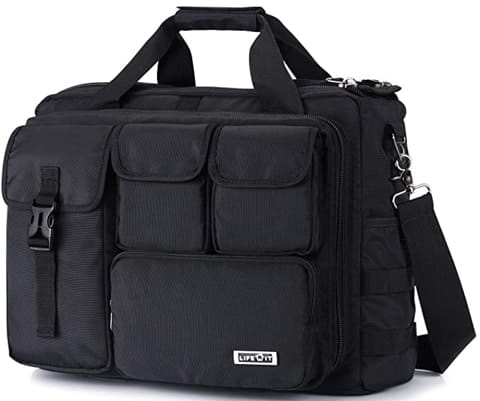 This messenger bag may be able to give the RUSH delivery bag a run for its money due to its spacious centre compartment that consists of 4 sub-compartments. Each sub compartment also has a dedicated file section.
However, a more pleasant surprise is the 4 pockets of various sizes at the front that allow you to store a variety of different items.
Taking all of this into consideration we would recommend using it as a camera bag as it boasts enough space to carry even two cameras along with multiple lenses.
Finally, the cherry on top is that this bag is created from waterproof nylon fabric making it exceptionally sturdy.
Pros
In addition to a laptop pocket, the main compartment also has a dedicated file section and multiple accessory compartments.
Has an abundance of pockets with 4 in the front and 4 inside the main compartment.
Created with waterproof and durable nylon.
Cons
The main compartment may not fit a 17-inch laptop as they claim but one slightly smaller.
Summary
Your choice of tactical messenger bag heavily depends on what you plan on using it for. If you're looking for a budget-friendly option, then the UTG multi-functional bag should be enough.
Yet, if that isn't spacious enough then the Rush Delivery or Lifewit 17 Inch Military bag are equally great choices.
Lastly, if it's life-long durability that you're after, then you cannot go wrong with a Tactical Briefcase Military or Direct Action Messenger bag.