It's nothing new for firms to distribute their brand name and boost brand visibility. One easy tactic to do this is by offering some promotional bags to the target audience. With the help of effective marketing strategies, you can achieve optimum results!
There are many kinds of promotional bags in the market nowadays. Before picking one for your business, there are a few aspects that you should consider. Because spending money on a product that doesn't serve your objective is pointless.
If you're a new brand owner who wants to find the perfect bags for your company, do not worry! We have outlined 7 important features you should keep in mind before shopping.
1.Durability
Durability is the first feature you should look for when purchasing reusable bags. Your brand should use bags that can carry items for a long period of time before showing any signs of damage. Otherwise, it will not significantly outperform other non-reusable bags.

The material should also be resistant enough to withstand adverse weather conditions. If not, the items inside and the bag itself can be subject to wear and tear. This is not the image your brand wants to give off.
One example of great durable material is leather. Although many people consider aged leather imperfect or flawed, leather enthusiasts believe otherwise. They believe that top-grain leather is very tough when put to the test. Because of this reason, you will not have to replace leather bags with other materials time and time again.

2.Functionality
A bag is a storage space for the many items you sell daily. These can include books, groceries, jewelry, or any other products your store has.
Hence, your bags must be practical enough to meet your business's demands. If you're selling books, you will need a sturdy bag that can carry multiple books. You don't want to risk the bag ripping after one use!

On the other hand, if you're packaging jewelry, you should opt for a smaller bag. This way, the product will stay safe, and the customer can easily find it without rooting around for it in a huge bag.
3.Waterproof Material
When searching for a good promotional bag, you will also have to focus on its material. Make sure to look for bags with Tyvek fabric as this prevents water from getting to the products inside. Shielding the items will help your clients travel more comfortably without any worry. Furthermore, waterproofing your bags can help them better resist mildew and molds. If mold grows on your bags, it can harm any products inside, so this works well!
If you're a company that sells clothing, your first choice should be waterproof bags. They extend the life of your apparel by preventing fabric deterioration due to repeated contact with water.
Are you a company that sells electronics instead? Waterproofing will stop water from getting inside the devices and ruining them. In turn, both you and your client will be happy.

4.Trendy
The bags you use to package your products are the second most important thing after the items. Bags serve more purposes than just holding your brand's items. You can also use them for promotion.
Therefore, you should pick a bag that not only matches your brand's style, but is also trendy. Your bag choice can either make or break your brand.
Here are two ways you can find bags that are trendy right now.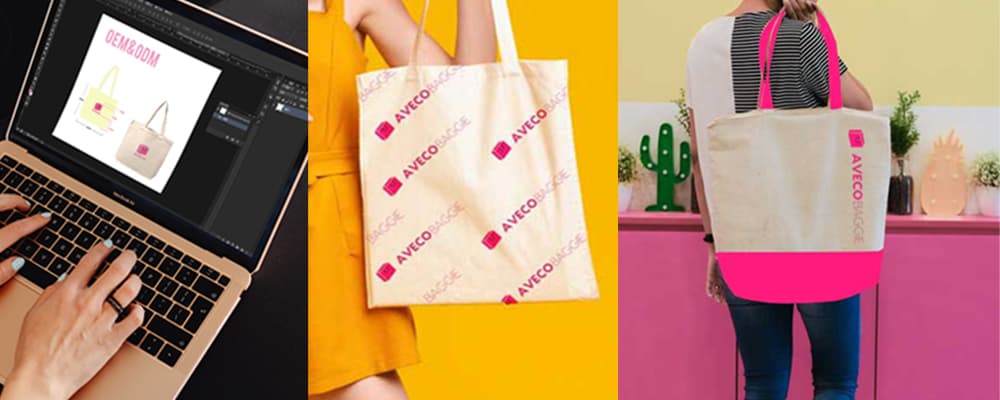 1. Educate Yourself On Current Fashions And Trends
Although this may seem like a tiring job, it can prove to be quite fun! All you need to do is visit some small brands similar to yours. Once you're here, carefully observe the types of bags they are giving out. Noticing the bags fellow businesses are giving out can help you pick a bag of your own.
2.Search The Net And Go Through Fashion Magazines And Catalogs
Through browsing, you can learn about the newest styles and trends.
5.Eco-Friendly
Committing to living a greener lifestyle is now more than just a trend; it's a duty. You've probably noticed that many firms are becoming more eco-friendly nowadays. Most of them are implementing sustainable practices to preserve the environment. One way they are doing so is by using environmentally friendly bags in place of plastic bags.
There are many advantages to using these bags. Here are two such benefits.
1) They are reusable. This means that you can use them several times before throwing them away.
2) They are typically made more comfortable, so it's easier for customers to hold onto them for a long time.
Some types of eco-friendly bags you can opt for are:
1. Canvas Bag
3. Paper Bag
4. Jute bag
6.Safety
One thing that most owners forget is the safety of their bags. Although one might think that all bags have the same amount of security, this isn't the case.
As a brand responsible for the bags you give out, you must ensure that the reusable bags are safe for humans to carry. You should test your bags to confirm that the materials used in them will not harm the client. Be certain that they will not adversely affect your customers' health and wellbeing in any way.
Use high-quality materials so that your bags are safe and sound. No matter how long the customer's journey, they should feel comfortable and secure.
7.Aesthetic
Promotional bags can be striking in addition to being valuable and sustainable. Whether a person carries them to a grocery or a festival, your bags should catch others' attention.
Since customers' can use these bags indefinitely, there is no limit to the number of people who may see them. The more people use your bag, the more proof consumers cherish your brand. This is why you need to decorate your bag in a way that is appealing to the eye.
One way to make your bag stand out is by choosing a vivid and striking base color. If this idea isn't up your valley, you can choose a more neutral base color with more bright colors for the logo. Whatever you do, find a balance between both function and fashion. Doing so will help make your bags as appealing as possible.
Where Can You Find A Reliable Promotional Bag Supplier?
In search of a reliable promotional bag supplier for your newly opened store? You've come to the right place!
AvecoBaggie has custom solutions available for the exact type of bag you want. We have everything you need – from sturdy bags for your books to waterproof tote bags for your retail store. AvecoBaggie bags are proof that you can find functionality, durability, and great designs- all in one.
Summary
Given the vast array of options available, finding a bag that meets all your needs can be a tedious task. However, if you know what the ideal bag entails and are aware of your exact requirements, it's simpler to get it.
Even though fashion is essential when purchasing a bag, it doesn't have to be the only deciding factor. We hope this article helps you understand the many features of a great promotional bag.