Having a hearty lunch at work can boost productivity, creativity, and mental wellbeing. Despite these benefits, 2 out of 3 millennials are said to skip lunchtime during workdays. The ones who do end up having it tend to reach for unhealthy options. The best solution to combat this growing problem is to start packing your own lunch.
Lunch coolers are an amazing way to carry your homemade meals to work. These coolers are insulated to keep your food fresh and delicious. This means that you can prepare everything beforehand. Not only does this save up a lot of time but it can also be super budget-friendly. Plus, having a cool lunch bag by your side ensures that you never miss your afternoon meals!
Trying to build healthy eating habits within a tight work schedule? Having a lunch bag cooler around can make a real difference! To assist you on your journey, we have compiled a list of the 6 best lunch coolers. Read on to find your perfect lunch companion for busy workdays.
How To Buy The Right Lunch Cooler?
When it comes to lunch coolers, there's no one-size-fits-all solution. However, there are some things all good lunch bags have in common. Before you invest in a new one, it's better to make a mental checklist of these important factors.
Here are some important criteria to consider before buying a lunch cooler:
● Decent Insulation
Insulation affects the cooling capacity of the lunch cooler. High-quality insulation can keep your food fresh for up to 14 hours. It's important to keep this in check so your lunch stays fresh for the longest time.
● High Durability
Since you'll be taking the lunch bag to work every day, it needs to be durable and sturdy. Make sure it's made out of long-lasting material that can withstand wear and tear.
● Leak-Proof Capability
Lunch coolers need to be stain and leak-proof to carry food and liquids. Without these abilities, your food may end up spilling out and damaging the bag.
● Ideal Size
Your lunch bag needs to be the ideal size for your job. This will also influence how much food you can carry and how portable the bag is. A larger cooler will allow you to store more replenishments for a strenuous workday. However, if you work a desk job, a more compact lunch cooler will do just fine.
● Airtightness
Airtightness retains the cooling within the lunch bag. It also ensures that no dirt enters the bag. Without this, your meals will go bad in no time, especially in hot temperatures.
Top 6 Lunch Coolers Which Are Ideal For Work
Best Budget-Friendly: HANGO Insulated Lunch Tote
HANGO's insulated lunch box features a simple yet functional design for everyday use. The bag is compact in size, extra lightweight, and easy to carry. This lunch tote comes in three stylish colors, Gray, black and pink. The polyester canvas material adds a lot of durability. It also boasts faux suede accents that give a luxurious touch. The added insulation keeps meals fresh for longer at an affordable price.
| | |
| --- | --- |
| Pros | Cons |
| Durable material and decent insulation. Multiple sizes and color options.You get two bags at the price of one. | Might be too small for some individuals.Has only a single compartment. Users complain that the handle is flimsy. |
Final Verdict
With a 4.5 out of 5 rating on Amazon, this lunch box is a solid investment. If you need something simple, hassle-free, and super affordable – Hango's lunch bag is perfect for you.
Most Popular: Lifewit Lunch Bag
LifeWit lunch cooler comes with a convenient, wide-open design for easy access. The heavy-duty exterior ensures resistance to stains and wear & tear. The interior features food-safe PEVA foil so you can store your food directly. With the bag, you also get an adjustable shoulder strap and extra pockets. LifeWit's bag is available in two sizes: 15 L and 24 L.
| | |
| --- | --- |
| Pros | Cons |
| Water-resistant and dirt-proof. Many pockets for added storage.Large capacity up to 24L.Keep food cool or warm for more than five hours.An adjustable shoulder strap adds a good carrying option.Very affordable for the size and quality.Leakproof to prevent spills. | Some reviewers report rips in the bag after continued usage.The insulation is not very strong. Don't keep ice frozen for more than a few hours.Users report that the bottom is not too durable and prone to sagging. |
Final Verdict
With thousands of positive reviews, LifeWit's lunch bag is a popular choice on Amazon. It's recommended for people who want a bigger lunch cooler with a lot of storage at a fairly low price.
Most Stylish: Baloray Lunch Tote Bag
Baloray's ultra-chic lunch tote comes in a variety of stunning patterns. The size is perfect for a regular workday. While it may look smaller than others, the tote bag is quite roomy from the inside. The exterior is made out of Oxford cloth and the interior is lined with BPA-free foil. Baloray's Lunch tote is compact, easy to clean, and super trendy.
| | |
| --- | --- |
| Pros | Cons |
| Keep food warm or cold for 4 hours.Extra front pocket to keep your phone and other essentials.Water-resistant and easy to clean.30-day refund or replacement guarantee from the seller.16 stylish patterns to choose from. | Maybe too small for larger lunches.Has only two compartments. The insulation is not too thick and only keeps food cool for a few hours. |
Final Verdict
This lunch tote bag looks exactly like a cool designer handbag. The functionality combined with its unique design makes it a winner.
Best Jumbo-Sized: Meal-prep Lunch Bag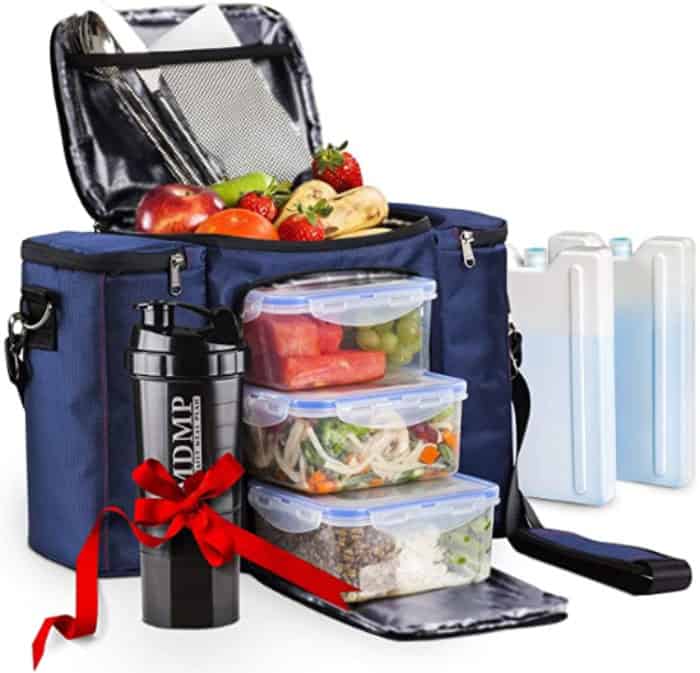 For ones who prefer a jumbo-sized lunch, this lunch bag will be a gamechanger. Its multiple pockets allow you to store more than you can imagine. The meal prep bag is also lined with insulation that keeps all your lunch fresh. It comes with a sweet deal of 3 BPA-free containers, a shaker, and 2 reusable ice packs. The shoulder strap makes it easy to carry around on your workdays.
| | |
| --- | --- |
| Pros | Cons |
| Highly durable material.High-quality insulation keeps food cold for 10 hours.Comes with bonus containers, ice packs, and a shaker.Gives a lifetime money-back guarantee. Multiple pockets and an open-wide compartment. | Might be too big for a single person.Maybe a bit expensive for everyday use. |
Final Verdict
This jumbo-sized bag is surprisingly convenient if you are carrying more than one meal for your workdays. With maximum storage capacity and durability, this seems like a solid investment.
Best For Outdoors: MIERS Expandable Insulated Lunch Bag
MIERS insulated lunch bag features an expandable compartment and various other pockets. The roomy interior can carry up to nine cans. The expandability makes it super versatile. It also comes with multiple carrying options, making it perfect for the outdoors. The bag is optimized for durability with extra stitching on stress points.
| | |
| --- | --- |
| Pros | Cons |
| The expandable feature makes it versatile and convenient.Two carrying options: shoulder strap and hand carry.Heavy-duty with high-quality stitching. | Only leak-proof when carried flat. May spill otherwise. Not very aesthetically pleasing. |
Final Verdict
The expandable quality of this bag is a unique and useful feature. The multiple carry options also make it ideal for carrying. All in all, this is the best choice if your work involves a lot of traveling and outdoor activities.
Best For Everyday Use: RubberMaid LunchBlox Lunch Bag
RubberMaid's LunchBlox bag can hold multiple Tupperware containers filled with lunch. The black etched design is trendy and versatile. Its mesh side pocket is perfect for holding your water bottle. The interior contains more compartments for extra storage. Cute, insulated, easy to carry, and roomy – this lunch cooler is just what you need on a daily basis.
| | |
| --- | --- |
| Pros | Cons |
| Multiple compartments and pockets. Also has a pocket for a water bottle.Added insulation to keep food fresh.Simple yet functional design.Two ways to carry: Grip handle and adjustable shoulder strap.Comes in two lightweight sizes.Very affordable. | It may not be big enough for more than one meal.The design may not be to everyone's liking.Best for carrying RubberMaid's own LunchBlox containers, Tupperware kits, other may not fit. |
Final Verdict
With more than 4000 reviews and a 4.7 out of 5 rating, RubberMaid's LunchBlox bag is a definite hit. Its hassle-free design makes it the ideal lunch carrier for a regular workday.
Customized Lunch Coolers: The Ultimate Solution
Can't find exactly what you're looking for in a lunch carrier? Try customized lunch coolers instead! Whether you love stylish lunch bags or heavy-duty ones, you can customize them to your liking. From the material to the style, you can be in charge of it all.
At Avecobaggie, we are committed to providing a truly bespoke experience. Bento boxes, lunch totes, and more – we can customize it all for you.
Conclusion
Lunchtime is for having healthy meals that recharge you for a productive workday. If you're committed to building positive eating habits, carrying lunch bags can help. These bags come in all kinds of shapes and sizes. They can even be customized to your liking!
So, what are you waiting for? Get a lunch cooler that meets all your needs now and stay healthy at work!