One of my friend's European customer wanted to find a reliable China eco-bag manufacturer to expand his new product range. Then my friend recommends me to him. After communicating, I found that he had already tried sourcing these bags on the Internet. But it's still difficult for him to find the one who can meet this expectation. This customer is a traditional professional buyer. In the past, they choose the suppliers through visiting professional industry exhibitions and have face to face communication with suppliers in the fair. This is the most efficient method of selecting suppliers and also his favorite. However, now he has a problem. Due to the raging epidemic since 2020, most exhibitions have been cancelled, and traditional exhibition buyers have also turned to online. Do you also have the same trouble in choosing a high-quality Chinese supplier through the Internet? Read on and follow the guide step by step on how to choose a reliable supplier online. It will help you avoid stepping on pits.
Step 1: Confirm the "Keywords" of the product that you want to search.
Let's take the environmental eco bag as an example. There are many different kinds of environmental friendly bags in this product range, such as disposable PLA bag, paper bag, reusable cotton bag, canvas bag, jute bag, non-woven bag, etc. They can be applied in different ways, and scattered in various industrial belts. So it's very important to find the right keywords of your products.
Step 2: Choose the Network Search Method.(google or B2B websites)
Everyone knows that the current mainstream network channels include Google search engine and B2B platforms (Alibaba, Made in China, Global source). The B2B platform is a place where various vendors gather. But it is also mixed with good and bad suppliers and very difficult to identify, especially for newbies. But using the google search engine is more efficient.
Here are details for the two methods.
Quickly filter a batch of suppliers by using the Google language
For example, if you want to search "canvas bag manufacturer in China" and simply enter this keyword in the google search engine. Then it will come out a lot of B2 B and B2C websites, asking you to register, join the membership, and this is very annoying. How if we use the google language? That's more easier and can quickly pick out the one you want.
Taking "inurl" as an example, if we type: inurl: canvas bag, then it means there must be "canvas bag" included in the URL, and then if we put minus"-" in the front,that means exclude "canvas bag" in URL, so the searching result will come out more precisely.
I have made a conclusion for those B2B or B2C URL, so just add it with our keywords, and they will filter.
canvas bag manufacturer in China(your keywords) -inurl:alibaba -inurl:indiamart -inurl:made-in-china -inurl:globalsources -inurl:dhgate -inurl:hktdc -inurl:dropshipping -inurl:tech -inurl:news -inurl:blog -inurl:etsy -inurl:amazon
With this method, the results will be much more accurate. Then you can just click one by one accordingly and browse the websites of all these Chinese suppliers, checking the homepage, about us, and product pages, observe who they are , what is their main products, how to they cooperate, which service do they provide. And then select some companies and add them into your favorites lists to compare for the next.
B. Quickly selected a batch of suppliers from B2B platform (taking Alibaba as an example)
1.Register a B2B account, just enter your email box (gmail is better) and your information. Remember that better not register your company email address or your regular email address, because alibaba will bombard you with crazy information and emails, and drawn your important emails.
Then use the prepared keywords to search on the main page, click search button, see below
The left part is the filter part which you can filter with your requests, normally you have to choose at lease trade assurance, for verified supplier, it is a third party verification, but sometimes it is still tricky.
Next if you like some products, you can click the "+"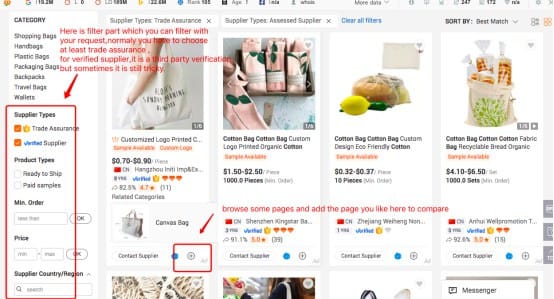 after you add several products, you can see there is a line below, here you can choose at most 20 products and compare at the same time.
Then you can click the "compare " button, and choose the "supplier feature"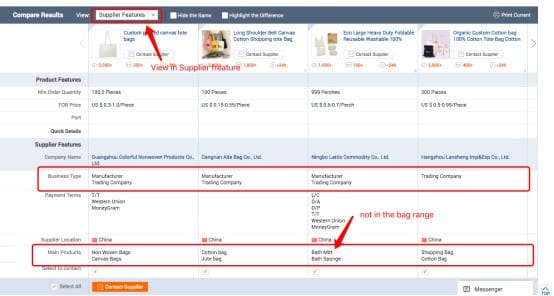 When you are checking here, just ignore the product information and prices, MOQ, because many sellers on Alibaba do not list the real final price on the page, it's not accurate. What is important is you have to look into the company's main information initially. Select about 10 companies, click on contact supplier in the lower left corner, and then send them the enquiry.
C. Prepare an enquiry template for the first contact with the supplier.
Remember that the template copy should short but described your requests. Send the same enquiry to several factories that in you favorite lists first. And then wait for 1 day to see who will respond. The following example is an enquiry  template frequently received by Chinese suppliers.
Suppliers on Alibaba usually don't take this kind of inquiries seriously, because they have seen so many such inquiries. So don't send complicated enquiries for the first time. It's better to be concise and clear, such as direct inquiries. Product-related issues, so you will receive more first-time responses, and you will not miss quality suppliers.
For example:
Hello,
  I am interested in your customize cotton bag, could you pls quote your size 30X40CM without gusset,with a simple logo ?  we can be regular buyers if it works well. thank you.
Your name .
Or if you only want to work with manufacturer but no middleman, you can also write directly in your enquiry with "We only work with real manufacturer"
Step 3: In-depth Investigation on Several Finalists Factories
After receiving the response from some suppliers, you can follow up and ask them to provide more information so that you can evaluate. You can ask them to send the following information: business license, foreign economic and trade license, actual production pictures, factory videos etc.
Then verify the content and certificate provided by the supplier. determine whether it is a manufacturer or a trader, choose further communication according to the needs, and consider whether the supplier's communication is smooth in the communication, and make an overall score for each supplier. As we know , the communication cost is also high when cooperating , So good communication is very important. Here we have prepared a supplier identification form to help you better select suitable suppliers. Contact us for the form now!
Step 4: Make a Phone call or Video Call to the Supplier You want to work with.
Now I guess you already have some candidates on your mind, but don't rush, you still have to be careful. Make a telephone call or video call among several best suppliers you have searched so far, if the factory cannot answer the phone, there must be a problem.
If your project is large, or the above ways I introduce is still not enough for evaluation, you can go to the fifth step.
Step 5: Find an agent or pay a visit to the factory by yourself (but the cost is higher).
Of course, under the current COVID-19 pandemic, this seems not possible. But it is a very good way if things turn better. Because to see is to believe. and you can also have a face to face communication with each other and it help both to know better. If you cannot go personally, then finding an agent to do an on-site inspection will be a good alternative. Definitely the step 5 cost more money. But if your order is big and very serious, I think it worth to do so.
Summary: Searching a good supplier on the internet takes time and hard. But if you follow the way I share will make it easier. If you are still unclear about it, you can also write to us and we can also help you. So whether it is a manufacturer or a trader, a large company or a small company. If the quality of the product is OK, the communication is smooth, and the supplier who can cooperate with pleasure is a good supplier.