Today, businesses all over the world are embracing sustainability in all aspects. Wineries are no different! In fact, pollution can have an even more profound impact on the winery business. To combat this, wineries need to embrace eco-friendly solutions. The best place to start is their abundant use of paper bags.
Wineries that rely on paper wine bags shouldn't lose hope. They have the incredible option of switching to reusable bags. Using reusable packaging comes with countless other benefits as well. Some of those benefits include durability, style, and added value.
Still not sure about switching to reusable bags? We've got you covered! Here are some reasons why reusable wine bags are a must-have:
Show That You Care About The Environment
The bags used by wineries may seem like a better alternative to plastic. Unfortunately, they are notorious for causing mass deforestation. In America alone, the usage of 10 billion paper bags amounts to the cutting of 14 million trees.
If that isn't grim enough, they also take way more energy to produce. But please don't worry just yet! There's also a bright side.
Reusable wine bags can come to the rescue! These bags are not only more eco-friendly, but they look better too. While paper bags are single-use, reusable wine bags can be reused multiple times. The production of reusable bags doesn't harm any trees either. Choosing reusable wine bags shows that your winery cares about the environment.
Create A High-End User Experience
Apart from delighting your palette, wines from respected wineries also provide amazing aesthetics. Customers who choose boutique wineries expect the products to be high-end as well. Is your winery also committed to creating bespoke experiences? If your answer is yes then a paper bag simply isn't enough.
To create a truly one-of-a-kind experience, personalized wine bags are the way to go. From canvas wine bags to leather wine totes – there are unlimited options. Remember, wineries are more than the wine they sell. The better the experience, the more customers you'll attract!

Boost Customer Loyalty
The success of a business depends on the number of loyal customers. As a winery, you have to ensure that your customers come back for more. In addition to your delicious wine, the quality of packaging also matters. Beautiful wine carriers can turn visitors into lifelong customers. A reusable wine bag is like an added gift.
One rule about customer loyalty is that gifts always work! Customers love getting more than they paid for. Unlike paper bags which are discarded after purchase, canvas wine bags add value. Throwing in a wine bag with the wine is surely an offer your customers can't refuse.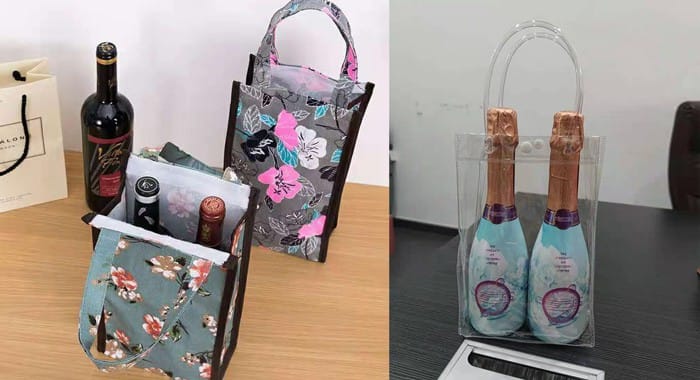 Level Up Your Promotional Strategy
Promoting your winery is no easy feat. But reusable and personalized wine bags can help you achieve that. Today, wineries have unlimited options of wine bags to choose from. Perhaps the best way forward is to go for customized wine bags. With your logo and details on an aesthetically pleasing bag – your winery can go a long way.
The benefits of using reusable bags as a promotional strategy are limitless. Consider this, a customer buys your wine encased in a branded bag. They may continue to carry wines and other beverages in it regularly. This will surely attract a lot of questions from their peers. Many people might even look your winery up, making this bag an amazing lead generator!
Earn The Spotlight
With so much competition, it's hard to get into the limelight. Specialized wine bags can help you achieve that in no time. Visibility is an important aspect of marketing. Customized bags can help you achieve visibility without any effort. All you have to do is feature your brand on the bag. Then you can sit back and let your customers do the rest!
Many customers may give your wine bag gifts to other people. This cycle goes on and your brand becomes more recognizable by the day. This builds a lot of trust and legitimacy for your winery – putting it in the big leagues.
Express Your Creativity
As a winery owner, you must have a creative vision for your winery. With personalized wine bags, you can make this vision a reality. A paper bag limits your creative freedom and makes a boring product. With reusable wine bags, you can unleash the true potential of your brand.
You can create dedicated wine bags for different wine collections. Bright colors, elegant designs, and added features – all of it is achievable. You can even provide wine cooler bags that look good and keep the wine chilled. Another option is 6 bag wine totes that store more than one wine at a time!
Boost Sales On Special Occasions
National holidays or festive occasions are an amazing time to boost your wine sales. Many people are looking for cute wine bottles to gift their loved ones. Your winery can rise up to these momentous occasions. Anniversaries, birthdays, Valentine's day, and more. Your wine bags can come with specialized designs for each holiday.
Provide Customized Orders For Customers
You know what's better than simple reusable wine bags? Fully customised ones! Customers may want their own names or brands on the bags for major events. A good example of this are custom printed bags for weddings. Many couples feature customized burlap wine bags on each guest's table.
Your winery can surely benefit from such bulk orders. You might even be hired to supply wine for high-end events. Being a part of corporate events can take your brand to the next level. And the first step towards this is featuring custom packaging options.
Which Wine Bag Should Wineries Go For?
| | | | |
| --- | --- | --- | --- |
| Features | Reusable Wine Bags | Paper Wine Bags | Plastic Wine Bags |
| Reusability | Sturdy and long-lasting. Can be used multiple times. | Easily damaged and fragile. May only be good for 1-2 uses. | Prone to tearing and damage.Can be used multiple times. |
| Eco-Friendliness | Made using Sustainable methods. Completely biodegradable. | Paper bag production causes deforestation and takes a lot of energy.Paper is also biodegradable. | Takes less energy to produce but causes more harmful impacts. Non-biodegradable and pollutes the environment. |
| Customer Experience | Gives a very premium and high-end feel to the wine. | Gives a sub-par impression. May make your wine look like regular store-bought wine. | Adds nothing to the customer experience. Looks and feels low-grade. |
| Customization Options | Each element can be customized including design, printing method and material. | Limited customization options in paper. | Can be printed but has limited customization options as compared to reusable. |
| Added Value | Acts as a small gift for the customers.Can be turned into a wine cooler or insulated wine bag to maximize value. | Can only be used a few times and it is easily damaged. No innovative options to add value. | Not much added value as customers can get plastic bags from anywhere.No innovative options. |
Summary
As a winery, you must be aware of the importance of eco-friendly practices. The next step is to address the problem and switch to greener solutions. You can do that by opting for reusable wine bags. This article has exposed you to all the reasons why reusable bags are the way to go. They're good for the environment and also good for business!
Are you excited to experience these benefits in real life? Switch to reusable wine bags now and see the difference.