Summer vacations pull us out of our houses and spread us out on the beach. When you're at the beach, cool sea waves brush against your feet as you lie under the sun. It's truly an experience.
Here's the memo for your day at the beach: Fashion, fun, and the sweet summer sun. But how do you make that happen? Well, let's start with picking out the best suitable beach bag for you.
Do you like bold colours? Or are you the kind of person who enjoys a minimalistic lifestyle? Are you cautious about your shoes getting wet? Do you plan on spreading brand awareness? It's true that no one beach bag fits all, which is why I'm here to help you find the one for you. Let's explore all the best options out there!
Shylero beach bag
Waterproof oxford backpack
Whitecap beach bag
Dejaroo mesh beach bag
Semi-translucent bag
Burlap beach bag
Cotton mesh beach bag
Personalized beach bag
Shylero Beach Bag
If you love vibrant colours and want a bag that captures the summer theme, THIS is the one for you. The Shylero beach bag is large, roomy, and durable, with a waterproof interior lining.
It carries an aura of the Caribbean with its thick and sturdy rope handles, which are soft at the same time. The Shylero beach bag comes with a built-in key holder and bottle opener. So pop your bottle of beer open anytime you want!
Cons include the lack of a zipper and the usage of toxic PVP (vinyl). If these cons bother you, let us customize the same bag with a zipper using eco-friendly materials for you.
Waterproof Oxford Backpack
When you're packing for your beach day, you need a plethora of things. Your typical beach day items include:
A bathing suit.
A rag for sand removal.
Picnic blanket and beach towels.
A camera to capture the beautiful scenery and save memories.
First aid items, just in case you hurt yourself.
Baby wipes to get the grease off you.
Antibacterial gel to clean your hands before digging into your food.
Chapstick to keep your lips moisturised.
Sunscreen to protect your skin from the rays of the blazing sun.
Where do you keep all your items before running into the water? How do you carry them as you walk around the beach? The answer is simple: get a waterproof oxford backpack. It comes in a drawstring design with two straps, one on each side. As it's waterproof, it protects your belongings from water splashes!
Beach day essentials vary from person to person. Some like to pack a truckload of things, and some only carry a few items. With custom solutions, you can get this waterproof beach bag in any size you want!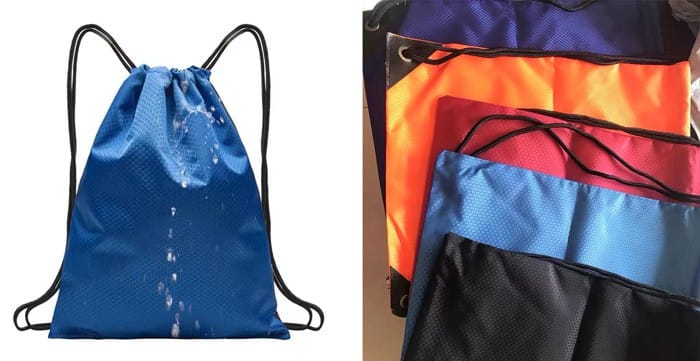 Whitecap Beach Bag
The Balos whitecap beach bag is for both; men and women! If you love drawstring bags but hate that they keep slipping off the shoulder, this bag is the best option for you. It has a clever design with a drawstring opening encapsulated inside a shoulder bag. Another plus is that if you spill oil on it, it wipes right off!
Dejaroo Mesh Beach Bag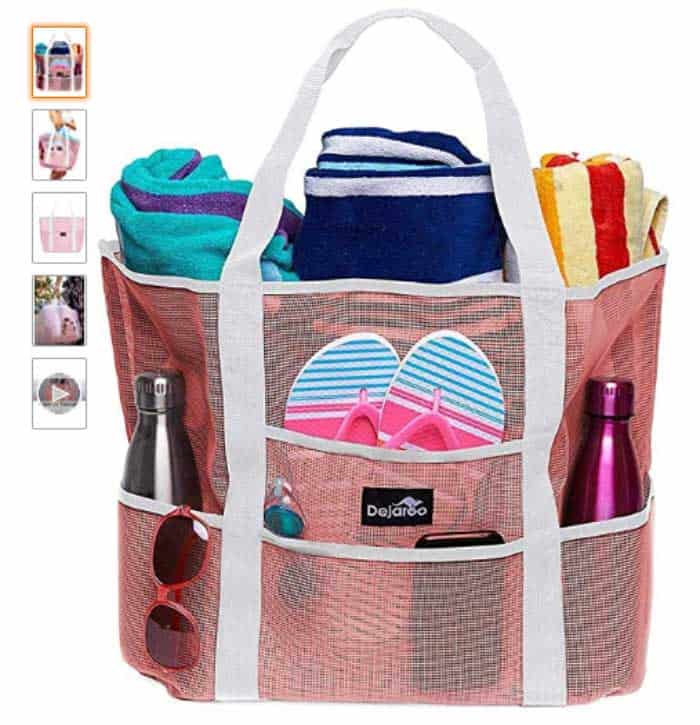 If you identify as Monica from the TV show F.R.I.E.N.D.S, who loves her stuff organized, pick the Dejaroo Mesh Beach Bag!
It has plenty of pockets on the outside for all your beach items. Towels, water bottles, sunglasses, beach toys, sunblock — anything and everything. On the inside, it has a zipper pocket for your valuables like cash, I.D, and cell phone. What's more, is that it's spacious and filters sand too!
Semi-Translucent Bag
When you get to the beach, the first thing you need is your sandals. Where do you put your other shoes? And more importantly, how do you protect them from the sand? I present to you: the non-woven drawstring shoe bag. It has a translucent, clear-window design to help you see which pair of shoes are inside the bag. Your shoes also remain safe from sand and water splashes.
The non-woven drawstring shoe bag is primarily for shoes. However, its use extends to other accessories as well. You can also pack your sunscreen, lip balm, sunglasses, bathing suit and other beach items in it. All your products will be visible to you at all times. And you wouldn't need to shuffle through your bag, looking for a particular item.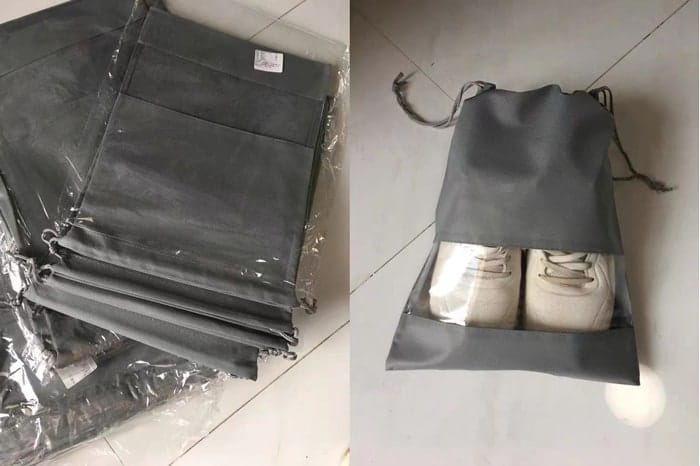 Burlap Beach Bag
If you're a businesswoman (or man), then a customizable jute beach bag is the one for you. It has a dual nature with natural jute on the outside and polyethylene on the inside.
The burlap beach bag is leakproof. So feel free to carry your water bottle in it! It has enough space to hold your sunscreen, chapstick, wallet, phone, keys, and more! Perhaps a good book too — if you're a reader.
Now, back to business. As this bag is customizable, you can print your company's logo on it. There are many people on the beach, and your bag will catch their eyes. Some might even stop by and ask you about it! You'd be promoting a positive image of your company on the side while having a fun day at the beach.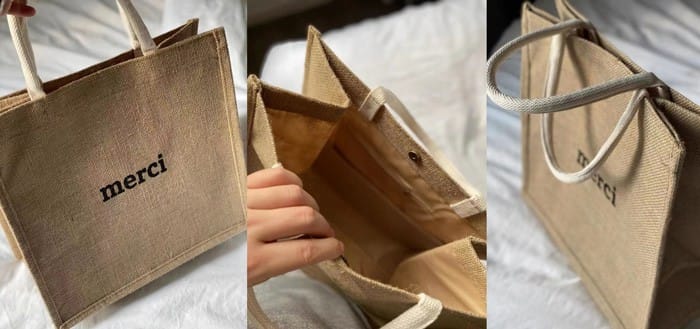 Cotton Mesh Beach Bag
If you're a bit of a lazy bum, then I would recommend a shoulder mesh beach bag. It saves you from having to remove sand from the bag as it doesn't hold in any sand! You can use it for your sand toys such as:
Moulds
Scoops
Pails
Shovels
Sifters
Rakes
After playtime, you can put all your beach toys back into the bag. It has an open and spacious design.
There's another variety that comes in a semi-mesh design. It has long and thick handles that are easy on the shoulders! The cotton mesh totes beach bag has a vintage feel to it. If you're all about comfort and style, this is the one for you!
Personalized Beach Bag
Still don't see the best suitable beach bag for you here? Well, then say hello to the wonder that is a personalized beach bag. Take the best of all the bags you know and create your own beach bag! With custom solutions, you get to pick:
Bag shape
Fabric: cotton, canvas, linen, jute, etc.
Thickness ranging from 4OZ to 24OZ
Colour — choose any favourite from the colour wheel!
Printing method: Silk Printing, Heat transfer Printing, Digital Printing, Flocking, etc.
Sewing method: single stitches, overlock, piping, punching, etc.
Accessories: pressed button, magnet button, iron hole, inside pocket, zipper, velcro, etc.
Strings: Jute string, cotton string, Korean string, polypropylene string, etc.
Assemble the bag of your dreams with all these options at your disposal!
Six Things You'll Love About These Bags
All the bags mentioned above have seven things in common:
They cater to your sense of style. Personalize your bag, from the fabric material to the logo on top. It is all up to you.
They are your little brand ambassadors. Let them do the talking for you. Leveraging their popularity, they spread the word about your business. All it takes is a relevant logo on top!
With online websites, they are only a click away! And the options are endless. Pick any combination of fabric and design.
If you buy them in bulk, you cut down on the cost of each bag.
You can add as many items as you like, and they won't fall through the bag. As these bags are strong and durable, their handles don't break away either.
These bad boys are here to stay for many years to come. Avecobaggie manufactures them with the will to go on!
Summary
The summer is not hot until you show up at the beach in style! Finding the best suitable beach bag for your summer vacation is easy. All you have to do is pin down your requirements first. There is a bag for every need of yours! From waterproof bags to sand-filtering bags — all your options are out in the open now. You can even personalize your beach bag and put your own spin on it!