You can add some convenience to your life with canvas zipper bags. With these bags, you get to organize the essential items that you use daily. You can use them for accessories, makeup, stationery, or for anything else you can imagine. They zip up and close to keep your things safe. Otherwise, your items fall out and get lost, especially smaller ones that are easier to lose.
Since they made of canvas, a sturdy and resilient fabric, be rest assured that these will last you a long time. Canvas zipper bags are reusable and washable, and so you don't have to worry about getting them dirty. They are lightweight, making them easy to carry around.
They are small in size, so they can easily fit into your handbags or suitcases. What's more, is that they are customizable. It makes them the perfect bag to help you categorize your items. Canvas zipper bags are a necessary item for your organizational needs.
Here some of the many ways you can use a zipper canvas bag in your life to make your daily life easier:
Stationary
Makeup
Toiletries
Wallet
Handbag
Art supplies
Tools
Electronics
Jewellery
Knitting and sewing
First-Aid
Stationary
Bags like these help keep stationary organized and compact. It allows you to take it anywhere; school, work, or business meetings. You can also use it to better organize your stationary for easy access.
Find a way to arrange the stationery you've been adding to your collection. Put all the cute erasers and coloured pencils in one place. This way you won't have trouble finding them. Your drawers will be properly organized and pleasing to look at it.
Makeup
When it comes to makeup, you know you can not have just one thing. There is so much makeup available to aid you in your beauty regimen. Contour sticks and palettes to lipsticks in all their many glorious shades and types. There are eyeshadows and foundations, primers and eyebrow pencils/gels/powder. You have a different thing for every part of your face. Besides makeup, there are various brushes and beauty blenders to apply these products.
The world of makeup is vast and comes in many, many shades, all lovely, all necessary. But organizing this makeup can be a daunting task. It is very easy to dump makeup in a junk drawer and forget about it. Looking through that drawer in search of one lipstick is an impossible task. It is like trying to find an aeroplane in the Bermuda Triangle. That is to say, we are probably not seeing that lipstick again.
This is where the handy dandy canvas zipper bag comes in. You can put all your makeup in here that you need for easy access.
You can have this bag customized for your particular need. You can add words or pictures added to the front of the bag. It will make the bag easy to distinguish. You can also have coloured zippers added and colour code all your different makeup.
Toiletries
Personal grooming items are essential for looking presentable. They are something we carry around with us, especially when we are travelling. Loofahs, shampoos, and shavers all accompany you on your trip. Canvas zipper bags are perfect for storing toiletries. This bag can carry all your essential grooming items when you are on the go. They are lightweight and fit easily inside backpacks and suitcases.
Wallet
It is so easy to lose money or cards when we throw them in our bags, and it is a habit many of us have. These are valuable items that you should keep safe. Canvas zipper pouches are perfect for storing items in, and they zip up. So your items remain secure inside. You can customize this bag to fit your design preferences and be your ideal wallet.
Handbag
Zipper bags made of canvas can come in handy to organize handbags as well. Say goodbye to stuffing makeup and earrings into side pockets or the bottom of bags. Now, you can keep them safe and secure in a canvas zipper bag instead of risking damage or loss.
Art Supplies
Paints, brushes, pencils, and charcoal remain safe inside a canvas zipper bag. You can carry it from room to room or anywhere you want, like painting by the beach. The bag is perfect for storing art supplies — the artist's best friend.
Tools
We keep tools like screwdrivers and hammers on hand for quick, at-home repairs. We can use a canvas zipper bag to transport our tools around the house to repair what we need. It is possible to store all of your screwdrivers, wrenches, pliers, hammers. And even the nails and screws inside these bags. They can also help you organize your tools. Screwdrivers come in many sizes and shapes. So do screws and nails, all designed for different purposes. Organizing these items will make it easier for you to find them when you need them.
Electronics
Have you ever lost your earphones or charging cable? Our solution is to keep all your items protected inside a canvas bag, zipped up. Here, they're protected from the elements which can damage your electronics. Canvas zipper bags keep your AirPods and charging cable nearby. So you can listen to music or podcasts and charge your phone any time you like!
Jewellery
It's dazzling, sparkling, dangly, and fabulous. Jewellery is the one thing that makes every outfit complete. Your statement piece is always the most important part. An everyday item that feels like it is a part of you. We never know when we will need it in the case of an impromptu formal event. So we carry it around in our handbags ahead of time for emergencies.
Alternatively, we may be more inspired by a certain piece and wish to dress accordingly. A canvas zipper will keep your earrings, necklaces, and brooches organized and safe.
Knitting And Sewing
If you are an avid fan of handicrafts, you will know how long it takes to find the right colour thread or needle for the job. Colour coding and arranging threads helps you move along with your project quicker. Searching for the right tools for the job will not take time. All threads, crochet needles, sewing needles, buttons will be there in your time of need.
First-Aid
Bandages, disinfecting alcohol, gauze, aspirin, etc., are essential tools in first aid. This first aid kit should be available everywhere in your home and on your person in cases of emergency. You can take multiple small canvas zipper bags and stow them away in every room of your house. Keep them in your car and your bag as well. Hopefully, this will come in handy in case of an emergency.

Different Types Of Canvas Zipper Bags
Here are our top picks for all your organizational needs:
Canvas utility zipper bag
Cosmetic canvas zipper bag
Blank DIY canvas zipper bag
Multi-purpose canvas zipper bag
Colour coded canvas zipper bag
Canvas Utility Zipper Bag
The canvas utility bag is great for organizing your tools. It is spacious and has loops to go around your belt hooks. So you can carry it around with ease while making repairs. The canvas utility zipper bag is tough and can deal with more heavy-duty products. It also comes in a variety of colours; you can use different colours for separate toolsets.
This bag, however, is lower quality and has sharp plastic tabs, and ragged zippers. When using such a bag for tools, you can have a higher quality one made from Custom Solutions.
Cosmetic Canvas Zipper Bag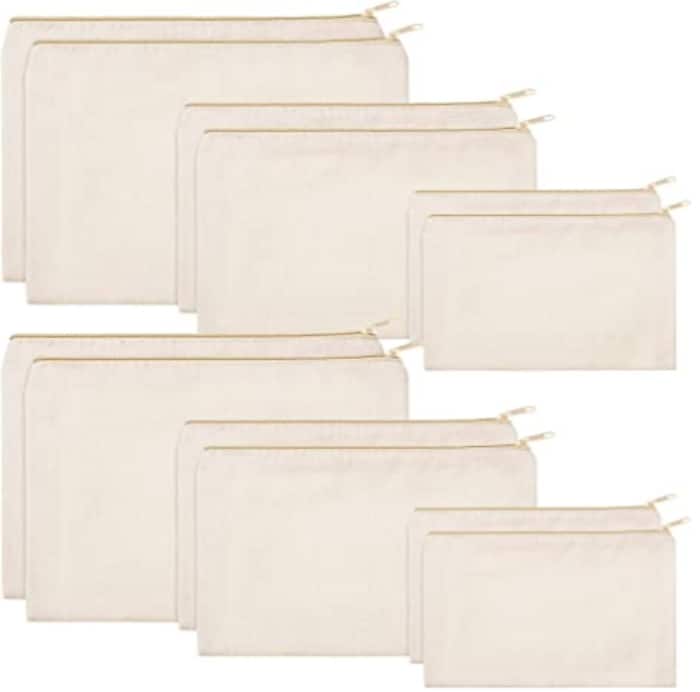 Blank DIY Canvas Zipper Bag
This light canvas zipper is ideal for organizing your bag, don't leave it a mess! Or let all your items clutter the bottom of your bag. Keep daily use items organized and safe inside these canvas zippers for easy access. Get creative and use different DIY techniques to decorate them!
Find durable alternatives for these canvas zippers at Custom Solutions. They are customizable to fit your design needs and wants.
Multi-Purpose Canvas Zipper Bag
This canvas zipper bag is multi-purpose. You can use it on the go for storing your toiletries or even for keeping your art supplies safe and organized. The multi-purpose canvas zipper bag is plain and not easy to customize on your own. Heat ironing just won't do. As an alternate, you can have your bags customized from Custom Solutions! Whether it is custom logos or zippers, Custom Solutions has you covered!
Colour Coded Canvas Zipper Bag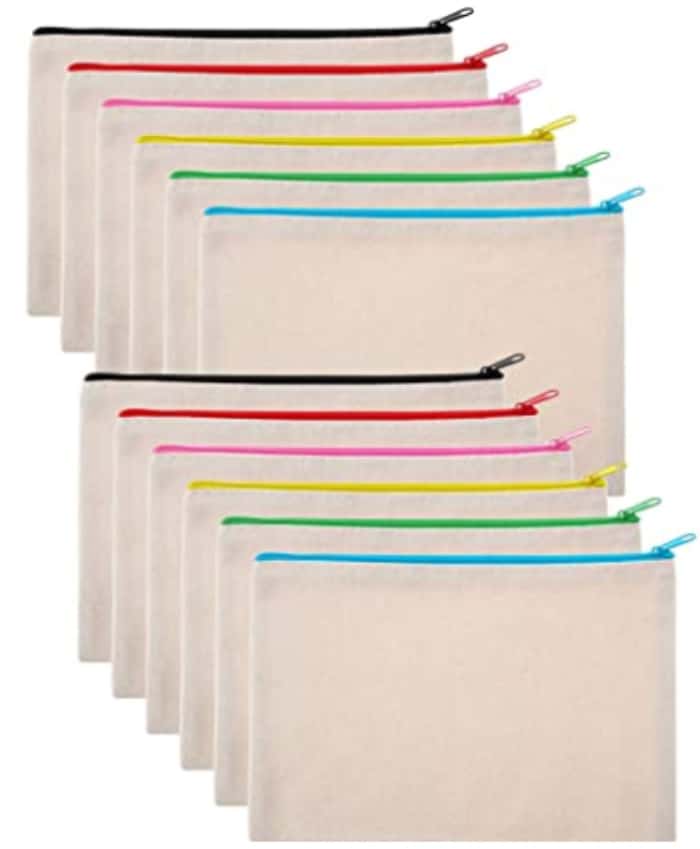 The colour-coded canvas zipper bag is perfect for your sewing and knitting items. It can help you colour code your items and keep them organized. You can efficiently move through your creative projects. The zipper on this bag, however, is flimsy and prone to breaking. If you want a better-made product, then head over to Custom Solutions.