Legend has it that the night of 31st October is the night of spirits of the dead. All the ghosts, witches, and wizards storm the Earth. Over time, this legend made its way into the festival of Halloween as we know it today.
Halloween parties are all about costumes, scary stories, apple bobbing, and jack-o-lanterns. The highlight of the night, however, is trick-or-treating.
The Art Of Trick-Or-Treating
Trick-or-treating is an activity for children on Halloween. They go door to door in the neighbourhood and ask for a treat or "threaten" to play tricks (pranks) on the homeowner. Usually, people open their doors with a smile and give out free candies or novelty toys to kids. But how do the kids carry their teats and toys? Read on to find out.
What Are Halloween Treat Bags?
Halloween treat bags or trick-or-treat bags are goodie bags. Kids use them to carry their candies and toys during trick-or-treating. Countless Halloween treat bags are available in the market. Let's review the best ones out there.
Best Halloween Treat Bag Ideas
My top picks include:
Orange LED Halloween treat bag
Canvas Halloween treat bag
Drawstring Halloween treat bag
Non-woven Halloween treat bag
The Mummy Halloween treat bag
Orange LED Halloween Treat Bag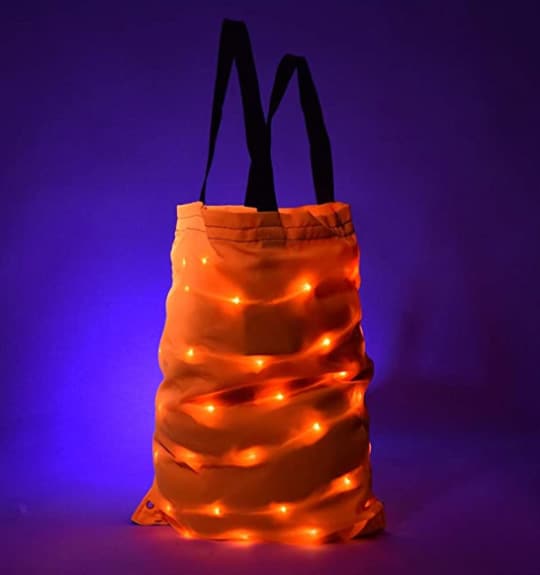 It's not uncommon to lose your kids in the dead of the night during trick or treating. If you wish to have something to locate your kids, consider the LED Halloween treat bag.
The LED Halloween treat bag, made of polyester, lights up in bright orange! There is a waterproof battery case inside the velcro pouch. It has three slots for AA batteries. They last for more than 48 hours for you or your kid to glow all night!
The lights attached to the outer polyester layers of the bag glow radiantly in orange. It's perfect for trick or treating as it goes with the colour theme of Halloween as well.
Canvas Halloween Treat Bag
Trick or treat pails are not flexible. They tumble over, and all the candies fall out. You would need something stable that still holds the shape of a bucket. And for that, I present to you the canvas Halloween treat bag.
The canvas Halloween treat bag stands on its own, and you don't have to hold it open either. It is durable, lightweight and eco-friendly. The handle is soft but firm and doesn't break away.
With custom solutions, you can imprint your canvas bag with any design you like. Pumpkins, witch castles, ghosts, bats, etc., we do it all here.
Drawstring Halloween Treat Bag
If you don't like anti-green plastic pumpkin pails, go for the drawstring Halloween treat bag. As the fabric used for this bag is canvas, it is durable, biodegradable and reusable. Other than trick-or-treating, it also comes in handy for school trips and sleepovers.
As you grow older, you need more candy. The 17 inches deep and 14 inches wide treat bag has the capacity of four average-sized pails!
The drawstrings are thicker than standard to support the weight of all the treats. You can carry the drawstring Halloween treat bag on your back or in your hands.
The bag features Halloween classics like a black cat, witch cauldron, dark castle, and bats. If you want to get sandman or any other character printed on it, visit custom solutions.
Non-Woven Halloween Treat Bag
The non-woven Halloween treat bag is lightweight with bright coloured pattern printing. The bright patterns showcase a skull, cartoon pumpkin, black cat and witch. If you have any other design in mind, custom solutions will take care of it.
The handles come in black and neon (blue, green, and orange) stripes. They are sturdy and easy to carry. The non-woven Halloween treat bag also stands on its own when filled with candies. You can also use it for thanksgiving, birthdays, school activities, and more.
This treat bag is 11.8 inches tall (excluding the length of the handle) and 6.3 inches wide. If you need a larger (or smaller) size, visit custom solutions! We will emulate the same bag for you but with your specifications.
The Mummy Halloween Treat Bag
The mummy franchise, based on three movies, is a classic for Halloween nights. Many people get together and host a movie night, watching all three parts back to back. If you're a fan of these movies, you'll love The Mummy Halloween treat bag! It comes in a black and white design, where the white stripes showcase the cloth people used to make the mummies. Spooky, right?
Let's talk about quality. The mummy Halloween treat bag, made of non-woven material, is double stitched at the top. It keeps the handles in place. These handles are lightweight, sturdy, and 7.87 inches long. The bag itself is foldable and holds the dimensions 15 x 16 inches. You can use it as a goodie bag to gift your friends or hand it out to kids who don't have a treat bag.
What Goes Inside The Halloween Treat Bag?
When kids come knocking on your door for trick-or-treating, you have two options. You can either treat them with novelty toys or food items.
Novelty toys for kids include:
Glow in the dark sticks
Halloween-themed stickers
Bubbles
Squeezable stress balls
Spooky temporary tattoos
Food items for kids include:
Candy apples
Pretzels
Potato chips
Cookies
Lollipops
Popcorns
Mini chocolate bars
Who says Halloween is for kids only? Adults get to have their own party as well! Some adult Halloween treat bag items are:
Witch lollipops
Spider web cotton candy
Bugs and kisses
Baked desserts
Eyeballs cookies
Smores kit
Bat brownies
Halloween Treat Bags As Gift Bags
Contrary to popular belief, treat bags are not solely for collecting trick-or-treat items. You can also gift them to the people, who you consider close, as a token of friendship. You can start by personalizing the treat bag. Customize it with their name or a quote from their favourite movie or book. Adding a design that resonates with their personality will light them up!
Fill up the bag with novelty toys or candies that are festive yet personal. Perhaps something that is an inside joke or a shared memory between the two of you.
These bags make for a thoughtful gift as they are not only personal but also reusable. Your loved ones can use it for many purposes and also for a long time.
Halloween Treat Bags For Your Business
Halloween's total consumer retail spending is 6.9 billion dollars! The industry ranges from costumes to confectionery to treat bags. Businesses can benefit from this holiday in three ways.
Business Promotion. Custom solutions allow you to print your company's logo on Halloween treat bags. It also gives you the option to get that logo in the form of embroidery. When you sell these out, you spread brand awareness.
Positive Brand Image. Add safety tips on your Halloween treat bags to keep kids away from danger. When customers read these tips and see your logo next to it, they register your brand as kid-positive. They also grow loyal to your company.
Boost In Sales. Use one or more of the Halloween treat bag ideas mentioned above, and make one from custom solutions. After giving your Halloween treat bag a unique spin for your brand, you can beat your competition! All the customers will run to your company, and you will see an increase in your sales.
Summary
People of all ages participate in the Halloween festival. Kids go trick-or-treating, adults throw all-night parties, and businesses spread brand awareness.
Halloween treat bags are for trick-or-treating on the night of 31st October. I hope the Halloween treat bag ideas in this article help you design your bag with custom solutions. You can sell your customized Halloween treat bags or gift them to your friends. You can also make goodie bags out of them. Fill them with novelty toys and candies for kids that come trick-or-treating.