Planning to buy a new backpack for your next expedition? Before you make the final decision, remember that not every backpack is meant to be a perfect match for you and, choosing any product right away will amount to nothing but wasting money.
So, how to find the pack that is befitting for you? Read this article to learn the essential steps that will lead you to your desired product.
Understanding The Main Areas of a Backpack
Backpack Capacity
Backpack capacity indicates how many things the pack can hold. Manufacturers generally provide information about the pack volume in liters or cubic inches.
To decide which size is best for you, consider the length of the trip and weather conditions. Winters and longer trips call for a larger backpack. Plus, whether you are a minimalist or traditional backpacker, will also make a difference.
Backpack Fit
There are packs available in fixed, adjustable, and various size ranges. So, noting your measurements beforehand is necessary to find a compatible pack. First of all, the backpack should always match your torso size.
Next, you need to learn about the pack's suspension. To wear the pack comfortably for long hours, find the one whose hip belt fits snuggly right on the top of your hip bone.
Wear the pack and check if the straps sit perfectly on the back of your shoulders. Also, the straps padding should be below your armpits.
Backpack Features
The backpacks are available with a diverse range of features. However, not all features are useful for everyone. For instance, the sternum strap that wraps around the chest is useful only if you like trekking on uneven terrain.
Whereas the hydration compatibility is helpful to keep the hikers hydrated while on the go. Hence, determine your needs and choose the pack accordingly.
How To Find the Right Backpack Size – 5 Easy Steps
Step 1: Determine The Type of Backpack Required
Weekend Packs
For trips that are going to last for 1-3 days, bringing a bulk of supplies won't be required. The weekend packs have a capacity range of 30-50 liters that is more than enough especially if you are an efficient backpacker. Besides, adding light yet the most crucial things with discipline will definitely be a treat to your feet.
Multi-Day Packs
Multi Day packs are an ideal choice for those going on a warm-weather trip or joining multisport activities for a span of 3-5 nights. These packs have a volume of 50-80 liters and will allow you to carry some extra items like a rain jacket, navigation etc.
Extended Packs
If you are planning a trip of more than 5 days or traveling in winter for even a couple of days, it is better to go with extended backpacks. They have a capacity of 70 liters or more so you can easily carry every necessary item.
This includes additional clothing, a sturdier tent and a warmer sleeping bag. And if you are traveling along with kids, these spacious packs will let you carry their food or gear.
Step 2: Take Body Measurements
Torso Length
To determine torso size, you will require a tape measure and assistance from a friend. Start by standing straight and tilting your head forward. The bony bump you feel below your neck is the C7 vertebra and the starting point of torso length.
Next, hold your iliac crest i.e., the top of hip bones from both sides. Ask your friend to measure the distance from C7 straight to the level of the iliac crest. Note down your torso length.
Hip Size
Most of the weight you carry in your backpack is borne by your hips. So, a befitting hipbelt is crucial to help you wear the bag comfortably. For measuring it, take the tape measure and wrap it around the iliac crest you found earlier or simply on top of your hips. Note the readings.
Step 3: Assess the Bag Features You Need
Number of Pockets
This decision depends solely on your personal choice. While some people prefer a streamlined backpack with a single main compartment and a few pockets, others prefer having multiple options to put food, water and other things.
Also, the type and placement of pockets vary. For example, elasticized side pockets are stretchable pockets that can hold essentials like a map or water bottle. They can be accessed usually while wearing the pack. Similarly, hipbelt pockets are for accommodating items like phones, sunscreen etc.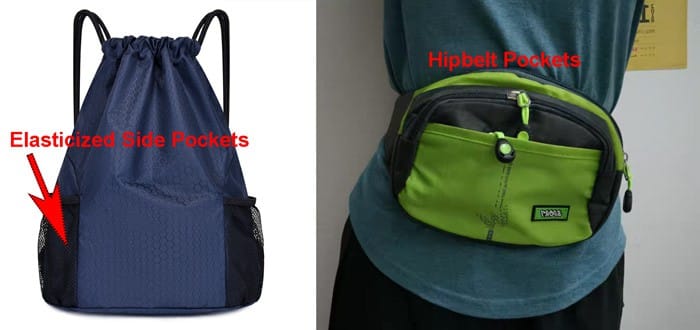 Frame Type
Just like all other aspects of a pack, the frame type also varies. Those who want to move fast and light may love carrying a frameless backpack. However, with heavy loads, these packs can be quite uncomfortable.
Internal-frame backpacks are the favorite packs of hikers or those exploring rough terrains. They have a stable structure hidden in the back panel and are usually designed with load-support technology to shift most of the weight to the wearer's hips.
In external-frame backpacks, the structure (usually made of aluminum) is visible from the outside. Though such packs offer better ventilation and organization options, they are not appropriate for accommodating irregular and heavy loads.
Attachments
If you are a skiing or hiking enthusiast, you must know the importance of traveling with trekking poles or ice axes. For carrying them conveniently, look for a pack with tool loops. These attachment points help to hold such gears on the pack's exterior.
Other than that, the daisy chain is the webbing loops on the back or sides of the pack. It can be used to clip helmets, wet gear or other items. The reinforced crampon patch helps carry crampons without damaging the backpack.
Step 4: Find a Design That Matches Your Style
Color
Backpacks are available in multiple colors. Although the shades will not decide the fitting of your pack, what's bad in going with your favorite color? Or you can choose a color that matches most of your wardrobe so you can carry it regularly.
Shape
The backpacks have an extensive range of shapes. The women-specific packs have shorter and narrower dimensions than the men's variety. Similarly, the hip belt and shoulder straps are designed to conform with gender's fitting accordingly.
Moreover, there are youth-specific backpacks with adjustable suspensions. This feature allows altering the pack's size as per the child's growth.
Step 5: Find A Reliable Bag Manufacturer
Now that you have decided on everything, you won't wish to spoil your effort by spending money on a cheap product. Look for reliable manufacturers like Aveco Baggie offering your desired features in the best way possible.
Buy a backpack that is made of reliable fabric like nylon or polyester. Its base should comprise of high denier. Seeking a friend's suggestion or searching reviews will also help in making the final choice. And if still confused, you can also place a custom order.
Summary
If not the most expensive, backpacks are also not the cheapest product on sale. Considering this, we have tried covering all the features that will help you find the right match for yourself.
So, shop smartly and consider every single point mentioned above to avoid spending your hard-earned money on a useless pack.