Planning a wedding is not easy. There are a million things on your mind, and you have to make all sorts of arrangements. Somewhere down your wedding to-do list, you'll have "wedding welcome bags" on it.
What Are Wedding Welcome Bags?
Wedding welcome bags are memoirs in the form of goodie bags for your guests. These guests could be from your city or another state or country.
They give your guests a warm welcome on your behalf. They're a great way of saying, "Hi, we're so glad that you could make it! It's lovely to have you here with us!"
In order to check off "wedding welcome bags" from your list, you have to pick one. Which, does what I'm going to help you with. Here, we look at some creative wedding welcome bag ideas!
Top Wedding Welcome Bag Ideas
The sky is the limit when it comes to wedding welcome bag designs. My top four picks are:
Vintage Wedding Welcome Bag
Cottagecore Wedding Welcome Bag
Beach Tides Wedding Welcome Bag
Classic White Kraft Wedding Welcome Bag
Vintage Wedding Welcome Bag
The Rustic Burlap Bag, made from 100% burlap jute fabric, is strong and durable. It has a vintage touch and goes with countryside weddings. The handles are thick and yet, soft.
The prime feature of this bag is the transparent plastic pocket in the front. You can slide your wedding welcome cards, papers, photos, or name tags in it. And remove them when the occasion is over. This way, you can use this bag again for a different event with a new card.
It's a multi-purpose bag, so you can also use it for:
Bridesmaid gifts
Christmas gifts
Promotional giveaways
Trade shows
Arts and crafts
Decorations
DIY
Fundraising events
However, I must warn you: These bags slightly smell. If that is a deal-breaker for you, move on to the next one on this list!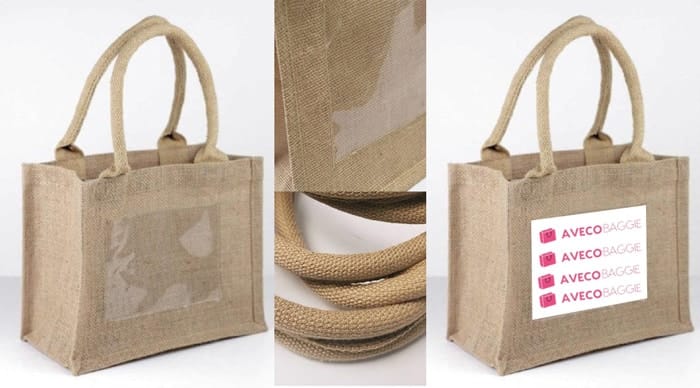 Cottagecore Wedding Welcome Bag
The Floral Kraft Paper Bag is surprisingly durable. It can hold about six items, including a small water bottle. The open design makes it easy to fold, store, and carry.
The reason why I'm calling it "Cottagecore," is because of the floral watercolour design on it. And the pink satin ribbon handles. Personally, I would like dark green handles. If you have any such preferences, custom solutions will take care of them.
You can enhance this bag by lining it with rose gold tissue paper. And for the final touch, you can also tie a thank you tag to the handle.
Beach Tides Wedding Welcome Bag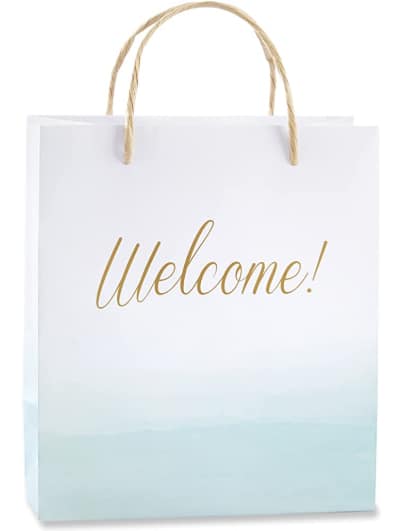 If your destination wedding is at the beach, consider the Kate Aspen Beach Tides Welcome Bag. It has an aqua blue gradient that fades into white as you move up the bag. The overall feel of the bag is cool like the ocean waves, featuring the word "Welcome!" in gold.
The handles of this bag are of 100% natural twine, adding to the beach wedding theme. It stands ten inches tall and can hold the following items:
Two small bottles of champagne
Two drinks of water
potato chips
Aspirin
Cookies
Classic White Kraft Wedding Welcome Bag
The White Kraft Wedding Welcome Bag, made of kraft paper 200 gsm, is thick and sturdy. It has plastic handles that are firm and stand up on their own. They attach to the bag securely, so you don't have to worry about them breaking off.
This bag is the embodiment of class and elegance. It has a plain white background with the wedding dress/tux design printed on both sides. Below the design, the bag reads, "Welcome to our wedding"
When it comes to strength, the White Kraft wedding welcome bag can easily hold 8 lbs of items, such as:
Two 16 oz bottles of water
Wedding survival kit
Snacks
These bags not only add beauty to your wedding but also keep the planet green. They are of 100% wood pulp. You can recycle and reuse them.
How To Personalize Your Wedding Welcome Bag
Trying to personalize your wedding welcome bags can be harder than you think. How do you make it your own while also catering to the likes of your guests? Here are some options you can draw inspiration from:
Choose a design and get it printed on your custom wedding welcome bags.
Pick colours that match the theme of the wedding. For example, if it's a beach wedding, pick sky blue and light brown.
Add around three to four lines of text to greet your wedding guests. You can use the craft of embroidery for this.
After the welcoming text, you can add the bride and groom's names with the wedding ceremony's date. It will serve as a sweet memory for many years to come.
Use ribbons, badges, and motifs. You can be sweet, edgy, or wild with them — What's stopping you? It is your wedding day after all.
You can further customize your wedding welcome bags by the kind of items you put into them. Let's explore them in the next section.
Items You Can Add To Your Wedding Welcome Bag
Once you decide on the outer look of your wedding welcome bag, it's time to figure out what you're going to put inside it. The contents of your wedding welcome bag vary with four things:
The theme of the wedding
The nature of the ceremony
The city weather
Your personal preferences
Let's look at all the things you can surprise your guests with.
Local Snack. Destination weddings are all about the location and the culture of that place. So it would be a great idea to serve a local snack in the wedding welcome bag. For example, if your wedding is in Chicago, pick popcorn from Garrett Popcorn Shops. Similarly, if the wedding is in Florida, you can include oranges in the bag.
Water bottles. Wedding ceremonies can go on for quite some time. And between all the talking and dancing, your body starts dehydrating. Especially if it's a hot summer day or a beach wedding. Add one (or two) water bottles to keep your guests hydrated and fresh.
Wine bottles. If the wedding theme allows, you can also pack wine bottles and mini wine glasses for fun!
Weatherproof products. Again, the items in your welcome bag vary with the weather. If it's sunny, include sunscreen, lip balm, and a hand fan. If it's cold, you can add gloves with mufflers.
Health and safety essentials. These include Advil, hand sanitisers, wipes, etc.
How Do You Deliver Wedding Welcome Bags To Your Guests?
After customizing your wedding welcome bag, the next question is how to deliver it to every guest. Your options include:
Shipment. Shipping your wedding welcome bags is an easy option. Especially if it's a destination wedding and you have to fly to another location.
Personal transport. If you don't trust shipment companies, you can take these bags yourself. Pack them in a suitcase and carry them with you.
Hotel delivery. Call the manager of the resort and ask them if they offer such services. Commonly, there are two ways to go about this. They can hand welcome bags to guests as they walk in. The other option is to leave them in guest rooms before their arrival.
Delegation. If you already have too many responsibilities on your plate, delegate. Entrust this duty to close friends or family members. They will help you distribute your wedding welcome bags to the guests.
Conclusion
Distributing welcome bags to your guests is a part of the wedding culture. People have different kinds of weddings, and they customize their welcome bags accordingly. Some are all about having fun, and some are relatively conservative. There's no right or wrong way to celebrate it. At the end of the day, all that matters is that your guests go home happy with a souvenir of your wedding.