Most youngsters plan to return to school after the exciting summer vacation months. During this time, bag retail stores have the opportunity to get inventive and boost their sales.
However, how will you decide on the perfect match for your brand? Choosing products without giving them much thought can result in low-quality bags.
Here's a school backpack size guide you can follow before making a purchase.
Considerations Before Stocking Up On School Backpacks
Picking sturdy backpacks for your firm can be a tedious job. You have to ensure that it withstands the pressures of school and is perfect for each client's sizing. Here are two factors you should consider before deciding on the best school backpack.
1) Volume
The volume of a backpack is a primary consideration in our school backpack size guide. It is not always advisable to go big when it comes to volume. A bag with more volume can fit more stuff in but also has a heavier baseline weight.

If your target audience is young children, then this wouldn't work out. However, it would be a great fit as a school backpack for teens! With custom solutions, you can get school backpacks for teens in any volume you want.
2) Different Styles
One thing we are big on is research. To find bags complementing your brand, you will need to search for many different styles.
For this, consider the amount of equipment your target audience would carry. If they're university students, they'll likely search for a bag with a laptop sleeve. On the other hand, a teenager might want smaller pockets on the front to store items like keys and money. Search for different styles that fulfil these functions, and you'll be good to go.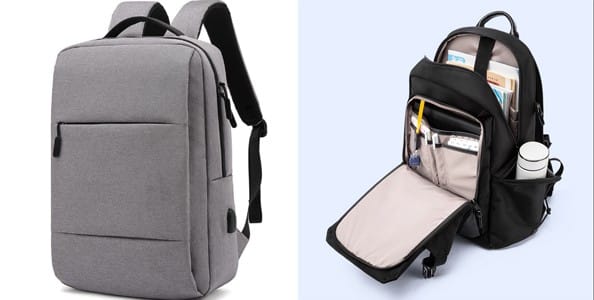 The Bag Size Your Clients Need
If you just started your business, you're probably confused about how to meet your client needs. How do you know the ideal size for a school bag? Which is the best school backpack? Here's a brief sizing guide for you to get some answers.
1) Small Backpack
For daily use, backpacks under 19L are suitable. Clients who attend only a few lessons a day are more likely to gravitate towards these bags.
This Vans realm Backpack is an excellent example of a bag like this. It has a large compartment that can hold several books and stationery. However, some customers have reported that the seams come apart after some use.
If you're looking for bags with double stitching, you can check out our bags at AvecoBaggie. We offer high-quality, multi-functional bags in several sizes.
2) Medium Backpack
Every semester, you will find some students who need to carry more books than others. In this case, they should use a school bag with a volume of 21-30 litres. These bags feature many tiny compartments and pockets. Besides the straps getting stuck, the Eastpak backpack fulfils the above-mentioned functions.
If the straps are a problem area for you, you can always revert to the bags by Avecobaggie. Made with the finest, most comfortable materials, our wholesale bags are practical and easy to use.
3) Large Backpack
Is your target audience students who are both into sports and academics? If so, you should get a hold of these bags larger than 31 litres. The eye-catching Active Backcare Bag is one such backpack. With its chest strap and curved underside for effortless travelling, this bag is a top pick for many people.
Although all this may be true, one thing to be aware of is their limited colour range. If you're a company that wants more options, you can visit AvecoBaggie. Here, you can explore our custom solutions and find the bag of your dreams.
Where To Find School Backpacks In All Sizes?
Finding the perfect size and style of bag you need can be daunting – but fear no more! AvecoBaggie is a one-stop shop for all your wants.
A sports enthusiast can find the perfect companion in our black Waterproof Oxford Sports Backpack. Looking for a bag for the more down-to-earth student instead? You can get our Stylish Large School Backpack. We also offer tote bags for school.
With custom solutions, you can get any school backpack you like according to your target audience.
Final Words
And there you have it! Our complete guide on how you can find the right backpack size. By now, we hope you understand that no one-size bag fits all. There is no guarantee that two backpacks with the same capacity will hold the same stuff. Therefore, you must consider your target audience before making a decision.