Canvas tote bags are an essential part of our lives. They carry groceries, books, art supplies, and so much more. We call them heavy duty because they can haul great loads without unravelling.
What makes canvas bags ideal for heavy-duty errands is their strength to weight ratio. They involve an intricate weaving process during manufacturing and weigh about 12 oz. Some varieties exist between 8 oz and 24 oz as well.
Features Of Heavy-Duty Canvas Bags
Let's start by reviewing some prime features of heavy-duty canvas bags.
Durable and lightweight. Due to their strength to weight ratio, canvas bags can hold heavy items and last for many years.
Eco-friendly. Canvas bags are biodegradable, but the production stage does leave some carbon footprint. To reduce the global warming potential of cotton canvas bags, you'd have to use them 173 times at least.
Customization. Canvas totes are perfect for company logos and embroideries! They work well with heat transfer and screen printing as well.
Wide applications. Heavy-duty canvas bags take part in many outdoor and indoor activities. Read on as we discuss them in the next section.
What Are The Uses Of Heavy-Duty Canvas Tote Bags?
Some heavy-duty activities include:
Camping
Grocery shopping
Academia
Beach day
Art and craft
Tooling
Top 6 Uses Of Heavy-Duty Canvas Tote Bags
There's a canvas bag for every heavy-duty job. Let's review some canvas bags under the uses mentioned above.
Camping
Any camping trip is incomplete without the experience of sitting by the fire. But how do you carry the firewood without hurting your hands and arms? The answer is simple: get the 23 oz waxed canvas firewood log carrier. It is waterproof and scratch-resistant. The bag stands upright, making the loading and unloading of firewood easy and safe.
What's special about this bag is that the sides have a closed panel. So the wood doesn't slide out or get debris on you. It also keeps the floor clean. But that's not all. You can also zip down the sides and fold them inside to make room for longer logs. Dual functionality!
It has two sets of reinforced nylon handles, taking the pressure off your hand and shoulders. One set is for carrying the bag in your hand, and the other is for wearing it over your shoulder.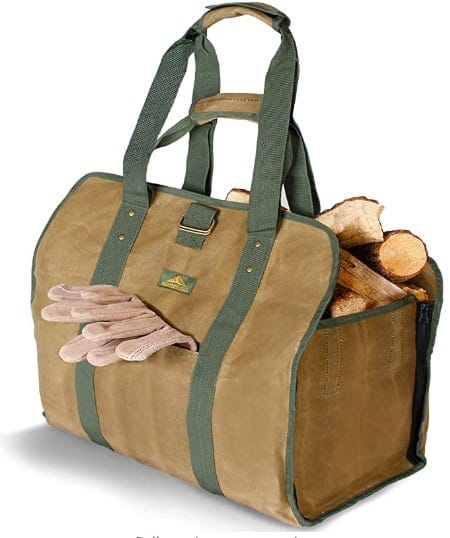 Grocery shopping
Grocery shopping is an essential part of our weekly errands. With paper and plastic bags, the whole shopping trip turns into a nightmare as they easily tear open. Especially when you put sharp or heavy items in them.
My top pick for carrying groceries is the Green Bulldog's heavy duty canvas tote. It is strong and lightweight with an interesting setup. Here is how the bag unfolds in three simple steps:
Pick it up from the flat position.
Open the sides.
Pull the flap down.
Once the reinforced bottom flap goes down, the bag stays upright. It then becomes easy to load and unload your vegetables, fruits, and other grocery items. After you're done with shopping, put the flap down.
Green Bulldog's tote has a pair of long straps and side handles. The straps are for when you want to wear the bag over your shoulder. Use the side handles in case the grocery load is too much for your shoulders to bear.
It's available in the colour blue, grey, and taupe. If you want this bag in any other colour, visit custom solutions!
Academia
Whether you're a teacher or a student, you need something as sturdy as canvas bags to make it through college. Heavy-duty canvas bags allow you to carry your college life essentials such as:
Books
Laptops
Phones
Tablets
Water bottles
Notebooks
Assignment files
Planners
Stationary
One great example of such bags is Nicav's canvas tote bag. This tough canvas bag has a sturdy base, which helps it stand upright. You can fill it up with a load of 50LB and close with a smooth zipper. Now to carry this load, the bag features wide straps, so you don't hurt your shoulders.
It is roomy and has many exterior and interior pockets for compartmentalization. The centre pocket is wide enough for 15.6-inch laptops, notebooks, and planners. Outer pockets come in handy for ipads, smartphones, and sunglasses. Both pockets on the sides can hold umbrellas and water bottles.
Beach Day
There are many beach bags in the market, each with their own specific purpose. But when it comes to canvas, I suggest Ozchin's anchor beach bag.
The bottom half of the bag is plain with a very light shade of beige that matches the rope handles. The top half has a navy blue background, featuring a pattern of white anchors. It truly captures the essence of the deep blue sea.
The bag opens with a smooth zipper and can hold up to 20 pounds of your beach essentials. You can fill the central compartment with:
Beach towels
Swimsuits
Flip flops
Sunscreen
Sunglasses
Tupperware
Inside the bag, you'll see a small pocket for valuables, such as your phone, wallet, and car keys. The four handle knots are adjustable according to your needs and preferences. You can get this bag customized in any size, colour, or print you want at custom solutions.
Art And Craft
Artists work with a variety of paintbrushes, colour pencils, crayons, and more. They need compartmentalization more than anyone else. In order to cater to the needs of artists, I'd like to introduce you to the art portfolio case canvas bag. Here is a breakdown of its pockets:
24×18 inches central compartment for thin drawing boards, canvas panels, and folders.
6.3×23 inches pocket for long colour tubes or anything similar in size.
4.7×9.4 inches small pouch for small stationery items, such as pencils, pens, and erasers.
18×10.5 inches big pouch, suitable for small notebooks, papers, palette boxes, etc.
One mesh pocket below for sunglasses or earplugs — anything that you desire.
The bag is roomy, with two handles on the side and two straps in the back. You can carry it in your hand or wear it like a backpack. Two in one!
Tooling
From fused electric boards to plumbing issues in the house, you need a set of tools to fix them. These tools are sharp and heavy objects. Sifting through them to find the one you need can be frustrating. Here is a canvas bag for all your tooling organizational needs: Roll-up tool bag.
The roll-up tool bag, made of heavy-duty canvas, is sturdy and waterproof. There are five pockets that can support a load of 48 oz each. These pockets open with colourful zippers. You can arrange your tools and identify which tool is where by following the colour scheme.
The bag rolls up in style with two grab straps that you need to tighten. It comes with a comfortable, detachable and adjustable strap. So you can wear the bag over your shoulder.
Heavy-duty canvas bags carry huge loads without breaking a sweat. They are strong and lightweight, making running errands easy and convenient. You can take these bags to college, camping trips, or beach parties. If you're an artist, you can use canvas bags to store and carry all your art supplies.
Feeling inspired by one or more types of canvas bags and have some ideas of your own? Visit custom solutions! You can pick any shape, size, and design pattern you want. Aveco Baggie will create the ideal bag for you.