Drawstring pouches have been around for many centuries. It seems that even our ancestors knew how useful they were. Perhaps that's why they've made a huge comeback.
Today, drawstring pouches can be seen everywhere. Some of their popularity can be attributed to increased concern for the environment. Non-biodegradable plastic bags take up to 1000 years to break down. To combat this, more and more people are embracing eco-friendly drawstring pouches.
There's no denying that drawstring bags are trendy, sturdy, and multipurpose. But how do you make the most out of them? Read on to explore some fun yet useful ways of using drawstring pouches.
What's A Drawstring Pouch?
Before we jump into the use cases, it's important to define drawstring pouches. Drawstring bags are compact and lightweight bags with adjustable strings. The strings can be drawn, hence the name drawstring. The bags are so simple that many people even make a drawstring DIY pouch at home.
You can simply pull the strings to close the bag. To open up the bag, you can just pull the opening apart. The beauty of drawstring pouches lies in their simplicity. These bags are easy to carry and reusable. This makes them highly multipurpose and versatile. Custom drawstring pouches can also be created to make a fashion statement.
16 Exciting Ideas For Drawstring Bags
Now you know all the basics about drawstring pouches. It's time to explore what they can do for you. Here are some innovative ideas to put your drawstring bags to good use:
Party Favours
Whether it's a birthday party or any other festive occasion, party favors are a must. These are small tokens of appreciation for your loved ones. They may contain candy, flowers, or small gifts. But all these little gifts need to be easy to distribute. That's where drawstring pouches come in.
Small drawstring pouches made out of canvas or mesh are a popular choice. These bags are reusable so guests can easily recycle them.
Pencil Case For School
Why buy a pencil case when you have a drawstring pouch lying around? Drawstring pouches are as good as any other pencil case. They can secure all your pens, erasers, and other stationery. These bags are easy to carry, compact, and cute.
Jewelry Bag
If your jewelry is out in the open, it can often tarnish over time. The delicate pieces can also get misplaced quite easily. Why not upcycle a drawstring bag? Just place all your earrings, bracelets, and rings inside a drawstring pouch. Not only will it keep the items safe, but it will also protect them from dust.

Traveling Necessities Pouch
Are you planning a big trip? It can be easy to miss the essentials while you're in a frenzy. A dedicated traveling bag can help save you from the hassle. Drawstring pouches are the perfect candidates. These pouches can store all your toiletries and other essentials.
You can also have multiple bags for makeup, underwear, and other necessities. Due to their compact nature, they can easily fit inside your suitcase. PVC drawstring is waterproof, suit for liquid products.
Many people prefer pouches made out of nylon, canvas, or burlap.
Pouch For Electronics
It can be difficult to keep track of all the USB drives, chargers, and other electronics. That's why we often end up losing them! Why not create a dedicated pouch for their safekeeping? A drawstring bag is perfect for that use. It can also ensure that you don't forget important electronics while traveling.

Lunch Bag
Lunch bags can keep your food fresh and good enough to eat. But what kind of lunch bag should you go with? The previously famous zip lock bags are out of favor. Due to environmental and health concerns, plastic bags aren't a good option. The best choice is a reusable and eco-friendly drawstring pouch.

Bag For Bakery Items
The toxins in plastic are known to seep into food, making it dangerous for consumption. It's far better to go with food-safe canvas drawstring pouches. If you're a lover of freshly baked bread, be sure to skip plastics. Store your bakery goods in a drawstring bag instead!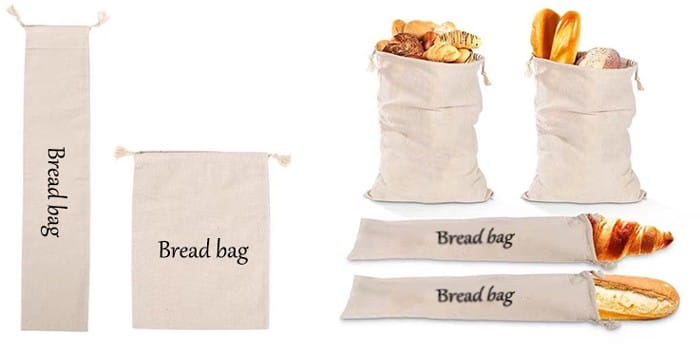 Gym Bag
Yoga mat, towel, water bottle, and gym clothes. There's a lot of essentials you need at the gym. But carrying a hefty backpack to the gym can be a hassle. Switch to drawstring bags instead! These lightweight bags are easy to carry and hard to forget.
Shoe Bag
Since dust and heat can lead to wear and tear, shoes need some protection. Many shoe sellers tend to package their shoes in individual drawstring bags. This ensures that your shoes stay clean and shiny.

Company Merchandise
Whether you run a company or team, merch can bring everyone together. Custom drawstring pouches are the ideal way to show some unity. You can embellish drawstring pouches with your logo and colors. It can also act as a promotional device for better brand visibility.
A Part Of Care Package
Care packages can show someone you care. Many companies include drawstring pouches or tote bags into them. When you're creating care packages, you also want them to be budget-friendly. Drawstring pouches are easy on the pocket and make an awesome gift.
School Bag
School bags can be quite expensive to splurge on. Why buy a new bag for each term? Simply get a drawstring pouch that'll last you longer. You can also customize it with your favorite pattern and color. Some students even put cool patches and badges on these bags.
Giveaway Bag
Online giveaways are extremely popular these days. Make your giveaways more useful with a customized drawstring pouch. These bags can give your biggest followers something to hold onto. They can also act as a small promotion for your online blog or company.
Promotional Bag At Events
If you're at a company event or visiting a trade show, giving away some freebies can be beneficial. Canvas bags can easily be customized to represent your company. Giving away such useful gifts will get you more attention at such events.

Product Packaging
If you're a retailer, it's time to switch to eco-friendly packaging. Not only is plastic useless, but it is also bad for the environment. Switching to reusable canvas pouches can be beneficial for the business. It can also add value for the customer. Products that come in customized drawstring pouches also seem more high quality.
Gift Packing
Want to give your friends and loved ones a gift? Drawstring pouches are the perfect packaging! Plastic bags and wrapping paper are often discarded. But drawstring bags can be reused easily.
Final Thoughts On Drawstring Pouches
It's no surprise that drawstring pouches date back to ancient times. Fortunately, we are now realizing their importance again. The durability and customizability options make them the all-in-one solution. Since they come in so many shapes and sizes, there's a lot of room for experimentation.
Looking for the right, reusable bag? Drawstring pouches can unlock a world of possibilities for you. Put all the ideas to good use and have a good time!