Are you tired of carrying that one bag everywhere that doesn't even suit you? 3 out of 5 women would answer in affirmation. Fortunately, bag trends ss 2022 have the ultimate solution for them.
An everyday bag is not just a bag, it's a lifestyle choice. Ladies encounter the problem of not being able to keep keys, laptops, and everything in between in a bag. A new wave of best tote bags 2022 is here to help people carry all their valuable possessions around. This season, with the spring tote bag trend, it's time to make millions of women happy.
Here are the reasons why the demand for the spring tote bag will only upsurge for a couple of years.

What Are Eco-friendly Tote Bags?
To produce eco-friendly bags, manufacturers use a fully biodegradable fabric. Thereby, they don't pollute our planet by filling the landfills. Different types of these bags that you can find in the market include cotton bags, jute bags, etc.
Any girl who follows fashion today opts for a natural environmentally conscious decision. In today's age, for toting items around, many convenient and sustainable options exist.
Here are a few advantages of using eco-friendly bag trends in 2022.
Why Are They Back In Trend?
Eco-friendly bags getting benched for two years because of the pandemic. However, this year, they are back once again. People do like diminutive bags, but they are not functional.
So the ultimate fashion staple that the majority choose is an eco-friendly tote bag. These all-purpose bags are suitable for just about anything. Take them to the gym, the beach, or the office, they always look relevant.
These bags are not just great alternatives to plastic bags, they make amazing fashion accessories.
Environmentally Better
Strong
Cost-Effective
Conserve Space
Comfortable
Environmentally Better
After years of utilizing plastic bags, finally, we have options that won't harm our ecosystem in any way. Similarly, fast-fashion items are responsible for greenhouse gas emissions. They are causing the rapid depletion of non-renewable sources that need to stop. The canvas tote bag trend gives people enough reason to shift to them.
Strong
No matter which type of bag you pick from our Best tote bags 2022 list, you won't get disappointed. They are all apt for lugging heavy-weight items around with ease. The fabric that goes into the making enables them to remain in the best possible condition.
Cost-Effective
For the strength, durability, aesthetically pleasing bag, you pay rock bottom prices. You get joyful, statement-making bags at a fraction of the famous spring bag prices. Especially, when you order them in bulk. That's why they are such a good business opportunity for a white label.
Conserve Space
In terms of qualities, eco-friendly tote bags truly knock it out of the park. You can keep them anywhere as they are foldable. Therefore, you don't need to empty your wardrobe and dedicate an exclusive place to them.
Top 4 Materials For A Tote Bag
All of the materials that make these tote bags are easy to obtain in bulk. These are the material used in the construction of these bags:

Jute
Jute is a waterproof material that makes it perfect for a beach party. Even if someone mistakenly takes it into the water, the items inside it will remain safe. When going to the beach, their large size allows people to keep sunscreen, towels, snacks, and much more.
Even if someone spills a beverage on the bag, there won't be a visible stain. This bag is a full package of features any woman would want. Hence, they are a candidate for our Best tote bags 2022 list.
Cotton
Secondly, we have the famous Canvas tote bag trend. From college girls to working women, everyone prefers these bags with quirky prints. And why not? They add a fun element to their outfits. Typically, this bag has ergonomic handles to lift the burden perfectly.
Hemp
Some people still think that hemp is that ugly-looking fabric it was decades ago. That's untrue, after a revamp, it is smooth, eco-friendly, and sophisticated fabric. Above all, it is three times tougher than cotton. So, you can imagine how many of your generations can make use of a hemp bag.
Bamboo
Bamboo bags maintain a strong position in the Bag trends ss 2022. The reason is their durable, biodegradable, and rustic look. Bamboo is actually a soft material, so don't judge it by its looks.
In comparison with cotton, you get twice the amount of fiber from bamboo. Considering that, the production process is simple and more economical. Because of that, whenever it comes to reusable tote bags, bamboo offers a savvy choice.
How Can AvecoBaggie Help You Get The Perfect Tote Bag?
AvecoBaggie is a Chinese wholesale manufacturer that rules over the bags customization industry. They help hundreds of international businesses to increase service quality and customer loyalty. These are the perfect example of how they can give you what you hope for.
Floral Canvas Bag
This is a medium-sized canvas tote bag with a beautiful floral print on it. The color on it matches every dress and mood. This bag has sufficient space to hold all the typical purse essentials. For instance, a small laptop, small clothing items, and the list goes on. People can use this for an unplanned overnight getaway.
In short, the biggest perk of this canvas tote is that people can stuff everything in it. Due to that, the handles might come off. Who would want that when they are in the middle of something?
Custom solutions by AvecoBaggie give you a range of options to add strong handles to the bag.
This spring tote bag is perfect for a beach picnic. This is a roomy bag that can contain everything you would want 'just in case' at the beach party. This is a moisture-resistant bag that you can wash multiple times.
The simplistic design of this bag makes it ideal for printing interest-piquing designs. People love to wear emblazoned items, so turn this into a trendy bag with custom solutions. They offer heat printing, embroidery, gold stamping, etc to create a remarkable bag.
Tote Bag by Vince Camuto
This is another pretty bag that has a relatively small size. This is the kind of bag that gets you compliments everywhere you go. It has a lining and an external pocket to add to the functionality. Because of the lining, it has lesser chances of ripping off. Nevertheless, this bag lacks one thing—a zipper. But you don't have to stress about that when you have custom solutions. They can't just add zippers; you can go for velcro, magnetic buttons, and pressed buttons.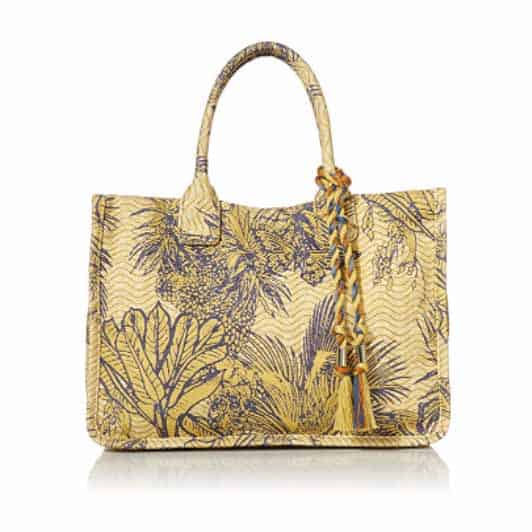 Final Words
The acceleration fluctuation in the climate is something that we all care about. That's why the canvas tote bag trend is sought-after. These eco-friendly options maximize your style quotient without jeopardizing the climate. So, the best part is that these options in the bag trends ss 2022 will not weigh on your conscience.
So, order matching designs for your target audience from AvecoBaggie. And, get an awesome wholesale price.