For your business to survive and succeed, you need ideas that resonate with people. Even when you have a million-dollar idea, it's useless if people can't remember you. How do you make your brand unforgettable? Read on to find out.
The method is pretty simple: linger into their subconscious. To program their minds, you need shopping bags with well-designed logos on them.
In this article, we will elaborate on why having a logo for your business is vital.
5 Reasons Why Shopping Bags Are Crucial For Your Business
Instead of using ancient marketing schemes, introduce products that make a difference. If you think about it, mostly, in every public space, you will find one common thing: a shopping bag.
Many people will agree that we take a moment to see an attractive bag. Especially when there is a catchy one-liner on it or a pretty graphic print, we try to read the name of the business. It all boils to one thing: having a premium shopping bag helps people remember your business.
Catches Attention
The first move to selling your product is to use your skill to grab the attention of the customers. Today, people's attention spans are extremely short. Customers jump from one product to another. You have about two to three minutes to convince the audience to consider your product.
In that short time, the consumers are going to make a judgment on your business. When everything depends on first sight, the ball is in your court. You can work on the appearance of your business. So start by creating a shopping bag with a logo on it that speaks for your company.
A shopping bag with an embroidered logo can quickly grab viewers' attention. It also grants you the creative freedom to share the core values.
Induces Curiosity About Your Business
When you have a single chance to prove yourself, you give your best shot. Similarly, on introducing yourself for the first time, offer what they expect. Use shopping bags with logos to engage people and tell them that you have the ultimate best to offer.
When a shopping bag is well-designed, it reaches the customer. It can pique the interest of the public. If you inspire this curiosity in them, there is no way you can tank your business.
With a creative custom shopping bag, you can invite people to know more about your company. If you think that custom shopping bags are unnecessary, you might want to think again. Otherwise, you may end up alienating your future clientele.
A custom shopping bag is the way to communicate ownership in your niche. How would people know if you are a company that offers business advice or sells t-shirts?
Curiosity is contagious; use it as a tool to improve your business. Your custom shopping bag will be the channel to introduce your company to those who have an interest. And as a plus point, those who don't even want your service will learn about you.
Lays The Foundation Of Your Brand Identity
Save thousands of dollars that you spend on building brand identity. All by focusing on influencing your customers' emotions with a story.
Yes, it is that simple. As shopping bags with your business logo are a part of your brand, they have an entire story to tell.
We know that it sounds a little odd. But we will give you a valid explanation. To set the atmosphere for a story, you have to play with colours, tones, fonts. Each one of these elements has a meaning. When they all come together, you have a captivating masterpiece.
For instance, the yellow colour has a warm tone, so it represents friendliness. On the contrary, red is for a more bold approach. It is for expressing passion and excitement. As these elements determine the image of your business, they are the basis of your brand identity.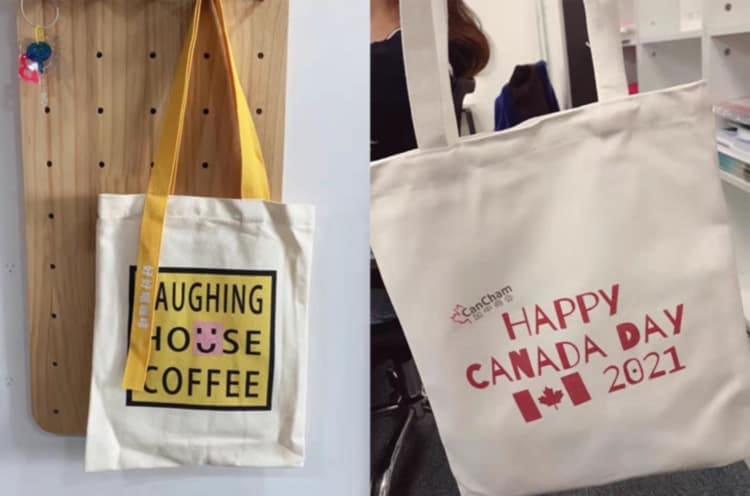 Helps You Stand Out Among Your Competitors
Even if you have many rivals in the niche you dominate, a unique custom shopping bag will help you. When you have a different custom shopping bag, the audience thinks of you as a unique brand. It shows your dedication to the consumers as well.
Let's say there are more than fifty clothing brands in your area. Yet, you are the only one promoting sustainability with a natural logo on the shopping bag. There is no way that the customer won't get the message you want to convey. All in all, they will never put your competitors in the same league as you.
Cultivate Brand Loyalty That Lasts
As consumers, we tend to set our hearts on one thing. Exploring new businesses for the same old problems is a tiring experience. We love a business that has consistent, good performance.
Picture this: you go shopping, the first spot where you stop will be the one where you have prior experience. And, to purchase something from there, you don't even need someone to convince you. Because, in the back of your mind, you feel like you're in safe hands.
To build this kind of relationship, get the best custom shopping bags. Once you establish familiarity, people believe that you are reliable and accessible. So, brand loyalty is quick to follow.
Give them a sturdy bag to find you again and again by making the perfect custom shopping bags.
Design The Best Logo For Your Business Shopping Bag
Custom shopping bags are popular as they are multipurpose, practical, and handy. Additionally, these bags are easy to carry and super cute. They are also affordable to manufacture and design.
When you use eco-friendly shopping bags, you leave a positive image of your brand. Because they are an alternative to toxic, disposable plastic bags, people prefer them. Now you must be scratching your head trying to figure out how to use these bags for your business.
Following are the three creative methods to attract your potential clients:
You can beat your rivals with a blue logo that shows trustworthiness and maturity. When you use heat printing to get it on the bag, it looks bright and modern.
If you are not afraid to think outside the box, go with a red logo and type your slogan in Script fonts. Your logo will showcase the beauty of handwriting. And everyone will find your business fun and exciting.
Those with a serious business, such as a financial advisory, can go silk printing with a sans serif font. It will help them appear more straightforward.
Summary
As you can tell from this article, custom shopping bags have the power to grow and expand your business. But when you go this route, make sure that you satisfy the consumers. People will use these bags repeatedly, even for carrying heavy items. Tell them your business is here to stay with your high-quality custom shopping bags.
The modern consumer is socially conscious. They only support businesses that share their values with them. Use your logo to reflect your mission and greet the audience. Ensure that you go with the right icon and proper font.