For years, there is one thing that has worked in every economic climate like magic. That valuable tool is none other than giveaway items.
But do you know what happens to useless professional gifts? People throw them in the garbage when you are not around.
So invest in a practical and portable item, such as a toiletry bag. Nevertheless, it is important to pick the one that suits your customers. For instance, if you have a male clientele, go for a custom sharp-looking bag. And, for the ladies out there, a small chic toiletry bag is enough to keep the beauty products.
Without further ado, let's talk about the right toiletry bags to grow your business.
What Are Toiletry Bags?
Toiletry bags are portable bags for body hygiene and toiletry products. They go on the plane with you or sit in cabinets at home.
These bags have many names: Dopp kits, wash bags, sponge bags, bathroom kits, travel kits, wet packs, and more.
Whether you are going on a road trip or taking a long flight, packing your essentials in advance is crucial.
It is not an exaggeration to say that just the thought of arranging things sounds like a nightmare. Therefore, you need a small container to put the hygiene products in one place. You can keep everything you need in a toiletry bag when you are far from home. As this single item can help us stay tidy and spiff during the excursion, it is a must-have in our closet.
The list of stuff that you can put in it is never-ending. But, for starters, you can keep the following items in your toiletry bags:
Expensive makeup palettes
Hand sanitizer
Toilet paper
Band-aids
Toothbrush
Jewelry
Perfume
Medicines
Skincare products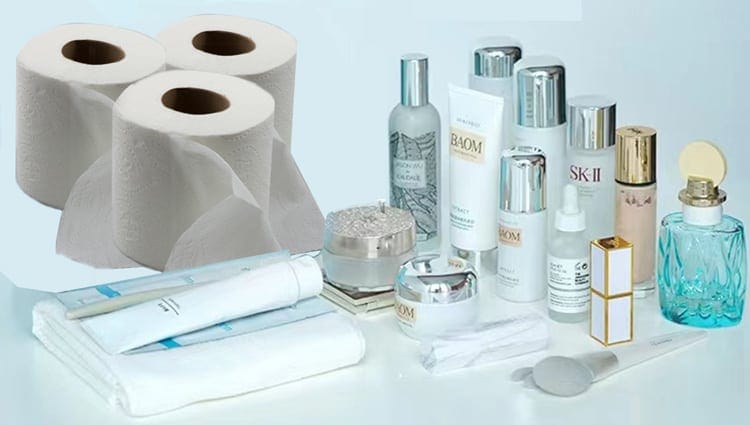 Factors To Consider In A Toiletry Bag
The good part about toiletry bags in your gifting campaign is: they are relevant for any business. Toiletry bags are perfect for school, job, and leisure. You can imagine how promoting your brand with it can increase brand visibility. Whether you have a clothing line or a home cleaning service, you can print your logo on it before giving them away.
Once they reach the audience, your company will grab their attention for years. Many people store their toiletries in zip lock bags. And, it doesn't take long for the bag to become a messy disaster. Regardless of age, gender, or occupation, every person faces this problem. We have a few ideas to help you find the ideal bag for marketing your brand to the right audience.
Transparent Bags For Everyone: These types of bags are great for the whole family. As they allow you to see inside, you can find what you need in a few seconds. It is a hip feature that attracts everyone. Also, passengers will quickly pass through airport security.
Soft Shell Bags For Men: Whatever you sell, always spend on distinctive merchandise. Mostly, men prefer bags with multiple zippers inside. Softshell bags are flexible to fit into small areas in the backpack. The flexibility must not affect the thickness of the bag. Thick material protects fragile grooming essentials like glass bottles or blades.
Beautiful Bags For Women: The value of a pretty and practical toiletry bag is immeasurable in a woman's life. So if you are targeting females, provide a bag that has room for their favorite products and tools.
It must have separate sections for indecisive ones who want to keep it all for every situation. A hook to hang the bags on a wall is a great plus.
To customize any of these bags, you have limitless options. Now that you know the significance of toiletry bags, let's jump straight into the wide array of options you have.
Size
Travelers prefer small toiletry cases to pass through the airport security without trouble. If you didn't already know, the airport authority only permits a specific size liquid bottle. So, if you have a big bag with large bottles in it, you will have no choice but to drop them.
However, in some situations, you may need a bigger bag. Especially for the moms who travel with the family, a small toiletry case won't be enough. In this scenario, choose a toiletry bag that doesn't bring you discomfort during the vacation. The roll-up toiletry bags are ideal to stack up every family member's bottles, tubes, brushes, etc.
Design
When it comes to the design of a toiletry bag, the options are countless. You will see various shapes of toiletry bags having different compartments. That's why selecting only one can be a little tricky. But don't worry! We will give you the safest advice. First of all, categorize the items you have in mind. After that, pick the one that has compartments or pockets to fit those categories.
Functionality
When you have these toiletry bags, be mindful of TSA rules and regulations. Secondly, having a clear bag saves time because you don't have to search for your stuff. And, if anything accidentally spills in the bag, it will be easy to clean it up.
Types Of Fabrics
You can find several types of toiletry bags fabrics in the market. The purpose is to design a bag that excites customers to avail your products or services.
Plastic
Plastic is a material that is famous for being easy to clean, waterproof, and see-through. Like everything else in this world, it has a drawback as well. If it gets direct sunlight exposure, it starts to fade. Still, when there is a will, there is a way. By taking care of your bag regularly, you can make it last longer.
Leather
Leather toiletry bags are perfect for those looking to enhance their style quotient. Although they are incredibly durable, keep them away from water.
Waterproof Fabric
If you have a lot of liquid products, then go for a water-resistant bag. These kinds of bags are sturdy and available in many colors and styles. In some of them, you will also find funky patterns.
Canvas
In the making of a canvas bag, you can opt for any color, print, and design. Therefore, a canvas toiletry bag is very versatile. From sauce bottles to shaving kits, you can transport everything in it. After using it for a while, you can wash it in a washing machine.
Great Customizable Toiletry Bags In The Market
Any type of fabric you pick for your brand's toiletry bag is customizable. It depends on you whether you want to play with the background or print a legible logo. You have several options for designing and printing. Following are the three types that are unique and handy:
Toiletry Bag With A Hook
Water Resistant Dopp Kit
Stylish Drawstring Toiletry Bag
Toiletry Bag With A Hook
This toiletry bag has a very cute and classic variety of prints on it. It has plenty of space to keep all of the makeup and skincare products you will need on your trip. There are four pockets in this toiletry bag to organize all your items. As it has a construction of the canvas material, it shows durability.
Overall, you won't regret buying this bag. The material is thick material to protect whatever you store inside. After you pack all the items, you can fold them into a nice square bag. When you are not traveling, you can hang it in your wardrobe with the help of the hook.
Water Resistant Dopp Kit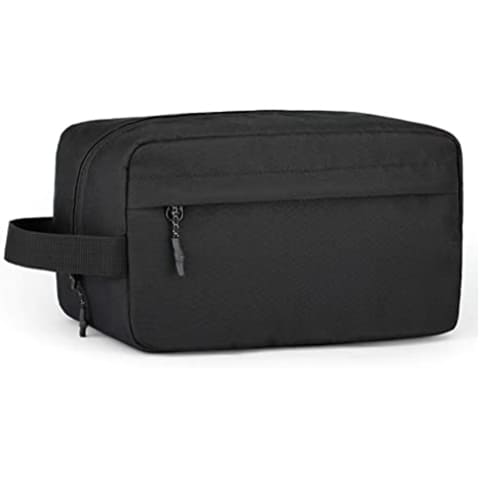 Even though the Dopp kit appears to be a medium-sized pouch, it's very roomy. You can easily put a full-sized bottle of body cream, deodorant, toothpaste, comb, and shower gel in it. It is excellent for daily use as you can put it into your tote bag or office bag. To keep the liquid bottles and other items apart, it has mesh pockets.
The zipper of the bag is very smooth. This lightweight water-resistant toiletry bag is hands down a positive tradeoff.
Stylish Drawstring Toiletry Bag
Next up, we have the recycled cotton drawstring bag. The manufacturers targeted women with this bag. It explains the generous size and beauty of this bag. Because it is completely lined with waterproof PVC, you can freely keep wet items in it. From the outside, the bag has a pretty tropical print and magnetic snap pockets. The outer snap pockets keep your valuables secure in them.
On the top, there is a drawstring for maximum convenience. Also, there is one zipper pocket on the inside.
As a rule of thumb, searching for the cheapest product in the market is not always the best idea. One should also consider the lifespan and the practicality of the toiletry bag.
You'll find hundreds of variations on this theme. But if you are using them to benefit your business, come up with something unique. The wholesale bags that you are buying must be easy to fill and carry.
Apart from that, their size must be adequate to fit in the limited luggage spaces. Remember, single-use bags are never a clever choice. They may rip apart during a journey. So, it's up to you whether you want people to associate your brand with cheap items or premium quality goods.