Parents have to carry their phones, car keys, and kids, while running errands. They need something that can share their load. And I have the perfect solution for them: messenger diaper bags.
What Are Messenger Diaper Bags?
Messenger diaper bags are rectangular in shape. They have a long strap that goes over the shoulder or across the body. These bags come in many designs with various materials such as canvas, nylon, and leather.
Messenger bags hold the middle ground aesthetic. They fall between a professional briefcase and a casual backpack. It's best for an urban setting, neither too formal, nor too casual.
Why Do You Need A Messenger Diaper Bag?
You might be thinking, "What's so special about a messenger diaper bag when I can use an old backpack or even a canvas tote?"
Well, the answer is simple. Just think about all the items you need to carry with your baby everywhere. For your little one, you'd need spare diapers, pacifiers, baby wipes, etc.
Other than baby essentials, you'd also need to carry your phone, car keys, and credit cards. In some cases, even a laptop if you're a working professional. When you have the messenger diaper bag by your side, you get:
Several compartments to fit everything.
A well-organized companion.
A one-bag-fits-all aesthetic.
Free hands to attend to your kid.
Peace of mind, knowing you have everything you need to take care of your baby.
Messenger Diaper Bags For Professional Moms And Dads
Working professionals, who are also parents, look for two prime features in every bag. They want style and the comfort that comes with functionality.
Style
Briefcases and backpacks are either too formal or too casual. You can't wear your briefcase to the supermarket. Similarly, you can't go to work with a backpack resting on your shoulders.
Messenger diaper bags are cool and professional at the same time. You can carry them to your office or the park — it will make no difference! You will fit right into your social setting.
Functionality
In today's digital world, laptops have become a necessity. Everyone has one on them at all times. But where do you tuck it away when you have to take care of a baby as well? Moreover, how do you manage to retrieve your credit card and phone in one single motion?
Messenger diaper bags are roomy. They make it easy to access all items from their well-organized pockets. You don't have to twist your arm trying to unzip the back since everything is at arm's length.
What To Consider While Buying Messenger Diaper Bags
Messenger Diaper bags come in all shapes and sizes. How do you know you're picking the right one? Here is a list of things you need to consider before buying a bag:
Architecture
Messenger diaper bags with reinforced seams last longer. If they have a zipper closure, opening the bag becomes easy. However, in the case of magnetic buttons, the bag doesn't stay shut when you fill it up to the brim. Some bags have a flap cover over the zipper, adding another layer of security to them.
Storage Space
The number of pockets and partitions decide the messenger bag's functionality. The more compartments you have, the more organized your bag feels. It particularly comes in handy when you have to carry your wallet, phones, and laptops too. Some bags come with an insulated section. It maintains the temperature of your little one's bottles.
Nature Of Straps And Handles
Messenger-style diaper bags should fulfil their purpose by having comfortable straps and handles. The single strap should be wide enough to wear the bag comfortably. It's best to get a bag with adjustable straps as they make the whole experience flexible!
Durability And Maintenance
Companies manufacture messenger bags using materials such as canvas, leather, vinyl, and nylon. The durability and maintenance of the bag change with the type of material. For example, vinyl-made messenger bags are more vulnerable to cracking. Nylon messenger bags, on the other hand, are tough and easy to clean as well.
Colour
Contrary to popular opinion, the colour of your bag isn't all about aesthetics! It is also functional in the sense that if you get the bag in darker shades, the dirt stains will be less visible. However, the choice is yours. If you like pastels and feel that it's something you'd like to carry with you every day, go for it!
Weight
There's a lot you can fit into messenger diaper bags. It makes the bag heavy. So the last thing you need is a bag that adds its own weight on top of the weight of your essentials. Get a lightweight bag, so it's easy on your shoulder, and you can carry it around for longer.
Size
When it comes to messenger diaper bags, size does matter! When you get a bag that's too big, you tend to overfill it, making it hard to sift through your items in the bag. If you get a small bag, it won't hold all your baby essentials. You can get your ideal bag size from custom solutions.
Now that you're ready to choose your messenger diaper bag, let's look at what the market has to offer us.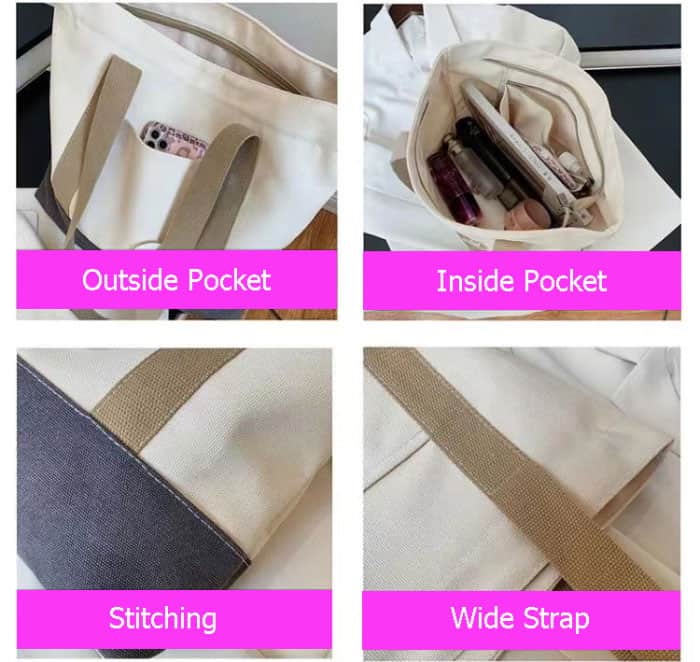 Messenger Diaper Bags In The Market
My top three picks include:
Columbia outfitter messenger diaper bag
Nylon messenger diaper bag
Heather grey messenger diaper bag
Columbia Outfitter Messenger Diaper Bag
The columbia outfitter messenger diaper bag comes in the colour black. As black is a dark colour, it hides the stains well. One thing (amongst many other things) that I love about this bag is the long, padded strap. It, therefore, rests comfortably on the shoulder.
The bag is lightweight and has many pockets, including one for a pacifier! However, some people find these pockets small and prefer larger ones. If you are one of them, visit custom solutions and pick your ideal sized pockets!
There is a lot of room in this bag for carrying multiple blankets, clothes, diapers, wipes, and more! It comes with a diaper changing pad, which is easy to clean.
Nylon Messenger Diaper Bag
The nylon messenger diaper bag is not only tough but also resistant to stain and moisture. It has both exterior and interior pockets. You can fit many things into them, such as bottles, diapers, and even books! These pockets keep the bag neat and organized.
There is an adjustable padded shoulder strap that helps you set the bag according to your height! The bag also has a smooth zipper that is easy to open and close.
Don't like the light colour shade of this bag? Get yours dyed at custom solutions!
Heather Grey Messenger Diaper Bag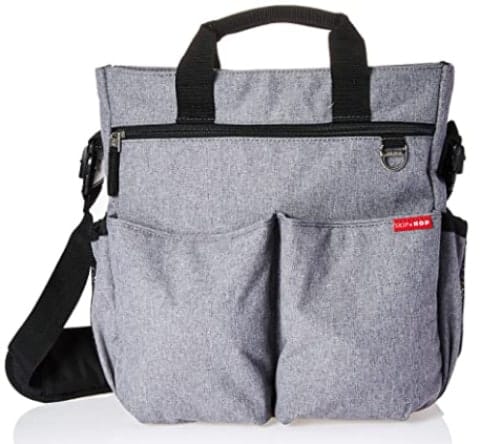 The heather grey messenger diaper bag, made of 100% polyester, cleans up easily! It has a neutral colour, so men, women, and non-binary people feel comfortable wearing it.
It was both, straps and handles. So you can either wear it over your shoulder or carry it in your hand. As the bag stands on its own, you can get your things from it using only one hand while holding the baby in your other hand.
The bag is roomy but not bulky. It has pockets on the inside that you can use for diapers and wipes. The side pockets are ideal for water bottles or baby feeders. And lastly, the outer zipper pouch is a great addition for your sunglasses, keys, phone, etc.
One con is that it comes with a small changing pad, but you can replace it with a larger one. Another one is that it's not wide enough, and you have to stack up your containers against each other. If you want to make your bag wide, visit custom solutions.
Summary
Messenger diaper bags make the lives of parents super easy. Especially for working moms and dads who take shifts to run errands with their babies. These bags are easy to carry and stylish at the same time. While buying one, you need to consider the shape, fabric, size, weight, colour, straps and handles. You can check all these points as you design your ideal messenger bag with custom solutions!