Everyone always seems to be in a wild race to get to the sugar. It's difficult to keep track of how many chocolate bars each child gets if it's handed out in bits. Small Halloween treat bags make it easy to wrap a lot of candy so your customers don't run out. So, which is the wiser option? Plastic or tote bags?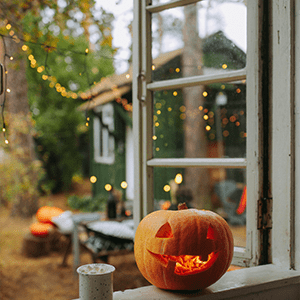 Carry-alls and tote bags are extremely versatile. You might have your laptop and some books in your tote bag one day and three bunches of celery and watermelon from the farmers' market the next. For this reason, tote bags have got customers' covered for the long run.
Plastic, Paper or Cotton: Which Shopping Bag Should Your Business Use?
The choice of business shopping bags requires careful consideration. It will affect your clientele and may even boost your revenue. Plastic, paper, and cotton are just some of the materials you can choose from. However, it's up to companies to decide what's best for their customers. In this article, we talk about the advantages and disadvantages of each of these materials.
1. Plastic
Plastic has become an indispensable component of our lives. The annual consumption of plastics has been rising significantly. Its fast growth is due to its low density, strength, user-friendly designs, fabrication abilities, long life, low weight, and low cost. Moreover, plastic bags have a low manufacturing cost.
However, there are some drawbacks to using plastic bags. The main reason why plastic bags are bad for the environment is that they don't break down for a very long time.
Also, when plastic bags break down in the sun, they release poisonous compounds into the soil. A burning plastic bag releases a dangerous substance into the air, resulting in increased air pollution.
2. Paper
Paper bags are biodegradable, reusable, and recyclable. Despite their flimsy structure, heavy-duty paper bags can endure pressure. Paper bags have grown in popularity because of their low density. Additionally, it has designs that are easy to use, have a long life, are light, and don't cost much.
However, there are some disadvantages to using paper bags. Once exposed to fluids and steam, paper deforms and can't transport anything. Another disadvantage of paper bags is that they can't carry large items.
3. Cotton
Start utilizing cotton bags to live more sustainably. Why switch? Firstly, cotton bags are sustainable, attractive, and practical. By switching to cotton bags, you can avoid using thousands of disposable bags.
Secondly, cotton bags use less water, energy, and oil during production. Finally, organic cotton bags are readily available. It is pesticide-free, and hence, better for local residents and farmland.
Reduce Your Impact By Swapping Plastic Bags For Totes
One of the things that makes shopping tote bags stand out is their potential to increase in value over time. By promoting your business with these items, you're giving customers a greener way to buy products that also have your logo on them.
There are also other, more far-reaching benefits. All parties profit from the widespread use of reusable grocery bags. Customers get a reliable product that they can reuse later. At the same time, your company gets noticed through this personalized marketing effort. Also, the world as a whole is better off without single-use plastic bags.
What To Look For In Reusable Halloween Tote Bags?
Halloween means decorations, costumes, candy, and bags to hold them all. Personalized trick-or-treat bags can outlast costumes. Don't worry if you don't have any Halloween bag ideas. Let's look at what you need to know in terms of styling, branding, and material in order to make your business's Halloween bags appealing to your customers.
1. Style
The way something looks is what initially draws in customers. Halloween allows you to express your creativity in a variety of ways. If you want to adhere to tradition and use spooky patterns and pictures, choose a more humorous appearance by creating animated Halloween emblems. In short, you have room to try out different prints to meet the needs of all your customers.

2. Branding
Branding boosts brand recognition. With the right marketing strategy, you can enhance your business. Incorporating a unique bag with one-of-a-kind prints and a personalized message will garner instant attention from current and potential clients alike.
3. Material
The need to shift from plastic bags is real. It's better to choose the right materials, and in this case, paper, cotton, and jute are sustainable options. They allow you to reuse them easily and carry them around with ease. Plus, they don't pollute the environment.
Trendy Halloween Bags
When you think of Halloween treat bags, you might first think of a plastic bucket in the shape of a jack-o-lantern. You may also come across many paper bags, totes, and plastic bags with updated holiday designs. AvecoBaggie helps you stay in trend with durable, versatile bags that are designed with the latest Halloween prints.
The following are some trendy Halloween bag ideas:
1. Halloween Candy Bags
During October, candy corn crafts are a deliciously spooky idea. These favors are ideal for a Halloween party or to hold candy for trick-or-treaters. All you'll need are some muslin bags and bright orange and yellow acrylic prints.
2. Halloween Trick Or Treat Bags
Many Halloween treat bags incorporate pumpkins or some other symbol of the event. Add catchphrases like "Gourd vibes exclusively" or "I'm ahead of the curve" to appeal to a more selective clientele.
3. Spooky Halloween Bags
It's not surprising to see companies cashing in on the popularity of the witch's broom. An animated witch with clever jokes like "Witching you a happy Halloween!" or "Resting witch face" is another great way to draw in young customers.

4. DIY Halloween Bags
You don't want to restrict your clientele, do you? This Halloween, use reusable tote bags from AvecoBaggie to distribute printable pumpkin carving patterns. The inventive people in the audience will love this one-of-a-kind, clever concept.
5. Bat Style Halloween Bags
Why not add an adorable bat design for Halloween? This bat bucket is perfect for the trick-or-treater child of your customer. Also, because it is sturdy, it can be used as decoration as well.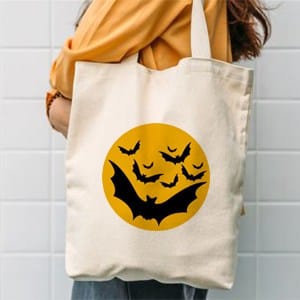 6. Coloring Bags For Halloween
You want your business to stand out, right? Mix a regular shopping bag with a coloring book to make your bags more fun to wear. Because of how these bags are made, you can put in things like crayons and sell them at a discounted rate.
7. Satin Halloween Bags
A satin trick-or-treat bag is the epitome of a spooky Halloween evening. This bag is very soft and would be great for your most discerning customers. It will also help your marketing efforts.
Do you wish to add some sugar to the deal? Enhance the spooky atmosphere by including Halloween-themed artwork and slogans.
Conclusion
It's no secret that tote bags have become an indispensable item for shops and shoppers. Totes are an excellent accessory because they serve many purposes. You can make a tote that fits the theme of any marketing event or new product launch. Not to mention, the fact that it is highly customizable makes it a great choice for Halloween.
In search of a brand that provides expert guidance? Head on over to AvecoBaggie to learn more about our custom process and services.