Here's the problem: you're running a successful business. But you feel like it's time to introduce something new to your business that might become a hot trend. Are you still unable to crack it?
No worries! We have an idea for you. Try using a velvet drawstring bag for your business. Do you want to know why?
A velvet bag with drawstrings comes in different sizes. This makes it ideal for numerous applications. Due to its versatility and sustainability, it stands out in the sight of the consumer.
If you think velvet drawstring bags wholesale can scale your business, this blog is for you. Read on to learn about how you can get the most out of velvet pouches wholesale.
What Is A Velvet Drawstring Bag?
A velvet bag that we usually see as a jewelry pouch, is a small packaging sack with drawstrings. The soft velvet fabric that composes it includes:
Double-faced velvet
Nylon-based velvet
Knitting-based velvet
Like the famous canvas bag, the velvet bag is environment-friendly as well. That is one of the reasons for their growing demand in the market.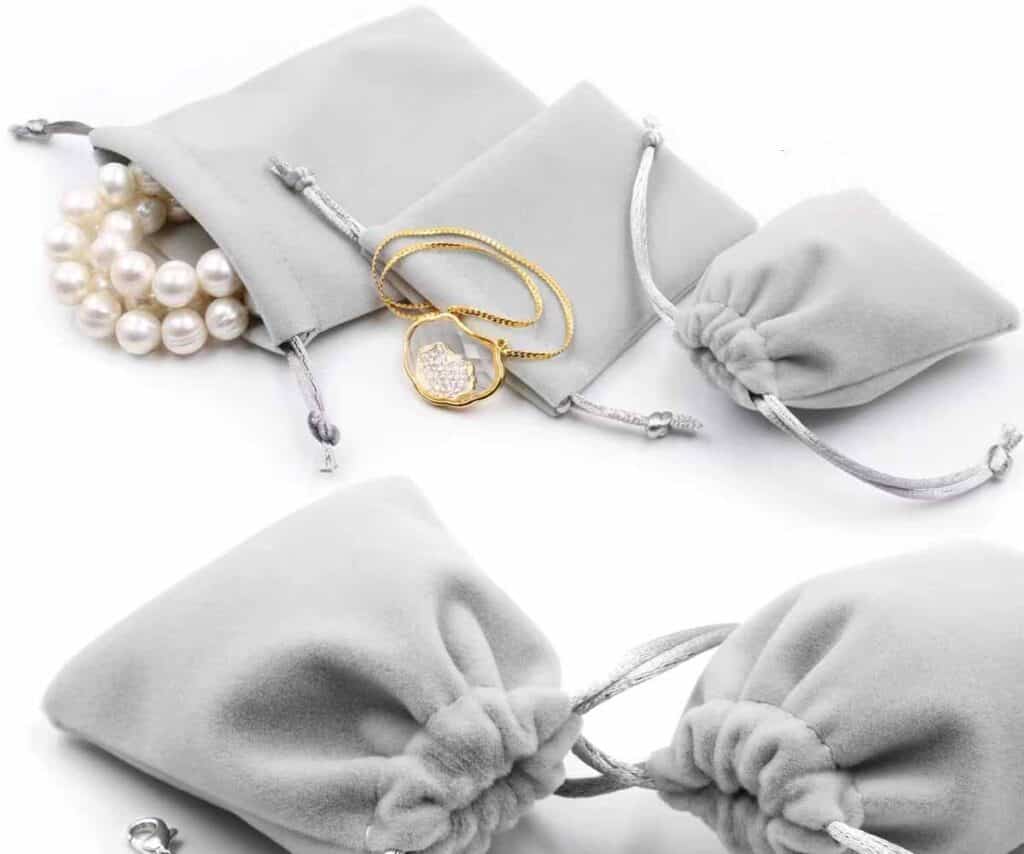 Features Of High-quality Velvet Jewelry Bags For Packaging
Velvet, being one of the most durable fabrics, is great for packaging a range of products. You can get various colors, sizes, designs, and patterns in velvet pouches. Customers prefer these bags as they are smooth and comfortable.
Let's find out why the velvet jewelry bags are an amazing investment:
● Chemical Resistance
Why do people buy jewelry? The answer is simple: it looks pretty. Sometimes, the jewelry deteriorates, eventually wasting all the money. Thousands of people complain about this issue.
During manufacturing, companies use metal for glistering jewelry. But no matter how noble the metal is, it still corrodes over time. Even the costly sterling silver and low carat gold jewelry is susceptible to decay.
Chemicals like sulfur and chlorides are responsible for tarnishing jewelry. And the solution to this common problem is velvet bags! As they are chemical resistant, the jewelry doesn't turn black if you keep your jewelry in them.
● Tearing Resistance
Consumers often look down on the clothing fabric packaging options brands offer. They assume that they would be of poor quality.
You can change this perception by giving them something durable. Something that doesn't tear easily with sharp jewelry or any other object. For this purpose, small velvet drawstring bags are the absolute choice.
● Heat Sealing Ability
The construction of the velvet makes it heat sealable to some extent. Therefore, it doesn't wear off during heat printing, making it the best option for any white label.
● Easy To Open
No one likes having to struggle with opening and closing their bags. When there is convenience, the consumers come running to your product. Velvet bags for jewelry are not only easy to open but easy to store as well.
● Oxygen And Light Resistance
Jewelry is a massive business globally. Hence, the alteration of its attractive appearance is an issue worldwide. Whether you are in the jewelry or packaging industry, if you solve this problem, your sales can go up.
People are aware that oxidation is the root cause of jewelry discoloration. But not all of them know that using a small velvet bag can prevent it. That's where your brand should come into play.
Applications Velvet Drawstring Pouches
Velvet drawstring bags are multi-functional. On top of that, they are good for our environment. Because of these two solid points, they can capture a big target audience. People can use these gorgeous looking bags for these applications:
Gift Packaging
Jewelry Storage
Marketing
For Gift Packaging
These bags are perfect for gifting customized ornaments. They add an excellent touch of drama to the presentation of your gifts. People can use them for any occasion like Christmas parties, weddings, and so on.
They have a silky drawstring that makes them even more gorgeous. Moreover, they are reusable bags. So, people can use it for multiple purposes.
To get seasonal or specific embroidery on them, visit custom solutions. Also, if you think that the silk drawstring is difficult to tie, we will change it for you.
For Jewelry Storage
Velvet bags for jewelry are super useful. They have a sturdy drawstring to open and close the bag. The material is thick, so they can bear heavy items as well. The gold rim on the top makes them look expensive.
However, they are only available in two colors. If you are not okay with fewer color choices, AvecoBaggie is at your service. We can make these bags in any color you want.
For Marketing
Large velvet bags with drawstrings have space for items like books, make-up, and much more. These soft bags last for a long time. It makes them powerful marketing tools.
They are perfect for the promotion of your brand. If you want, you can go to custom solutions to print your brand name.
Options You Get In Velvet Drawstring Bags
In velvet drawstring bags you have different options, such as:
Bag size
Drawstring length
Reasonable Price
Bag Size
You can ask the manufacturer to keep the size of the bag according to your needs. Whether you want the bag for small trinkets or medium-sized jewelry items, you have to decide the size.
Drawstring Length
It is the best option to keep the length of the drawstring long. Give users the freedom to maneuver it to shorten the length.
Reasonable Price
Although velvet is an elegant fabric with a luxurious feel to it, it has a reasonable price point. You won't go bankrupt by investing by getting them in bulk. In fact, you can save a decent amount by buying velvet jewelry pouches wholesale.
Personalization From Avecobaggie
Avecobaggie offers the following customization processes:
Logo Printing
The most traditional, yet, most popular way of branding is logo printing. Here, you get a myriad of options on how you want the final product to look.
Embroidery
This is another beautiful technique to personalize the velvet drawstring bags. You just have to select what you want us to make. And we will flawlessly produce bags with embroidery in bulk.
Heat Transfer
As mentioned earlier, velvet bags are heat sealable. You opt for the heat transfer technique to streamline your production. AvecoBaggie has experience working on hundreds of unique designs using this pattern.
Screen Printing
Screen printing is a cool and trendy method of customization. With custom solutions, you can order remarkable screen printing designs on your velvet bags.
Conclusion
Investing in velvet drawstring bags is a cut-and-dried strategy to scale your business. They are perfect for endorsing your brand, creating a brand image, and selling in the market.
In the near future, we can see more and more people using them. There are good grounds for optimism regarding their future sales due to the shift towards sustainable products.
So, there will always be a demand and supply cycle for these bags. Plus, with vendors like AvecoBaggie, you can bring buzz-creating designs to the market.