All of us have the "laundry chair" where our dirty clothes keep piling up through the week. We love that it's convenient, but we also hate it because it looks untidy. Here is the perfect solution for your dilemma: laundry bags. Not only are they handy, but they also make your room look organized.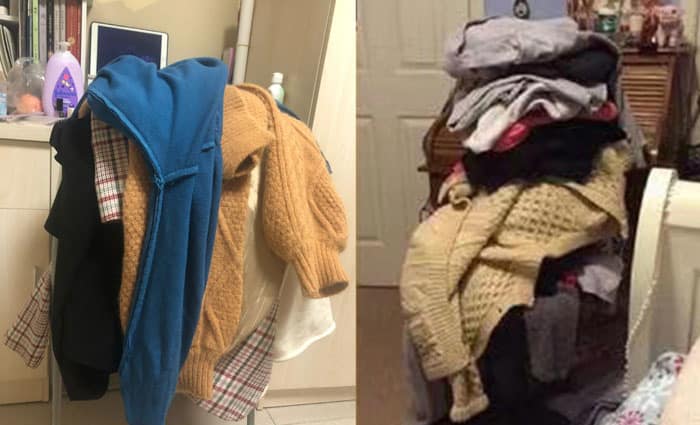 Laundry bags are bags that serve two primary functions:
They become your laundry chair. You can collect your dirty clothes in them before heading towards the laundromat. Or your washing machine at home.
They enclose your clothing articles for safe washing during a mixed laundry load. They do so by forming a barrier between different types of clothing items.
What Are The Other Uses Of Laundry Bags?
The use of laundry bags is not limited to the ones mentioned above. You can also use them in the following ways:
Separating two articles that can damage each other. For example, velcro closure bags can pull on the threads of your lingerie.
Preventing small articles such as socks from getting misplaced in the washer.
Sorting out two different people's clothes. Use separate bags for each person, so you don't have to waste time getting them in order post washing.
Carrying gym clothes as they require aeration. This use is specific to mesh-type laundry bags.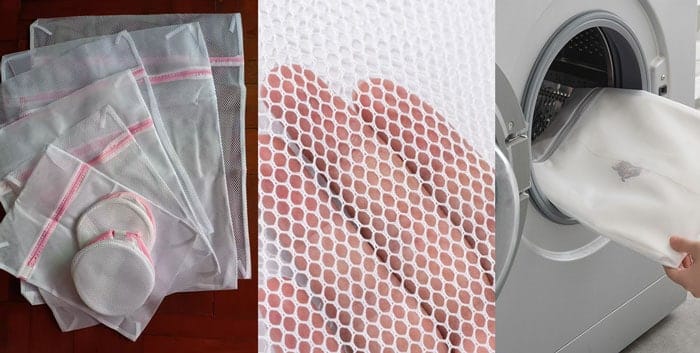 How To Customize Your Laundry Bags?
Laundry bags take on many forms. How do you create the perfect one? Let's explore all your options.
Material Of The Laundry Bag
What are the different kinds of fabric you can use to make your laundry bag? What are their features? Read on to find out.
Polyester (mesh): lightweight, breathable, and flexible.
Cotton and Canvas: Sturdy and long-living.
Nylon: Durable and tear-resistant.
Linen: 30% stronger than cotton and absorbs around 20% of its weight in moisture.
Vinyl: Strong, abrasion-resistant, and lives for about ten to twenty years.
Thickness Of The Fabric Material
As a general rule of thumb, it is better to get a thick fabric material. Thicker fabric means the laundry bag will continue to serve you for a long time.
Closure Of The Laundry Bag
Laundry bags come with several types of closures. Let's look at some of them.
Drawstrings. Although convenient, they tend to latch onto other articles. They also entangle as the washer moves in a circular motion.
Zippers. They are easy to use. But they tend to break away quickly and damage the machine drum. While moving around the washer, they also make a clicking noise. You can prevent this by securing the zipper with an elastic band. Also, pick plastic zippers over metal ones to keep your zippers rust-free.
Snaps. Magnetic snap buttons make it easy to open and close the laundry bag. But there is a risk of them catching rust.
Buttons. They fasten the laundry bag by sliding through a hole punched in the closure area.
Rubber closures do not harm the washing machine or the dryer. But they are not user-friendly.
Net Clips. They are also known as "alligator clips," which are easy to snap on. But they tend to pop off during the washing and the drying cycle.
Size
Three factors decide which laundry bag size is the one for you. They are:
The size of your clothing articles. Large items will not fit into small laundry bags. So get different sizes for varying clothing items. Also, make sure that the bag size you choose is much larger than your delicates. You want them to be able to move around in the bag for proper washing. Avoid packing them tightly into the laundry bag.
When do you do your laundry? Do you wash your clothes regularly or by the end of the second or third week of the month? A smaller bag would work for the former. However, if it's the second case with you, you'd need a bigger bag to hold the laundry load.
The purpose of using the laundry bag. If you want to keep small articles together, like socks or gloves, pick a smaller laundry bag. If you want to protect one specific delicate clothing, go for the larger size.
Colour
Many people choose colour based on their aesthetic. But you can also use colour smartly by colour coding your laundry bags. It will help you sort out different clothing items during the laundry. For example, you could gather all your whites in a white coloured laundry bag. So you know that you have to wash these items separately from the rest of the laundry load.
Laundry Bags In The Market
Still confused about which options to pick for your laundry bag? Don't worry! Here are some ideas I pulled from the market for you.
Nylon Drawstring Laundry Bag
The nylon drawstring bag is lightweight and breathable. It allows wet articles to dry quickly; before they can manifest the unpleasant smell. For added security, there is a locking tab, which keeps the bag from opening unintended.
It appeals to fitness enthusiasts because they get to store their gym essentials in it. But anyone who wants to keep their laundry in place or carry it to the laundromat can use it.
Plusmart Mesh Laundry Bag
The Plusmart mesh laundry bag, made of polyester, is durable and machine washable. While washing and drying, its shape remains intact.
Because of the mesh framework, the water flows gently through the bag and washes the items in it. It has a drawstring closure, which you can use to hang it over the hook or carry your clothes to the laundry room.
When it comes to the size of the laundry bag, it's extra-large. If you wish for a smaller one, visit custom solutions.
2-Sided Bra Laundry Bag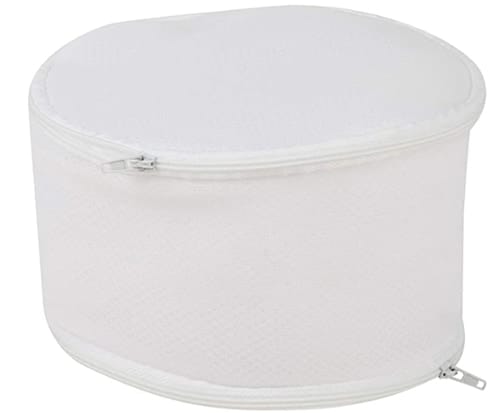 The 2-sided bra laundry bag, made of nylon, has a double-layered mesh design. It allows water and detergent to easily move through the bag.
Bras are delicate items. Their underwires have the potential to bend or pull loose. The sturdy cylindrical shape of this bag keeps the padded bras from flattening out.
There are two compartments that unzip at each end. You can fit two bras in it. The only con is that the zippers are of plastic that can melt while drying. So it's best to take out your bras and air dry them.
Gogooda Mesh Laundry Bag
One common problem with zipper closures is that they open up due to the pull of the water in the washing machine. The Gogooda mesh laundry bag has the solution for it: a zipper lock. It firmly tucks the zipper under it, keeping the zipper from touching other items in the washer.
These mesh bags come in a range of sizes, forming the complete laundry package. There is a separate mesh bag for:
Jackets
Pants
T-shirts
Stockings
Lingerie and underwear
Pro-Tip For Businesses
As a marketer, you need to keep two things in mind before buying laundry bags.
Is the quantity of laundry bags available in bulk?
It's nothing to worry about when you are buying laundry bags for personal use. But you have to be careful when it comes to buying in bulk for commercial purposes. Ensure that the supplier can provide for you. If they don't have enough stock, it could cause a delay in your business with unhappy customers.
Do the colours resonate with the brand image?
It's important for businesses to keep their colour scheme consistent. So pick colours that showcase your brand and everything associated with it.
Conclusion
If you want something to have all your favorite elements, it's best to customize it yourself. Such is the case with laundry bags. Your idea of the perfect laundry bag will shift according to your use and preferences. You get to decide the fabric material and its thickness, closure, size, and colour. Some companies even allow you to pick the method of sewing and printing! With custom solutions, you can create your lifelong laundry companion.