Denim is 100% cotton twill fabric, which is tough and does not tear easily. It is comfortable, functional, and breathable. What makes denim stand out? While other fabrics go in and out of fashion all the time, denim never goes out of style.
Denim can take the form of jeans, shirts, jackets, skirts, swimsuits, belts, and bags. You can rock out denim in any look! Here, we talk about the best denim bags out there and tips on how you can take care of them.
Top Four Denim Tote Picks
If you now have denim fever after going through its features, read on to explore denim tote bags! My top picks are:
Hoxis Denim Tote
Bag Wizard's Denim Tote
MaxxCloud's Denim Backpack
Queen Crystal's Denim Satchel Bag
Hoxis Denim Tote
I would describe this bag in three words: soft, lightweight, and durable. The Hoxis Denim Tote is the perfect choice for both men and women. Anyone can rock this bag with their outfits!
You can fit everything you need in this bag; files, wallet, phone, cosmetic pouch, tissues, mints, and more. If you're someone who is bound to carry their laptop anywhere they go, this bag is for you. You can easily fit a 15-inch laptop in it.
The Hoxis Denim Tote has a zipper closure, so all your valuable items remain safe and secure. On the outside, there's a slip pocket for quick and easy access to your essential(s). You can carry this bag across your shoulder or in your hand; the choice is up to you.
If you wish for the shoulder handle to be a little longer (or shorter), you can visit custom solutions for it. With AvecoBaggie customization, you get to decorate your bag with anything you like. It could be a logo print or an embroidery design; we do it all here.
Bag Wizard's Denim Tote
The Bag Wizard's denim tote is 100% heavy-duty cotton canvas. When it comes to aesthetics, this bag is best for casual wear, bordering on the professional vibe. It's not flashy and looks decent at the same time. You can make the most of this bag if you are a student, working woman or housewife.
As a student, you need a bag that can fit your workbooks, laptop, and stationery. Similarly, working women need a spacious bag for their laptops, iPads, and office files. You also need space for other essentials such as wallets, cosmetics, cell phones, and ID cards.
Can one bag fit all? Yes, it can! The Bag Wizard's Denim tote has a total of twelve pockets. Three pockets are in the front. You can use them for slim items such as your pens, handsfree and sunglasses. There is one zipper pocket in the back, which is perfect for keeping your phone secure yet accessible. The remaining pockets are on the inside.
When you unzip the bag, you will see a padded laptop pocket in the middle of the bag, behind the velcro enclosure. It keeps your laptop safe and hidden. It's much better than bags with a front pocket for laptops that make them vulnerable to theft.
Moms can use this bag too! They can utilize the laptop section for baby diapers, wipes, and spare clothes. Other compartments can come in handy for water bottles, feeders, snacks, and bibs.
All in all, the bag is spacious and has the perfect strap length. You can easily swing it over your shoulder. With its sturdy and wide base, it can stand on its own. Cons include:
Narrow front pockets that are too deep. It makes it hard to take out small items from there.
Zippers that break off easily.
You can get high-quality zippers from custom solutions. Also, feel free to customize pockets according to your liking as well!

MaxxCloud's Denim Backpack
If you're a fan of the vintage look and love hiking, the MaxxCloud's denim backpack will check all your boxes. Let's see what else this bag has to offer you.
The MaxxCloud's denim backpack is great for school essentials. Its main compartment has a double zipper closure. It can hold notebooks, laptop, pencil case, water bottle and lunch bag — all in one! You can also carry your iPad, books, and cosmetics in this bag.
Hiking accessories include a map, phone, camera, snacks, first aid kit and water bottle. You can place the water bottle in one of the two side pockets. When you go for a hike, you can use the back straps of this bag to carry it on your back. It proves to be even more convenient if your hiking trip involves cycling too!
When you visit flea markets and yard sales, you need a bag to bring all those purchases home. This bag will be your perfect partner for all your minimalistic shopping items.
It typically comes in the colour blue. But who says denim can only be blue? Get yours dyed any colour you want from custom solutions!
Queen Crystal's Denim Satchel Bag
Queen Crystal's denim satchel bag is of high-quality denim canvas. It's a part of street fashion and contains the aesthetic of hobo style. You can carry it in three unique ways:
In your hand
On one shoulder
Cross your body
It can hold an umbrella, clothes, and other valuable articles in it. The design is cute and beautiful but comes with a few drawbacks such as:
Untidy and unravelling seam at the bottom.
Size not large enough to carry many things.
Does not work as a crossbody due to the high and tight, short strap.
Poor zipper quality. It breaks off easily.
With custom solutions, you can get the same denim bag but with the strap length of your choice. You can also pick high-quality zippers for your bag! Just sit back as AvecoBaggie manufactures the ideal denim bag for you.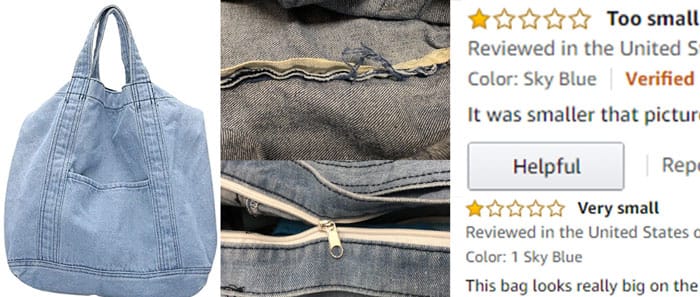 How To Take Care Of Your Denim Bags
Many of us get scared of washing our denim articles, thinking they will wear out. Excessive washing indeed reduces denim items. But washing in moderation is completely safe. Just follow these six simple steps while tossing your denim bag into the washing machine.
Turn it inside out to keep the detergent from wearing out the fabric. It helps the dye from fading out.
Cover it in a mesh bag to protect zippers, buttons, and embellishments from falling out.
Keep the temperature of water cool or cold. Prolonged exposure to hot water can damage denim.
Avoid using powdered detergent. Pick a liquid one and use it in minimal amounts.
Do not expose your denim bags to heat while drying, whether it's in the dryer or under the sun.
Air-drying is the best option for denim bags.
Summary
Denim is 100% cotton, which is strong and stays with you for a long time. Denim bags come in all shapes and sizes with different designs. Every bag has its pros and cons. Some are sturdy but have a poor-quality zipper. Others are aesthetic but have a short strap. However, you can get your ideal denim bag from custom solutions, free of cons. You get to pick your denim fabric, type of zipper, length of the strap, size of the bag and more!