How do you know your custom printed tote bags are going to look as good as the ones in your marketing materials? One way is to order a sample. When you receive it, you can check for any errors or mistakes that might not show up on computer screens. And then make corrections before mass production begins.
Here are 8 steps to help you make custom printed tote bag samples from China:
For custom printed tote bag sample production:
Step 1: Send your design file
You should provide your own art file and we can use it for custom printed bag making. The more details you put into the design,the better looking of printing result. It's important that all colors are CMYK format unless your file is in spot color mode.
Step 2: Confirm your bag material
The art file will be used for printing on the material. We recommend a white fabric with a matte finish. Because it prints well and looks good without any lamination. Cotton is the most popular option since it's affordable, easy to clean and durable enough to last several years of daily use.
Step 3: Confirm mockup before production
When you get the mockup, check to see if it's exactly what you wanted. If anything looks wrong or missing. You can contact the manufacturer right away. So we can avoid the problem before going into sample production.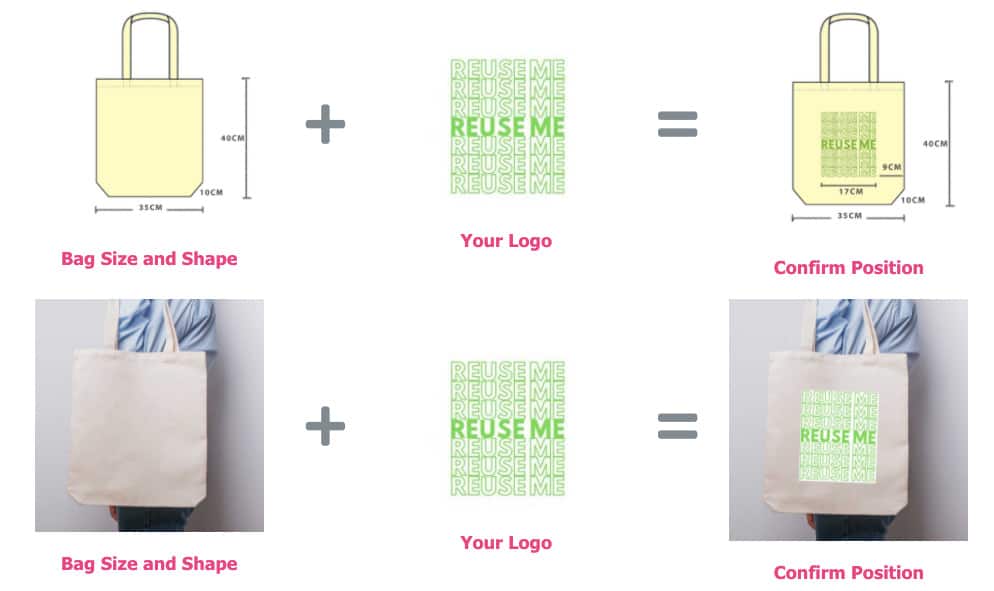 Step 4: Tell the supplier your shipping address
After you approve the sample, please provide your supplier with a shipping address. Then we will ship it to your office or home by express air freight. And we will send an email containing tracking information as soon as the tote bags are shipped out.
Step 5: Pay for sample cost
Once the payment was finalized, the manufacturer can start making samples for you. It takes about 7 days to make a sample and another few days for shipping by express air freight service. After that, it will take at least one week to reach most countries in North America from China via FedEx or DHL.
Check quality for custom printed tote bag sample:
Step 6: Check custom printed tote bag size
If your custom printed tote bag is combined with other products as a set. Then put the products into tote bag and check if it is big enough to hold. if you need to extend bag size, you will have to correct size before mass production.
Step 7: Check printed position on tote bag
Though before sample production,we usually send a mockup for confirmation. you still need to double check when it's finally printed out. In case anything wrong. You can still change the printed size and position before mass production.
Step 8: Check color printed on tote bag
Tote bag not 100% bleached white, pattern printed on bag will a bit dark than digital design. Normally customers understand and accept. If you have high requirements on the printing color, pls check with us before mass production.
If you want to check whether the ink will fade in water, you can put tote bag underwater and rub the printed area by hand. Most printing is strong and not faded.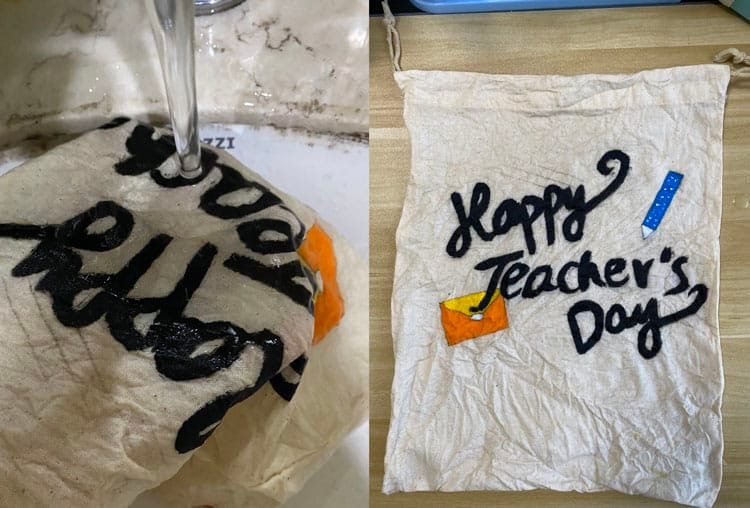 Summary
If you want to order custom printed tote bags in big quantities. You definitely need to make a custom printed sample in advance?
Custom bag samples will help you avoid surprises and waste of money. There are benefits for making custom printed tote bag samples before mass production:
1. You can check tote bag all dimensions carefully. And adjust them before mass production to avoid problems.
2. Check if printing is clear and uniformity of color.
3. Prepare advertising in advance.
Even there has something incorrect, it's ok, we can fix before mass production.
If you don't know how to make custom printed bags samples in your country, please contact us today! We'll help you get started quickly and easily.