If you're a business, your main aim will be to stand out. Logos help represent your company, which is why they should be easily recognizable. Therefore, it makes sense that they are an effective way to market your brand. But if you want to draw people to your brand using bags, you must ensure that your logos look the absolute best!
If you're considering putting your logo onto drawstring bags, you may wonder what the best process might be. The question of choosing either screen printing or embroidering may be haunting you. If you have the same query and want to compare the two, you've come to the right place. Read on to learn more about what each technique offers and how you can make the best use of both.
What Is Screen Printing?
Screen printing is when you force ink through a stenciled mesh screen to produce a design.

You're probably mistaken if you believe you haven't ever used anything printed. Screen printing is a pretty popular technique used in a wide range of bag industries. Silk screen printing is another name for the procedure, although it refers to the same method.
Screen printing is a great way to make eye-catching designs on fabrics and textiles. This is precisely why it is perfect for all personalized bags that need a clean, crisp appearance.

There are several reasons why this technique is very well-liked. However, the variety of colors available in printing is by far the most compelling one.
What Is Embroidery?
Even if you weren't actively aware of it, you probably already knew a little about embroidery.

To put it simply, embroidery is an art where we use a needle to add decorative designs to fabric. You will find that many manufacturers use this method to develop logo designs on custom bags. It produces a beautiful end product that gives the material a 3D impression. For most companies, embroidered logos outperform other techniques because of their class.
You can sew your company logo directly onto the bag's fabric using embroidery. Some manufacturers carry out the stitching part manually. This can take a lot more time than usual. However, automatic stitching is much more effective in bulk orders. Using machines, you can have the finished items in a remarkably short amount of time.
Screen Printing Or Embroidered?
Brands use numerous methods to decorate their bags, from heat transfer to flocking. But the two most popular ones have always been screen printing and embroidery.

Both have their fair share of advantages, so they are better suited for specific types of bags. We have listed some key distinctions between the two techniques below.

Price
The price is a huge deciding factor when choosing a method. The pricing depends on a couple of elements you should go through before deciding on one.
Digital printing is a sensible choice if you plan to buy linen bags in bulk. You can get a better turnaround time with better prices. Even if you want to buy hundreds of bags with logos or images, you will still pay a lot less than embroidered bags.
On the contrary, you can choose embroidered bags if you have a very tiny logo. This is because many manufacturers base their prices on the stitch count used in your logos. The more stitches you'll need, the higher the price will be. It would help if you used this option on about a hundred tote bags or so.
However, with a bigger budget, investing in more robust products would be worthwhile. Embroidered elements persist for a lot longer than screen printing. This is because the images on printed bags deteriorate after a couple of washes.
Details
You should also consider the level of details of your design or logo before you decide on one technique. Screen printing is your best option if your company logo has two things present in it. Either intricate details or bold color schemes.

Does your logo have gradients? Make it using printing because it is difficult to create the same effects otherwise.
When it comes to embroidery, it is more favorable if your design is more classical, simple, or basic. In embroidered bags, there is a lot less detail but a ton of texture and dimension that helps make a statement. An example can be an attractive piece of typography on your tote bags.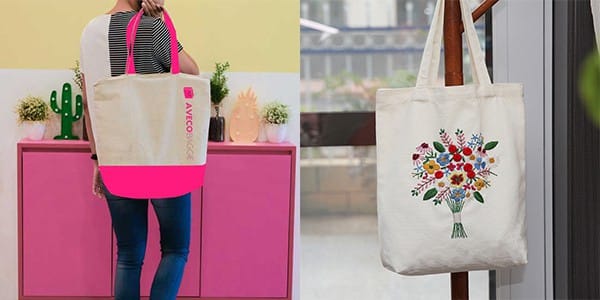 Size
Size is another aspect you should look at. It would be ideal to use a screen printing technique for any logos bigger than 150 mm in length and width. This will keep your logo intact and help it look crisp and clean. Never make the mistake of using embroidery for an image of this size. If you do so, it can pull, stretch, and weaken the entire garment. Not to mention, the logo will also have a very distorted appearance. This won't represent your business in the best light.
Small logos you can make with needles and thread are more suitable for embroidery. If your image is less than 150 mm, go for canvas bags with embroidery! It won't cost much either because the stitches will be less, and you can get a brilliant look using it.
Colors
One last factor to take into account is color. The key concern regarding colors is how colors appear on the logo later on. Sometimes, the color can look immensely different with both embroidery and printing.
Both these methods differ in how they catch the light in the spectator's eyes. Since embroidery uses a similar material to the bag, it is more likely to become a part of the garment. Therefore, you must use contrasting colors for the logo and the bag if you plan on going with embroidery.
On the other hand, printing processes can be a lot flatter and more reflective. While this may be fantastic for a dynamic look, it can take away from a high-class image.
It might be possible for you not to get a precise color match if you are printing with CAD vinyl transfers. If this is the case, you should contact your manufacturer and come up with the finest solution. Explain to them the exact color you want and listen to what their experience has to offer. You'll be able to figure something out with ease.
Looking For Custom Made Bags With Prints Or Embroidery?
There's no need to look any further! At AvecoBaggie, we use embroidery and screen printing techniques to design and create smart displays on our bags. Thanks to our custom solutions, you can have limitless design flexibility and create exactly what you need.
Here, we generate unique designs on various bags using top-of-the-line equipment. This helps us ensure that your logos are both long-lasting and attractive. Click here and get your personalized bags in bulk!
Summary
oth screen printing and embroidery have distinct advantages and disadvantages. But let's not forget that the choice between the two ultimately comes down to your brand and vision.
When deciding between either of these options, consider the factors mentioned in this guide. The logo's price, size, details, and colors all play a massive part in how you want your waterproof bags to look.