Halloween, the season of imaginative costumes and candy, is soon approaching. For many, Halloween celebrations include visiting house to house in quest of the greatest candy. And, there's no better way to flaunt candy than in a stylish treat bag.
Regardless of your customer's plans for Halloween, they'll need treat bags to organize sweets. However, Halloween is not just an exciting time for your clients. With the right strategy, you can use Halloween to promote your business and boost sales.
Promote Your Business With Customized Trick or Treat Bags
There's nothing better than a marketing campaign that joins in on festive fun. Your clients, and AvecoBaggie, both recognize this. For this reason, AvecoBaggie aims to bring personalized totes right to your doorstep. Here are some ways you can use custom bags to build brand loyalty and customer satisfaction.

1. Swag Bags
Everyone likes getting free things, right? That is accurate as long as the free goods are helpful. If you plan to send swag bags in October, make sure to do it in Halloween-themed bags. This way, in addition to holding your giveaways, the recipients can use the bags for trick-or-treating on Halloween night.
2. Credit Card Sign-Up Gift
Cashiers often ask customers if they'd like to apply for a store credit card. It's a technique to get clients to return so they can make more purchases. Gifts and other sign-up incentives are excellent promotions to drive new sign-ups.
Furthermore, a custom Halloween bag feels like a gift in itself. Not to mention, the bags serve two purposes. They make it easy to transport the free gift and they double as trick-or-treat bags on Halloween night.
3. New Member Gift
Entice new members to sign up for a service by offering a free gift. New member gifts are common for many beauty, apparel, and jewelry brands. During October, pack your new member gifts in a unique and spooky trick-or-treat bag.
4. Halloween Event Giveaways
Halloween events are frequently held at public spots to encourage safe trick-or-treating. As opposed to going door-to-door in the neighborhood, this offers a controlled environment.
If your business is hosting an event, you'll need event-themed giveaways. And since it's Halloween, trick-or-treat bags are the ideal item to distribute. Make the most of this event by including your brand's logo and address details on the candy bags.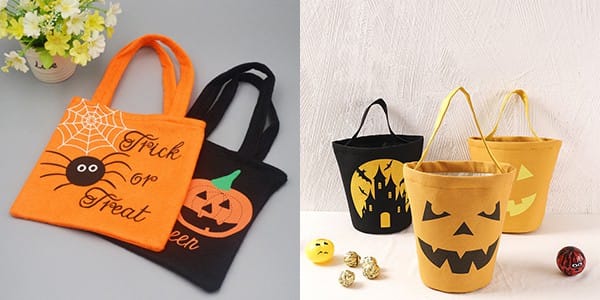 5. Shopping Bags
Are you tired of using the same monotone shopping bags at your store? Then use festive Halloween bags to make checkout more fun for you and your customers. Customers will use any shopping bags you provide them.
However, a trendy bag will make their shopping experience all the better. Additionally, unlike plastic bags, these Halloween totes are reusable. This allows your customers to save money and your store to remain festive in the weeks leading up to Halloween.
6. Host a Halloween Costume Photo Contest
A Halloween costume contest is one of the best ways to get customers rushing to your store. To run a Halloween contest, host a costume event where people can show off their best looks in person or online. Encourage people to click photos with your custom bags in their hand. Want to ensure maximum participation? Include tons of promotional goodies in the winner's prize.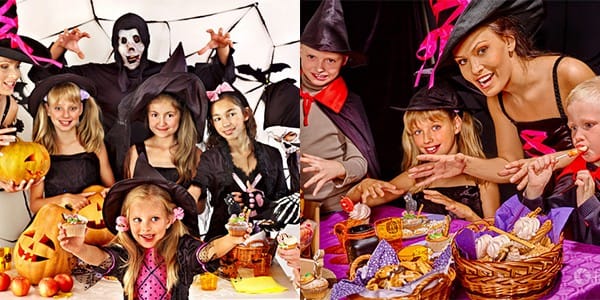 12 Best Halloween Treat Designs
Now that you're aware of all the ways you can use custom Halloween totes, let's take a look at the best treat bags for 2022.
1. Burlap Trick-Or-Treat Bags
For trick-or-treaters, Halloween-themed reusable burlap candy pouches are ideal. Available in various sizes, these bags can carry as many or as few candies as your customers need.
2. Boo! Printable Treat Bags
These simple goodie bags combine fashion and utility. Perfect for the little ones, these bags feature an animated ghost template.
3. Bat Bucket Bag
Bucket bags are all the rage this season. Why not add a Halloween twist with an adorable bat design? This bat bucket is ideal for your customer's youngster to carry when trick-or-treating. Moreover, its sturdy design makes it great to use as a decorative piece too.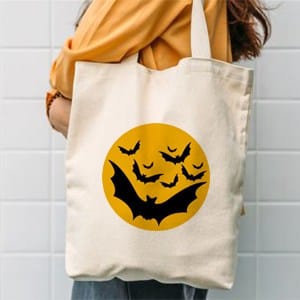 4. DIY Printable Trick-or-Treat Bag Labels
Don't want to limit your customers? Provide printable Halloween templates with AvecoBaggie's reusable totes this Halloween. This unique and crafty idea is sure to be a hit among the creative audience.
5. Spooky Neon Halloween Bags
It's Halloween, so spooky designs are a given. Infuse the festive spirit with trendy neon trick-or-treat bags. Available in a variety of neon colors and patterns, these bags are sure to attract a trendy crowd.

6. Candy Corn Treat Bags
October is the month for candy corn crafts, which are a delightfully creepy concept. This custom design is ideal for Halloween parties and trick-or-treats expeditions. All you need are some muslin bags and vibrant orange and yellow acrylic prints.
7. Satin Trick or Treat Bags
Nothing screams "eerie night" more than a dark, satin trick-or-treat bag. Sure to step up your marketing game, this ultra-soft bag is perfect for suave clients. Want to sweeten the deal? Add festive artwork and spooky taglines to match the scary vibe.
8. Monster Trick or Treat Bag
A silly, animated monster is quite easily everyone's favorite Halloween emblem. Use this creative piece to your benefit by offering your customers extra space. Simply add a zipper that doubles as the monster's mouth.
9. Colorful Halloween-Patterned Drawstring Bag
A Halloween treat bag for the hippest trick-or-treater. Available in a backpack style, this drawstring bag features several Halloween icons. From skulls and bats to brooms and coffins, you can print it all! Plus, trick-or-treating is now simpler than ever with customers carrying their Halloween treats hands-free, and with ease.

10. Reusable Halloween Totes
These reusable Halloween-themed tote bags are perfect for a star trick-or-treater. With this bag, your customers can fit the most amazing candy harvest of the evening.
11. Ghoulish Halloween Bag
A monstrous face has always been one of the best Halloween treat bag ideas. Opt for prints like Dracula, Frankenstein's monster, the cursed mummy, or a witch. For an added dose of spookiness, we recommend adding glow-in-the-dark elements.
12. Halloween Coloring Bags
Do you want your business to truly stand out? Make your bags interactive by turning them into a mix of regular shopping bags and a coloring book. Due to the nature of these bags, you can include goodies like crayons and promote them as a discounted deal.
Conclusion
Halloween is all about enjoyable neighborhood activities and candy. So it's no surprise that trick-or-treating is at the core of it all. As a business, you may like to capitalize on this creative festival. Custom trick-or-treat bags are inexpensive promotional products that are the ideal way to celebrate the occasion. This unique marketing strategy reminds old and new clients about your business.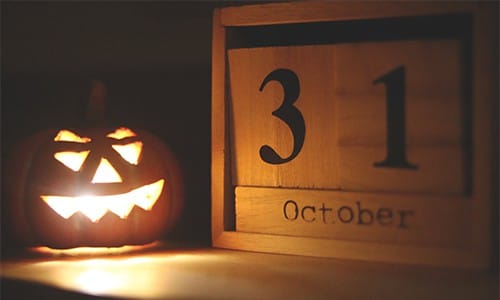 This Halloween, try to find designs you haven't seen before. Purchasing designs identical to those of rival companies will only topple your sales. For this reason, AvecoBaggie focuses on durable bags and in-fashion designs.
While there are many bag manufacturers in the market, AvecoBaggie outranks them all. Along with top-quality, reusable bags, our team offers a guided design process. From fabric to printing methods and accessories, AvecoBaggie gives you complete authority. For complete details, visit our custom solutions page.