Product packaging dramatically influences your customer's decisions. It may affect your brand in ways you may not have considered. Do you know the best way to establish a reliable image of your company's values? Interactive product packaging.
All bags seem reasonable enough at first glance. However, different materials have different qualities that make them stand out. For example, some fabrics are more durable than others. If your brand sells books, it will make more sense for you to get these fabrics. Ultimately, the type of fabric you choose will depend on what you need the bag for.

Need help determining the best material for handbags? Check out this handy guide!
Things To Keep In Mind Before Choosing A Fabric
Quality
If you spend money on handbags for your brand, ensure that the material is worth every penny. Don't mind overspending some cents if you find a fabric of exceptional quality. These will always last longer and prove much more sturdy than bags that cost less.
Customers should be able to take your bags out on the streets without the bag showing signs of wear and tear. The durability of your fabric will make them think that you've put thought into your packaging, and they'll be back for more stuff in no time.
Some of the best durable fabrics are cotton and canvas. These are ideal to use in all weathers and can withstand heavy weight.
Versatility
Versatility is key when it comes to storing products for your brand. The perfect bag can hold all your customer's items easily without falling apart. This is especially important for grocery stores with multiple product types.

It would be best if you customized your handbags to be compact with some compartments. That way, your customer can fit all the products inside and carry them home comfortabl
Always opt for a bag material that's a trendy fit instead of choosing bags that people will use only once. Through this, you can market your brand without even being present there.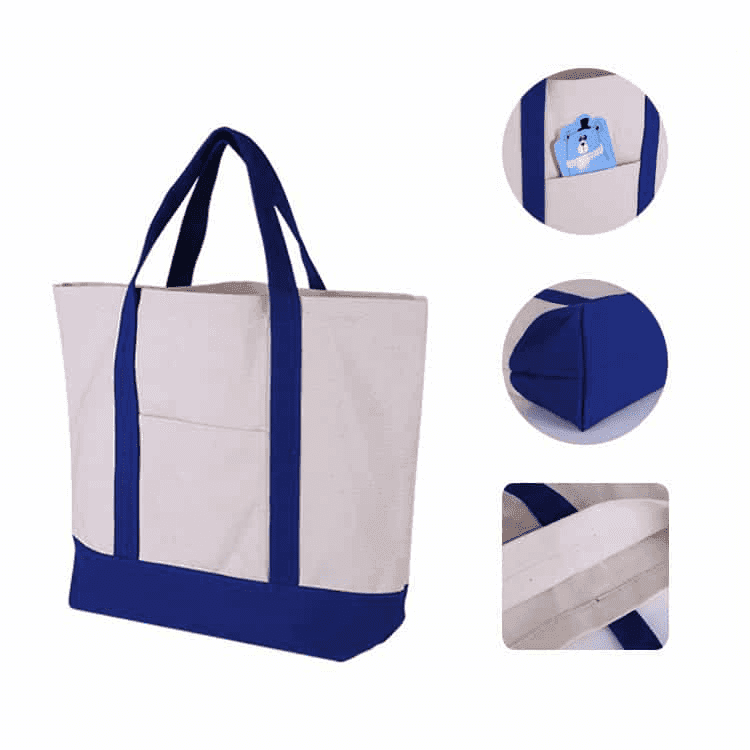 AvecoBaggie custom bags are an excellent option for any brand. You can personalize them to fit many items inside by maximizing space. If not that, you can design an aesthetic bag instead. Your consumers will carry your bags and promote your brand.
Color
The sensation of color causes our bodies to experience particular emotions and influence our psychological state. Many brands need to realize this.

Colors are important for your bag's fabric as they can draw customers to your brand. The color you choose for your printed bags can either give off a bright, creative vibe or a dull, boring one.
Simply by picking one color over the other, you can get the response you're hoping to achieve. Plan out the emotions you want to evoke from people based on your brand's bags and packaging. Ask yourself how you want your consumers to feel when they look at your printed bag.
Once you're done, you will better understand the emotions you want from your customers. Now, research about colors that evoke the feelings you expect from your customers. Are they vibrant or pastel? Subtle or bright?
Completed your research? It's time to choose the perfect fabric color for your bags.
The Best Handbag Fabrics Available
We know how hard it is to choose the fabric for your company's handbags. For this reason, we have listed four materials for you to choose from the next time you go handbag shopping.
1. Cotton
Cotton is one fabric that you can never get tired of. People have been using it since ancient times because of its versatility.

One of the wonderful things about cotton is that it is available in various colors and prints. This allows you to produce a good bag design that reflects your brand personality. Additionally, cotton is a very durable fabric, perfect if you want to give it off to your customers.
The best fabric for tote bags is cotton. People often use cotton Panama fabric for their totes. It is heavier than standard cotton and ideal for your customer's everyday shopping. These bags are less likely to rip than plastic bags, and hold up products well. This means you will never have to worry about double bagging or other such issues.
2. Canvas
While canvas bags share many characteristics with other reusable bags, they have their own set of redeeming qualities. Like the rest, they are durable, customizable, and eco-friendly. What distinguishes them from the competition, then?
When you work with promotional products, your ultimate objective is to maximize exposure. In this case, choosing canvas fabric for bag making is your best bet. Why? Because canvas is highly absorbent and receptive to ink. Your logo will not chip or fade through a wash cycle, and the design will last a long time. Through this, your brand will continuously gain exposure while your product will do all the work for you.
Furthermore, these bags are marketable on their own. People prefer these more, thanks to the natural materials they are made from. Canvas is environmentally friendly, so the bag can be safely disposed of when it has reached the end. The benefits to both the user and the brand make it a win-win situation.
3. Mesh
Unlike other fabrics with closely-woven textures, mesh is loosely woven. As a result, each mesh bag contains thousands of tiny holes.
A good tote bag fabric material is mesh as they are excellent for storing and shopping for produce. These bags have better air circulation because of the stretchable fabric. Better air circulation means your customers can keep your store's produce fresher for a long time.
This mesh shopping bag is perfect if you want to provide your customers with a versatile option. It also has comfortable and sturdy handles, making it easy to carry around and travel with.
4. Jute
Do you value convenience, affordability, and environmental protection? If so, the jute bag is all you need.
Jute, a vegetable fiber, comes from the skin of a jute plant's stem. It has a golden sheen, which is why it is also known as the golden fiber. One fun fact about jute is that it can absorb a lot of CO2 and produce O2. In fact, in just a couple of months, it can generate 11 tonnes of oxygen and absorb more than 15 tonnes of carbon dioxide.
The jute fibers are strong, making the bags more durable and resilient. This means your customers will not need to purchase a new bag every few days. Instead, they will use your bag in several places, increasing publicity.
Not to forget, they are also available in a range of sizes and colors to suit any requirements you may have. So don't think they're ugly just because they're good for the environment! Even though it has a rustic appearance, you can easily customize this bag to advertise your brand.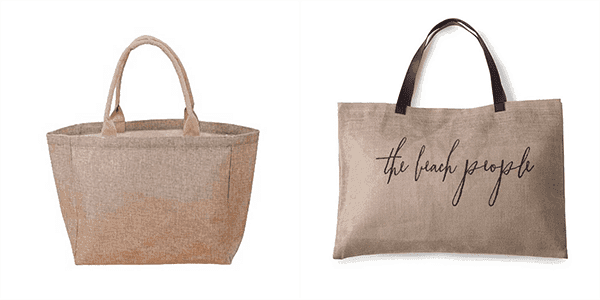 Where To Find High-Quality Handbag Fabrics?
The specialists at AvecoBaggie have been trained to help you find the ideal fabric for your customized bags. Flexible and progressive, they diligently explore ideas and create branded solutions after working with brand owners. Find the perfect materials for your handbags using our custom solutions now.
Don't quite understand whether to opt for cotton or canvas? Get in touch with us so we can guide you through the process.
Final Words
If you're shopping for handbags, choose a durable, elegant model. Do not just opt for a specific handbag material because you see brands around you doing it. You can find bags in many different materials, as seen above. Question yourself: is nylon fabric for handbags the best choice for me? Or should I choose mesh instead?
We hope this article helps you understand the best materials you can use for handbags. Remember that fabric plays a huge role in brand promotion, so always choose wisely.