Are you sick of carrying that ugly-looking backpack to school? If the answer is yes, then a strong reusable bag can be a true savior for you. You might haul a lot of things to school. The list starts from your books and extends to snacks and drinks. So, to get you to school in style, a minimalistic, reliable, and functional reusable bag is what you need.
What Are Reusable Bags?
All reusable bags have three things in common:
They have a thick cloth or fabric, such as canvas, jute, and synthetic fibres.
They're machine-washable.
You can use them again and again for a long time.
We have compiled a list of reusable bags that you need to check out before setting off on a new school bag hunt. But before we start with our list, let's discuss why reusable bags are important for every student.
What Makes Reusable Bags Perfect For School?
Imagine you're running super late for school, and you have only a few minutes to get out of the house. Which bag are you going to take with you? A small crossbody bag or the carryall bag?
Whatever you choose, there's always a reason behind it. It is probably because of the interior pockets or the vibrant pattern. These factors make such bags suitable for your daily routine.
As you can laden reusable bags with everything you will ever need in school, they are the ultimate choice. To apprehend their significance, let's take a look at their benefits.
Versatility
Primarily, reusable bags are available in variable sizes. Because of that, they have many purposes. When you buy a new one, the older bag still remains useful. From great upside-down planters to keeping the extra pair of shoes, they go a long way.
Easy To Carry
You can easily carry heavy items in them during your busy day of school. They don't have complicated fasteners. Instead, they only have a pair of parallel handles on each side to help you grasp the bag.
Durability
A durable fabric material of cotton or linen forms these kinds of bags. Thus, you can throw whatever you want to in them without the fear of ripping them.
Now, let's jump to the great everyday reusable bag for school.
Top 5 Reusable Bags For Students
A typical day at school means having a lot on your plate. From lectures to sports, you need several things with you every moment. These are the five reusable bags that ensure that you don't forget anything important at home.
Sports Bag with Drawstring
Waterproof Lunch Bag
Pencil Bag with Three Compartments
Tote Bag with Yoga Mat Buckle
Canvas Bag with Leather Handles
Sports Bag With Drawstring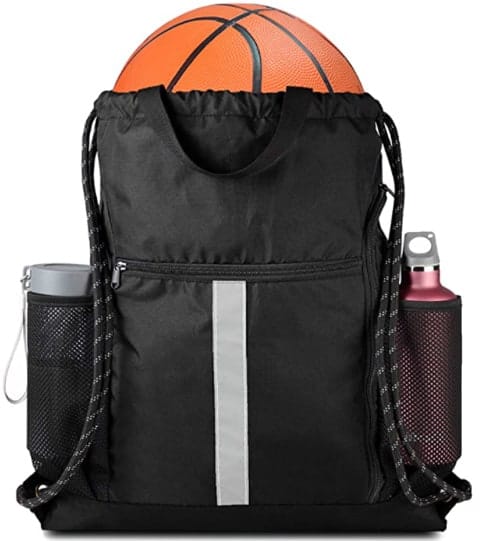 Don't want to feel weighed down on your commute? Then a reusable drawstring bag is exactly what you need. It is versatile with a polyester construction, and has outstanding organizational features. To keep your shoes, you will find a shoe compartment on the right side.
Plus, to ensure adequate water intake, there are two water bottle pockets. Another key element is the reflective handles that glow in the dark. So, there are fewer chances of you getting hit by a vehicle. It's right in the sweet spot for most of the guys. In the center of the bag, there is sufficient space to keep the following items:
Basketball
Clothes
Swim gear
Towel
Books
Daily supplies
A con of this bag is that the drawstring may tear apart when you pack this bag to its max. With custom solutions, you can get a drawstring for this bag in a number of sturdy materials.
Waterproof Lunch Bag
In order to maintain the temperature of your food, it has a unique construction. If you dissect the bag, you will find three layers. The large lunch bag incorporates a waterproof cationic cloth.
The central part is pearl cotton with an interior layer of waterproof aluminum foil. The size of this bag is 11 inches in height, 9.8 inches in-breath, and 6 inches in width. No matter how long you keep your lunch in it, it will still taste fresh and delicious.
From your home-cooked meals to canned foods, water bottles, and snacks, the lunch bag can carry it all. There will be room for your textbook even after keeping your tupperware.
Appearance-wise, the waterproof lunch bag is a simple bag that comes in four colors. Besides that, there is a velcro closure and double handle design for you to open and close it in the blink of an eye. You can use this multipurpose lunch bag as:
Ice pack
Sundries bag
Shopping bag
Snack packs
If you want it to reflect your personality, custom solutions are there to help you out. They have many printing methods that create beautiful designs on your bag. You have the creative freedom to draw anything. And, they will put it in the bag for you.
Pencil Bag With Three Compartments
This pencil bag has the capacity to hold more than you may expect. Keeping a dozen pens in the main center pocket won't even fill the bag halfway. People with OCD can purchase this bag as it is incredibly well-organized. Without wasting hours, you can keep your pencil bag neat like never before.
There are side pockets to keep those extra sets of pencils. Plus, there are two other pockets on each side of the central compartment. In total, this pencil bag can store fifty slim pencils in it.
It comes in a professional color combination that makes it look superb. The fabric of the bag feels tough and long-lasting. Even if you look inside, you will realize that the stitching won't rip apart anytime soon.
This pencil bag with three compartments can hold these items:
Pencils
Markers
Refillable leads
Erasers
Paperclips
Sticky notes
If you damage the zipper, you can get a new one made with a high-quality, durable zipper from custom solutions.
Tote Bag With Yoga Mat Buckle
Sifting through the bag while driving is something we all do. It can be dangerous, especially if you're driving on the highway. For easy access to your items, this tote bag has many pockets. All you have to do is slide your hand to take out cash or cell phone from the bag.
Overall, this bag has comfortable straps and two side bottle holders as well. Even though these features are enough for this bag to be every woman's favorite, there's a lot more to it.
The tote bag cleans easily after you wipe it down. There is a separate laptop compartment that provides extra protection for the laptop. That's why you will never have to worry about damaging the edges of your laptop.
In this bag, you can keep these things without a hassle:
A4 folder
Books
Clothing
Travel accessories
Large water bottle
Umbrella
Yoga Mat
Every person has different essentials. Some have a long list of things they like to carry, while some keep a few items. With custom solutions, you can get this Tote bag in any size you need.
Canvas Bag With Leather Handles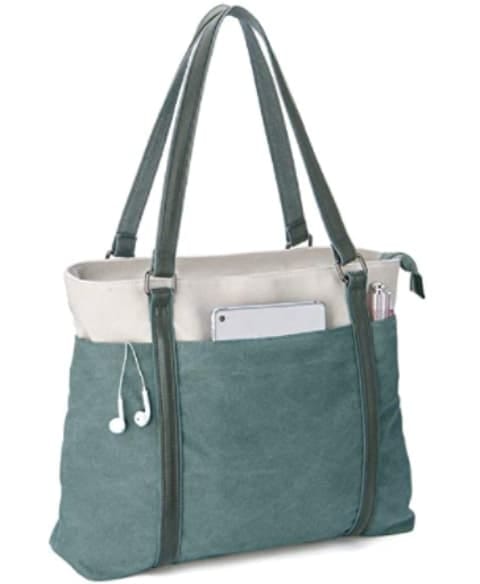 Do you need a good-looking bag for after-school gatherings? Or are you concerned more about function than form? If you bend towards the latter, then this is the ideal bag for you.
It doesn't get too heavy after stuffing it with your school supplies. You can keep your laptop, manila folders, phone, wallet, charging cables, and much more.
Typically, tote bags are either big or small. In both situations, they are cumbersome. The canvas bag with leather handles has the perfect size. As it is washable, you don't have to be extra cautious with it. Even the most stubborn stain is going to wash off.
To be exact, it has the following features:
Space for 13 to 15.6 inches laptop
Outer and inner pocket to keep everything in place
12 Interior and Exterior Pockets to secure your belongings
If you are not happy with the handles or the plain look, get your own version from custom solutions.
For the last few years, reusable handbags have been the new popular trend. If you still don't have one of these handbags, now may be a good time to consider them. What else do you want? When they carry the heavy stuff for you. Nevertheless, these carryalls are a requisite, so they fit the bill.