As the new season is just around the corner, it's time to give a fresh start to your closet. This fall season will bring expectations for the post-lockdown fashion statements. When you dive into modern fashion trends, canvas bags prove to be a functional accessory.
Once again, the fashion trend is moving towards oversized canvas bags. What are canvas bags? Read on to find out.
What Are Canvas Bags?
Canvas bags, made of plain-woven fabric, are durable and sturdy. The fabric can be cotton, linen, or sometimes, hemp.
They are versatile and come in all shapes and sizes. Let's start with our top four canvas bags that belong to your wardrobe.
Our Top Four Trendy Canvas Bag Picks
If you feel that canvas bags have become indispensable, read on to find out some creative canvas bags.
Our top picks are:
Reusable Canvas Bag
Upcycled Canvas Bag By CLA
White Canvas Bag For Traveling
Canvas Bag with Bottle Sleeve Compartment
Reusable Canvas Bag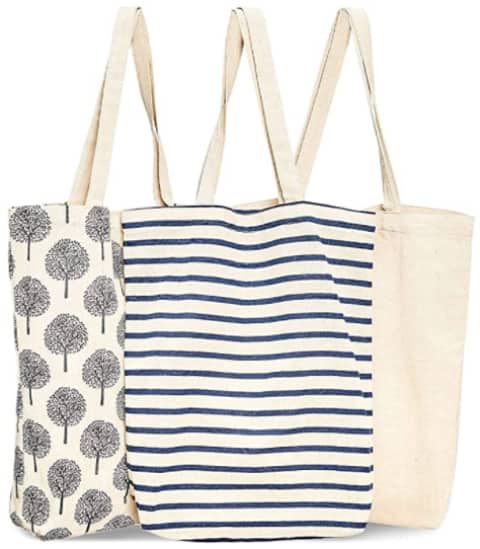 The words: spacious, durable, and multipurpose are perfect to describe this bag. The canvas bag, made of cotton, lasts for years. It comes in many patterns, including plain canvas, blue stripes, and tree print.
Wherever you will go, this will become your consistent partner. The straps are long enough to make them easy to carry. If you exclude the length of the handles, the dimension of this canvas bag is 15 x 16.5 x 3.7 inches.
This cotton canvas tote bag is great for use as a grocery bag, gym bag, or school bag. It is perfect for daily use, especially for shopping. You can keep everything you need, such as clothes, accessories, cosmetic items, and the list goes on.
If you wish to add pockets inside the bag, you can visit custom solutions. AvecoBaggie customization adds logos and artwork to add uniqueness to your bag. Whatever you feel like adding to your bag is right here.
Upcycled Canvas Bag By CLA
This canvas bag has a leather body. There's chic printing on the sides with a cozy appeal. Surprisingly, you get this fantastic package at a low price. Even though it looks pretty large, it is as comfortable to carry as any other cotton bag.
This lightweight bag comes with zipper closure to keep your items safe. There is a pocket on the outside to put your smartphone in it. You don't have to struggle to get to it at all.
On the inside, across from two slip pockets, you will find a deep zippered pocket. Here, you can slide your spectacles and keys. The list of features doesn't end here. It has a large back zipped pocket as well.
It comes in a single brown color. But you can still add more details to it. Custom solutions have a wide array of colors that you can pick for dying your bag. Apart from that, you can print anything on the bag to make it stand out. They offer six printing methods.
White Canvas Bag For Traveling
This white canvas bag has a cotton burlap fabric. The size of this bag is around 16 x 15 x 2 inches. So you can easily carry your laptop, tablet, Macbook, etc.
There is neat and accurate internal stitching to make it more tidy, sturdy, and durable. Even if you use this bag daily, it will not show any signs of wear and tear. According to your personality, you can select eccentric and cute patterns. From loading groceries to the fun weekends at the beach, this bag will make your life easier.
Above all, this natural and reusable bag is way better than utilizing paper and plastic bags. Simply, this personalized bag is best suited for you and your surroundings.
Yet, you will notice that there is no closure in this bag. Luckily, you have custom solutions. You can ask them to insert a zip into your bag.
Canvas Bag With Bottle Sleeve Compartment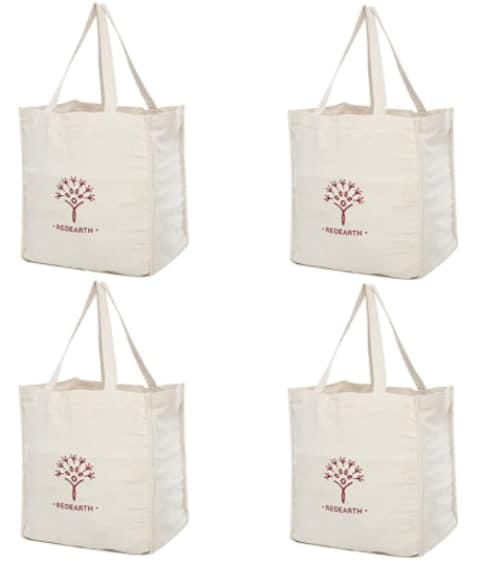 This is 'THE' bag for you if you have a hard time finding the right bag online. The canvas bag has the perfect balance of size and strength. It is a well-made, strong bag.
For convenience, you can fold it up in seconds to get it out of the way when not in use. The handles are perfect for slipping onto the shoulder. They are neither too long nor too short. They don't get in the way at checkout. At a glimpse, you will figure out that the stitching is solid and secure.
Because of the pre-shrunk technology, the size will not change at washing. The bag has slots that come in handy on different occasions. It can hold items, such as soda bottles, milk containers, etc.
If you want more, custom solutions will provide perfect accessories for the bag. They can add buttons, zippers, pockets, and even embroidery to your bag!
How To Clean Your Canvas Bag?
The method of cleaning depends on the type of bag. There are bags that are compatible with machine washing. On the other hand, you need to hand wash some of them. It is safe to handwash the ones that have embroidery, paintings, buttons, and screen prints.
To dry the bags, never use intense heat. High temperature may lead to shrinkage of the material. Therefore, hang it in an area that has exposure to sunlight and wind.
Note that, after drying, if you see a few wrinkles here and there, spray a small amount of water on such spots. You can use an iron over the wet area.
If you want to learn more about clean canvas bags, you can click here for more details.
How Many Canvas Bags Are Fit For Your Closet?
Canvas bags are available in countless patterns and designs. Who can keep themselves from buying them in bulk? But it doesn't mean that you start hoarding them as they can take up a lot of space.
So, what do we do with canvas bags falling out of your closet? I have two solutions for you:
Repurpose
One thing about canvas bags that are not hidden from any of us is that they are all made differently. Some canvas bags have a below-average quality. For instance, sometimes, the handles are too small, or the size of the bag doesn't make it useful in any way. That's when you must decide the fate of these bags. Here are some ways to turn them into useful items:
Instead of storage boxes, use them to store your clothes. It will help you save some space as well.
Use them as gift bags by adding a cute bow and a name card.
Start packing lunch in them on those sudden picnic trips.
You can transform them into pillow covers. To get fun prints on them, you can try custom solutions.
Donation
If you still have extra bags left in your canvas bag stash, you can always donate them. The canvas bags that are now unwanted for you may be essential for someone else. So, free up your closet by giving them away. You can also use these bags to donate food rather than using a plastic bag.
As you can see, there is a variety of canvas bags that you can find everywhere. They are wear-resistant, cute, and have room for the essentials. So, it would be best if you got the bag that fits your needs. Still, there is nothing to worry about if the bag falls short in a few areas. Custom solutions can make practical, functional, and a style statement.