What is used for only 12 minutes but lasts up to 1000 years? That's right! We're talking about plastic bags. As far as bad habits go, our dependence on single-use plastics is almost impossible to shake off. This dependence is most evident when you visit grocery stores or supermarkets. With no alternatives available, customers take home multiple plastic bags every day. That's where reusable produce bags come in.
Plastic bags are neither environmentally friendly nor great for carrying produce. Reusable produce bags are the healthier, greener alternative. Fortunately, the variety of reusable produce bag solutions has skyrocketed over the years. Today, you can choose customized reusable bags in multiple styles, sizes, and materials.
Don't know where to get started? Join us as we guide you through the amazing world of reusable produce bags!
What are reusable produce bags?
Single-use plastic bags have been a grocery store staple for many years. However, these plastic bags are finally going out of favor. The good part? Reusable produce bags have emerged as an eco-friendly replacement.
Reusable bags consist of lightweight but durable materials that are food-safe and biodegradable. From cotton bags to bags made out of mesh or muslin, there are a variety of options available to choose from. Customized printed variants of reusable bags are also widely available.
What's the difference between a reusable shopping bag and a produce bag?
Reusable shopping bags are primarily used for carrying pre-packaged products. These may include clothes, appliances, cosmetics and more. Since shopping items can often vary in size, these bags often feature two handles.
On the other hand, reusable produce bags are specially made for natural produce. Produce bags are made with unpackaged goods in mind. This may include fruits, vegetables, flour, dry fruits, and bakery items. While produce bags come in a variety of materials and sizes, they are often made to be food-safe. Some reusable bags can carry everything from personal necessities to natural produce.
What are the Standard Sizes?
Reusable produce bags come in different sizes to cater to diverse demands. Depending on your needs, you can go for sizes ranging from extra small to extra-large.
Here's a rundown of some standard-sized reusable bags and their respective uses:
| | | | |
| --- | --- | --- | --- |
| Bag Size(In Inches) | For Bulk Goods(Potatoes, dry beans,pulses, grains, and more) | For Fruit(Oranges, apples, bananas,and more) | For Vegetables(Parsley, tomatoes, greens,and other vegetables) |
| Extra Small (6"x9") | 2 lbs | 3 | Herbs |
| Small (8"x10") | 3 lbs | 5 | 6-8 Tomatoes |
| Medium (10"x12") | 6 lbs | 10 | 2-3 Bunches of Carrots |
| Large (12"x15") | 10 lbs | 16 | 2-3 Romaine Lettuce |
| Extra Large (14"x18") | 15 lbs | 24 | 2-3 Chard |
10 Best Reusable Bags that are Ideal to Buy in Bulk
PET/Polyester Mesh Produce Bag
PET which stands for Polyethylene terephthalate is used to make plastic water bottles. You must be wondering, why use plastic in reusable bags when you are aiming for a low-waste lifestyle? The answer lies in the three famous Rs: Reduce, Reuse, Recycle. PET bottles are recycled and reused to create a durable mesh that turns into produce bags. PET reusable produce bags are:
Transparent for visibility and increased airflow
Free of BPA and certified food-safe by the FDA.
Highly lightweight yet durable.
Used for both packaged and non-packaged goods.
Used for carrying a whole range of everyday items.
Foldable and easy to carry.
Cotton Mesh Produce Bags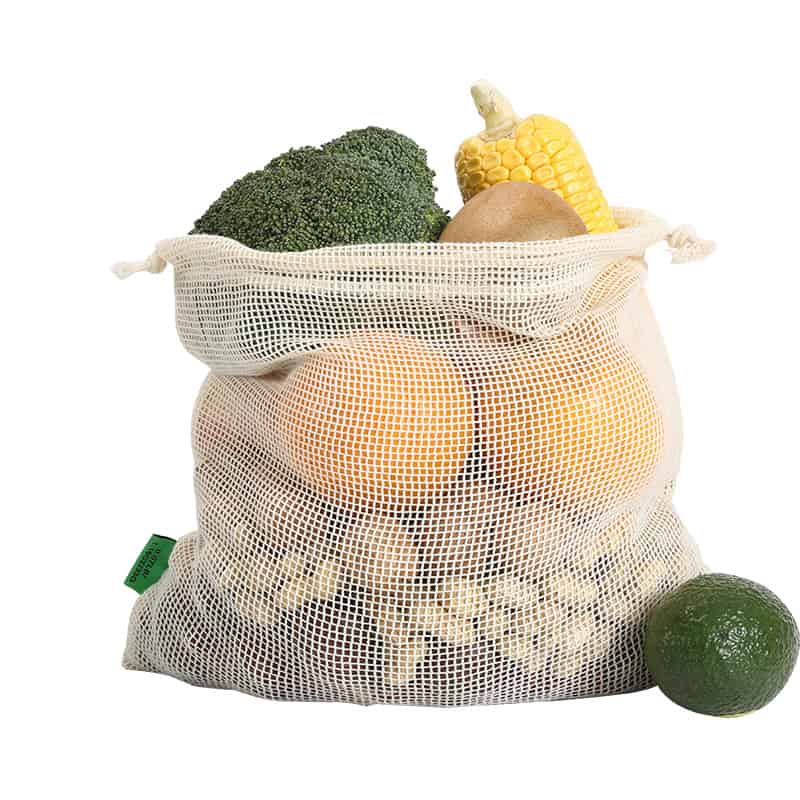 Aspiring to cut out plastic from your life entirely? These cotton mesh produce bags might be the right choice for you. As opposed to polyester bags, cotton mesh bags are made out of natural cotton and have little to no plastic on them. Cotton mesh produce bags are:
Completely or almost plastic-free.
Washing machines are safe and easy to dry.
Mesh allows for maximum visibility and decent airflow.
Made out of cotton mesh which is a food-safe and non-toxic material.
Extremely versatile and portable.
Cotton Mesh Splicing Bag
Cotton Mesh Stitched Label Bag
Cotton mesh bags can come in a variety of variants. One of those variants is a cotton mesh bag with a bit of personality. This kind of bag may contain a stitched label of your choice on the front of the bag. Cotton mesh bags with stitched labels are:
Adorned with a customized stitched label according to your preferences.
Useful for stores, brands, or kits which want to display branding.
A cute gift for an environmentally conscious friend, colleague, or partner.
Cotton Mesh with Customized Pattern
If your produce bag is reusable, why not turn it into some arm candy? Adding a customized pattern to your everyday produce bag can surely amp up your look. Cotton mesh produce bags with customized patterns are:
Filled with all the advantages of a cotton mesh bag.
Designed for branding and creative expression.
For looking great on the arm.
Muslin Cotton Bag Bread Bag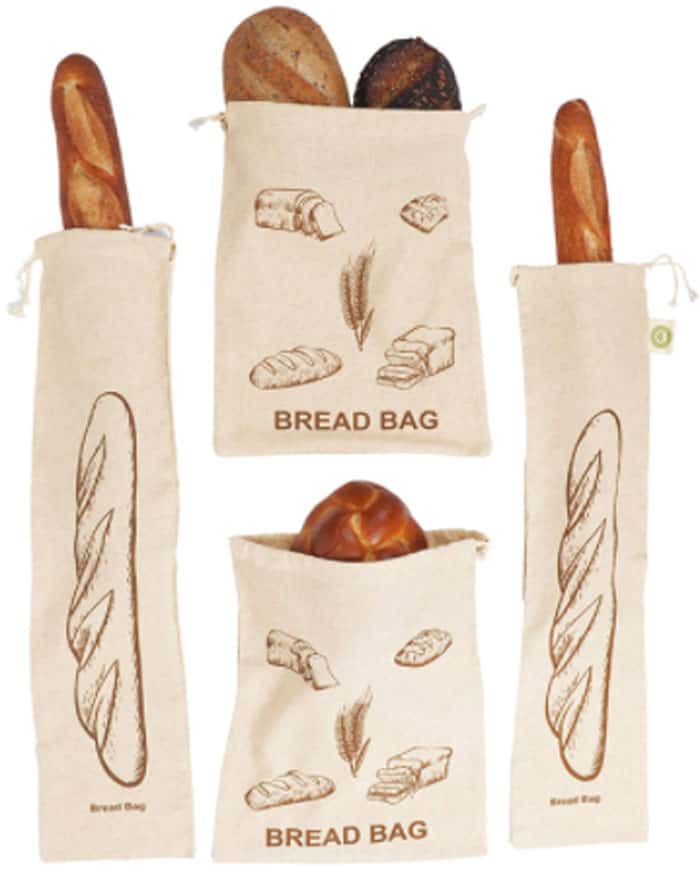 Muslin cotton bags are reusable bags that are made out of sturdy cotton material. Unlike mesh bags, these bags do not feature any holes and might be perfect for storing more fragile items. Muslin cotton bags are:
100% food safe.
Ideal for cutting out plastic from everyday life.
More suited for granular goods such as tea, coffee beans, flour, or bread.
Made out of sturdy cotton muslin that keeps your valuable goods safe inside.
Made out of organic and unbleached cotton.
Linen Bag
While Muslin originates from cotton, linen comes from flax fiber. The process for cultivating flax is much more labor-intensive. However, the end-product is of better quality, stronger material than muslin. Much like cotton, however, linen produce bags are a viable zero-plastic option. These bags are:
Made out of high-quality linen
Easy to wash and reuse.
Much sturdier and heavier than muslin bags.
Round Bottom Drawstring Bag
The round bottom drawstring bag features a unique style with environmentally friendly materials. The drawstring bags are:
Ideal for safely carrying food items like bread.
The light fabric is ideal for air permeability and keeps food fresh for longer.
Equipped with an organic cotton lining that is the safest option for food contact.
Multipurpose and multifunctional.
Washable Shopping Mesh Bag
Stylish Mesh Bags
Stylish mesh bags are actually used for storing all kinds of produce – with a fashionable twist. Their unique design turns them into more than just a simple grocery bag. If you're someone who values visually pleasing accessories, this one might be ideal for you. These stylish mesh bags are:
Great for promoting good airflow to keep produce super fresh.
Highly multipurpose and can be used for both produce and packaged goods.
Easily washable and fast-drying.
Super stylish and look quite good on the arm.
How to Choose the Right Reusable Produce Bag?
With so many options available in the market, choosing the right one is a challenge. Read on to explore each important element and find the best reusable produce bag for your needs.
Material
Polyester Mesh
Polyester mesh bags consist of a synthetic material known as PET. PET is reheated and recycled to create a polyester mesh. This material is completely food-safe with a low carbon footprint.
Cotton/Muslin
The cotton or muslin bag is created with organic or non-organic cotton with little to no plastic. Unlike the mesh produce bags, these are sturdier and provide better coverage. This also elevates moisture retention ideal for some food items such as bread, dry fruits, etc.
However, you should be careful because all cotton bags are not created equal! There are two types of cotton that these bags can be made from:
Organic Cotton
Organic cotton thrives without the use of harmful pesticides. The materials are completely eco-friendly during and after use. You can easily compost this material without any harmful impact on the environment. A GOTS certified organic cotton is more welcomed but they cost higher prices.
Non-organic Cotton
For non-organic cotton,Some are 100% pure cotton without toxic,but some are not.For those non-organic cotton,they sometimes are called the "dirtiest crop." And they are cultivated on pesticide-laden farms. Many of these pesticides contain dangerous carcinogens that are highly toxic to humans. Once discarded into the land, the toxins contained in the cotton pollute the ground.
Cotton Mesh
Cotton mesh bags are made out of a weaved mesh cotton fiber that provides more airflow. The small holes allow your produce to remain fresh without the risk of mold-mildew. Much like cotton or muslin bags, these bags contain little to no plastic.
Linen
Linen is a product made from flax. This is another natural, high-quality material for produce bags. The material is heavier and sturdier than cotton but it's also more expensive.
Material
Advantages
Disadvantages
Polyester Mesh
✔ Marked food-safe by the FDA.
✔Reduces carbon footprint
✔A highly versatile material that fares well in all climates.
✔Keeps food fresh and resists mold.
✔Highly portable.
✔ It's not zero-plastic.
✔ Not biodegradable.
✔ Screen printing can fade with time.
✔Might be less long-lasting than other solid fabrics.
Cotton/muslin
✔ Biodegradable
✔ Renewable resource
✔ Durable and strong
✔ Easily available
✔ Machine washable.
✔ Ideal for multiple types of printing.
✔ No moisture resistance.
✔ Takes a high water consumption to
cultivate.
✔ Non-organic cotton may contain toxic
pesticides.
✔ Higher Shipping cost due to weight.
✔ Might shrink due to machine washing.
Cotton mesh
✔ Promotes airflow to keep produce fresh.
✔ Prevents mold.
✔ Ideal for fresh produce.
✔ Contains little to no plastic.

✔ Some Non-organic cotton can be toxic.
✔ Not ideal for grains, bread, dry fruits, and other such items.
✔ Might be less sturdy than solid cotton or muslin.
Linen
✔ Good quality, sturdy material.
✔ Ideal for bread, grains, and other such goods.
✔ Less expensive than cotton.
✔ High water consumption and labor-intensive cultivation.
✔ The surface looks more rough
Weave for Mesh
If you're going for a mesh produce bag, the size of the weave is also an important element to consider. Here are two standard weave sizes and what they can be used for:
Small Weave
This type of weave makes a more secure mesh but it also reduces the airflow. This might be more useful for smaller food items that may fall through a bigger mesh. You can also use this to carry other items of everyday use.
Large Weave
A mesh with larger weaves makes it possible for more air to enter the bag, keeping produce fresh. This kind of weave may be more suitable for larger produce as it won't fall through the holes.
Weight
Weight determines the longevity and applications of your produce bag. You must carefully consider what kind of weight the bag should be able to carry. Think about whether you want a more heavy-duty bag or a more casual, lightweight one.
Closure of the drawstrings
It can be useful to think about what material the drawstring closures are made of. Aiming to achieve your no-plastic goals? A zero-plastic metal closure or no-end closure might be the best option. If you don't have a problem with a bit of plastic in the bag, a plastic closure can be a cheaper choice.
Tare Weight
The tare weight is the weight of the empty bag on its own. This weight is often mentioned on a label that is attached to most reusable produce bags. This weight is important as it factors into the measurement when you weigh your produce. You don't want to pay for more than you're getting, after all. If you're on a budget, make sure to check whether your bag has a tare label or not.
Packing Solutions
Many companies and individuals prefer reusable produce bags in recyclable packaging. There are many types of eco-friendly packaging available including:
Opp bag
Paper ring
Brown box
Color box
Label card
Zipper bag
Paper bag
All any customized design to make your own packing
How to wash the reusable produce bags?
Does your reusable produce bag need a breath of fresh air? You're in luck because cleaning and washing these bags is a piece of cake. Follow the simple steps below to restore your reusable produce bag in no time.(more details in How To Wash A Canvas Bag? 10 Tips From Canvas Tote Bag Manufacturers)
Step 1: Prepare the Bag
The first step is to prepare the bag by removing any cardboard inserts and metal parts. You can clean these additional elements separately with a disinfecting spray cleaner. Also, pay attention to the grime and build-up that may have collected at the seams.
Step 2: Read the Label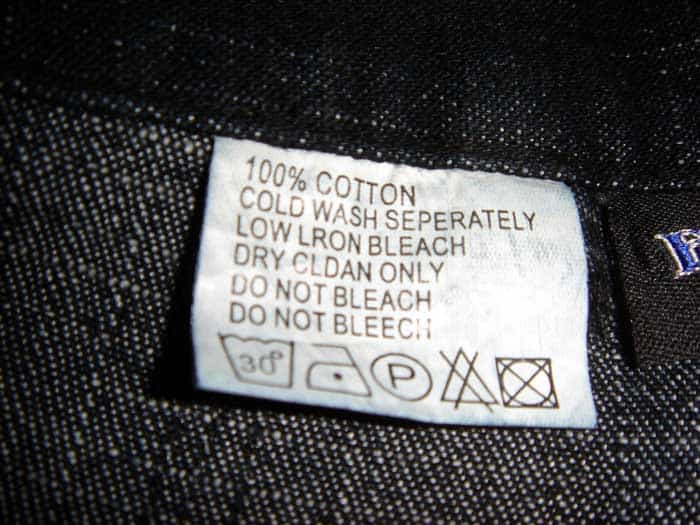 Most reusable bags have a care label that can tell you exactly how to wash them. If your bag doesn't have one, you can move on to the next step!
Step 3: Wash it in Cold Water
Hand wash or machine wash your bag in Cold water with your usual detergent. Using hot water can kill harmful bacteria from the bag but it will be more likely to damage the shape of the bag.
Step 4: Air Dry the Bag and Enjoy!
Congratulations! You have a completely clean and good as new bag to enjoy. Don't forget to completely air dry your reusable bag before you take it to the grocery store.
Where to buy reusable produce bags in bulk?
Many manufacturers offer reusable produce bags in bulk – have you found the right one? You may have looked far and wide on e-commerce websites like Amazon and eBay to no avail. There's no denying that finding reliable sellers can be tricky. It can be even harder to find a one-stop solution to all your reusable bag needs. Especially if you want to do custom produce bags in bulk orders,then you must find a manufacturer and wholesale to meet your needs.
You can find them from google, alibaba, Made in China ,etc. But to find the right manufacturers is key important .
Avecobaggie is a reusable and eco-friendly bag manufacturer, offering a range of options. Their marketplace offers reusable bags in a variety of styles, sizes, and materials.
Here are some interesting things that Avecobaggie promises to deliver:
A flexible shipping service
Superb Customer service
Social Responsibility and Sustainability
Free design and Mockup
A wide variety of fully customizable bags
What can you use your Reusable Bags for?
Do you think reusable bags are only for carrying fruits, vegetables, and produce? Think again! When it comes to these highly multipurpose bags, the possibilities are endless.
Here's how you can incorporate reusable produce bags into your everyday life:
Use them as a lunch bag
Carry bread and other bakery items in them.
Utilize them for travel to store toiletries, makeup, and other necessities.
Take them on picnics to store food items.
Store delicate crockery to protect it from damage and dust.
How to Make your own DIY Produce Bags?
If you can't find the right bag or want to save up, making a reusable bag yourself can be a highly rewarding experience. And guess what? It's not as hard as you think! Follow the steps below to make a simple reusable produce bag:
Step 1: Collect Materials
What you need:
One yard of lightweight fabric like organic cotton or muslin
A cording
Coordinating thread
Ruler and scissors
Sewing machine
Straight pins and safety pins
Step 2: Prepare your Fabric
Wash and dry your fabric to prepare it for cutting. Once dried, fold your fabric widthwise twice and cut along the second fold you made. This will give you two pieces of folded fabric. Fold them both again and cut along that fold for each. This should give you four pieces of folder fabric.
Step 3: Sewing the Bag
Just sew a line down the length of the fabric, keeping one side as the opening. Iron the folds down for crisp edges. Then press your seams open, fold the opening to about 1.5 inches and iron it. Once you have done this, you can add a buttonhole to insert a button. Finally, flip the bag inside out in order to sew the edges close.
Step 4: Adding the drawstring
Take your cord and insert it into the buttonhole with a safety pin attached to its end. Push the string along the top of your bag and pull it through the buttonhole.
Step 6: Attach a safety pin to the end of your paracord and insert it into the buttonhole. Push it through the hollow seams, all the way around the top of your bag until it reaches the other side.
Step 5: Knot the Drawstring and Enjoy!
Simply knot the drawstring to complete the bag. you can tie your string to secure the bag and open it to add your produce inside.
Summary
The environmental devastation caused by plastic is undeniable. Reaching for a reusable produce bag instead of a plastic one can have a far-reaching impact. We hope this comprehensive guide will inspire you to choose better.