What is a jute bag?
The jute bags use jute material, which comes from the hessian family. Jute is a natural, soft, and long fibre and is suitable for manufacturing various products. The manufacturers twist these fibres to make thick and strong threads. Jute bags have a firm base, and the fabric has interwoven jute thread.
What are six jute design ideas?
Jute is versatile and is designable in many ways, but six of them include:
Wine bottle covers
Door pulls (twirl the jute around the pulls to provide a rustic appearance)
Mug rugs and coasters (you can use crocheting technique)
Pen holder (wrap jute around an empty jar)
Lantern (wrap jute around the light fixture to create a warm ambience)
Hot pad

Why is a jute bag good for promotional events packaging?
Promotion is multidimensional. It is important to explore various opportunities to become visible. Jute bags are a great idea since they are multipurpose and usable for different chores. Besides, they are cheap yet attractive and eco-friendly.
What is the average size for a jute bag?
There are four sizes available in jute bags, including:
Extra-large jute bag: The size is about 24-inches in width x 17-inches in height x 10-inches in depth. This size is suitable for people who carry their life in a bag.
Large jute bag: The size is about 20-inches in width x 15-inches in height x 8-inches in depth. The size is ideal for taking things for a beach or pool day.
Medium jute bag: The size is about 16-inches in width x 14-inches in height x 6-inches in depth. The size is great for casual outings, such as school days or hangouts.
Mini jute bag: The size is about 12-inches in width x 13-inches in height x 5-inches in depth. The size is suitable for carrying a book or wrapping a gift.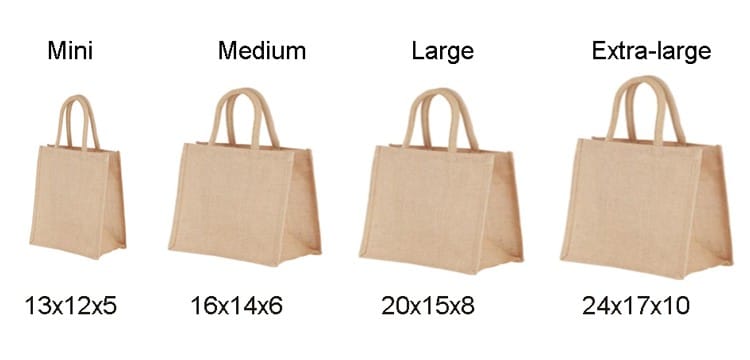 What colours can we make in a jute bag?
The jute bags are in various colours according to your liking. The colours also depend on the print design if you are getting a particular design print. But, the following colours are commonly asked:
Pink jute bag
Green jute bag
Black jute bag
Plain jute bag (natural brownish colour)
Where to buy the jute bags?
Jute bags are available at different eCommerce websites. Some of these websites include Alibaba, Amazon, eBay, and Etsy. Also, the following are the jute bag manufacturers in different countries, including:
Jute bag manufacturers in Mumbai – Rays Handcraft Jute Bags Manufacturer and Raj Packaging
Jute bag manufacturers in Bangladesh – Bangladesh Gold Fibre and Reliable Trade International
Jute bag manufacturers in India – TECTONICS Exim Pvt. Ltd. and Vijay Corporation
How to weave jute into a bag?
Follow the steps mentioned below to weave jute into a bag.
Buy the jute fabric roll (it is readily available at craft shops or hardware stores)
Spread it on the table and affix it with tape or nails.
Cut the fabric to your desired size and shape.
Stitch these cut-out pieces with a sewing machine.
Once the bag is ready, sew the zips and handles. And done!
Is jute bag food contact safe?
Yes, a jute bag is safe for food contact. This is because it has natural fibres that don't adversely impact the grain's quality. However, it is not recommended to store items in these bags for a long time as they are not waterproof. As a result, it can and can develop mildew and spoil the food grains. To summarise, it's safe but isn't recommended for more extended periods.
Can we print on jute bags?
Yes, jute bags are printable with the screen printing technique. Screen printing is also known as silk-screen printing. It works by placing the print design on the screen. Then, manufacturers place the screen on the jute, and the jute bag gets the print. Screen printing allows users to print 3 colours at once.
Is a jute bag eco-friendly?
Yes, jute bags are wholly eco-friendly and fully compostable. The jute material has natural fibres, which leads to eco-friendly manufacturing. Also, jute bags are reusable and pose no harm to the environment.
Jute bags are cleanable with cold water because hot water can shrink the material. In addition, you can use a mild soap or liquid soap to clean the stains. However, it's best to soak the jute bag in soapy water for five minutes, stir it, and the dirt will go away.
What are the benefits of using jute bags?
Here are five benefits of using jute bags.
Jute bags are reusable, such as for packaging, gifting, and storage.
They are eco-friendly and biodegradable.
There is no need for extensive maintenance.
Jute bags are cost-efficient as compared to other materials.
They are stronger, durable, and have a higher weight capacity.
What are the disadvantages of jute bags?
Here are some disadvantages of using jute bags.
Jute bags are not waterproof.
They are not flexible.
There is no lustre in jute bags.
The jute bags will turn yellow when exposed to sunlight.
The crease resistance of the jute bag is minimal and close to zero.
Is the jute bag wholesale business profitable?
Yes, the jute bag wholesale business is profitable. It is mainly because the raw material is cheap and readily available. Besides, consumption has increased since people prefer eco-friendly options. Also, customised and printed jute bags sell for more but manufacturing costs are low.
How long do jute bags last?
Jute is a durable and strong material. It is utterly biodegradable since it takes around one to two years. On average, they are usable over nineteen times before they start tearing down.
Which material is suitable for jute bags?
Different raw materials are suitable for making jute bags. These include nylon sewing thread, printing gum, and jute twine or fabric rolls. As for the jute fabric, it uses jute twine (it's a natural fibre from the hessian family).
Is a jute bag biodegradable?
Yes, jute bags are entirely biodegradable because the lining is 100% natural. Some jute bags are also available without lining (it's great for the environment). When the jute bag starts tearing down, it works great as peat or fertiliser for plants.
How can I maintain the jute bags?
Maintaining jute bags can increase the lifespan. However, you can hang them to get rid of dust or use a vacuum cleaner to suck away the sand and dust. Washing is also suitable, but soaking them wet isn't recommended.
Are jute bags more sustainable than cotton bags?
Jute bags are more durable as compared to cotton bags because of their stronger fibres. Since they are more durable, it reduces wastage, which results in higher sustainability. Moreover, even if the jute bag needs recycling, it takes low-energy recycling. Keep in mind that low-energy recycling is another benefit to the environment.
Are jute bags water-resistant?
No, jute bags aren't water-resistant or waterproof. So it's best to keep jute bags away from moisture and water. This is because it leads to mildew development, which is not hygienic.
Can we customise the jute bags?
Yes, you can customise the jute bags in several ways. We customise the size, closure type (zip, button, or buckle), colour, handle, and print design. Moreover, we can print your desired logo on jute bags for promotion purposes.
How many colours can we print on the jute bag?
We offer to print 3 colours. However, we offer suggestions and modifications in colours according to the print design. We recommend the colour modifications only to improve visibility.
Are the colours and dyes eco-friendly?
Yes, we use Azo-free colours for printing the artwork and dyeing the jute bags. We use them because they are synthetic chemicals. Also, they don't have carcinogens and don't pose harm to the environment.